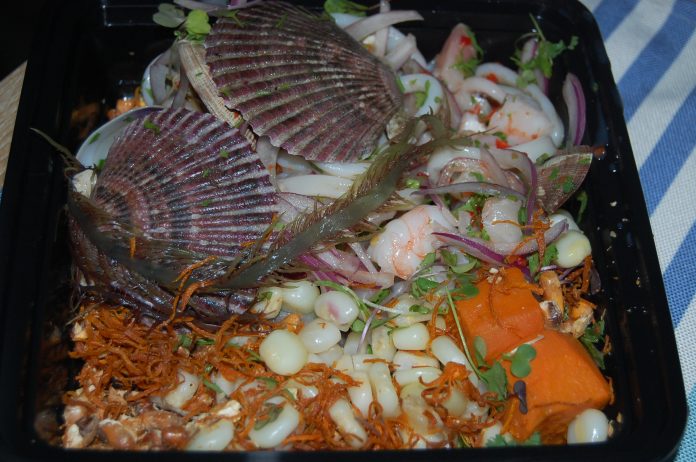 Ceviche is a dish that is particularly popular in Peru and Ecuador, and generally consists of fish and shellfish marinated in citrus and other spices. Ceviche Stop in Culver City is a Peruvian restaurant, which brings its own take on the dish.
"In 2021, Chef Walther and his wife Diana opened the doors to CevicheStop in Culver City," reads the website biography. "From those first days, it has now evolved into a Fine-Casual full-service restaurant experience with indoor and outdoor seating, as well as take out, catering for home, office, events, and more… Peruvian food is characterized by variety, a fusion of influences and flavors from Europe (French, Spanish, Italian, German), Africa, Asia (Chinese, Japanese), among others. Chef Walther takes inspiration from this complexity."
On a weekday lunchtime, we opted for the Mixto Ceviche – striped bass, shrimp, mussels, squid, octopus, scallops, charred sweet potatoes, aji amarillo tiger's milk, Peruvian corn and cancha powder and seaweed.
Tiger's milk, for those unfamiliar, is the Peruvian term for the citrus marinade used in ceviche. Here, it comes in a little bottle so you can add it as you see fit but be warned – it's very tart and newcomers should add in small quantities. You can always add more but you can't take it off.
The mix of seafood on this dish is simply stunning. It's all perfectly fresh and light, and the balance of flavors between the bass and others is just lovely. A touch of the tiger's milk brings it all to life in the best possible way. The Peruvian corn mentioned on the menu are huge kernels, full of flavor and a nice amount of chew. The contrast in textures between the corn and the fish is fascinating.
The dish is also served with sweet potatoes – lightly charred and, again, benefitting from the marinade. And the tortilla chips (which we believe are housemade) accompany the while thing beautifully.
"Today, Chef Walther seamlessly blends his beloved Peruvian cuisine with an innovative and international twist, offering Los Angeles diners a culinary experience at CevicheStop that is totally unique," they say. "His cooking style is modern without ever losing his roots, using only the finest ingredients."
It's those fine ingredients that make the ceviche at Ceviche Stop such a rare treat.
Ceviche Stop is located at 2901 S. La Cienega Blvd., Los Angeles 90232. Call 424-326-8757 or visit cevichestopla.com.