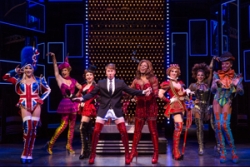 Following in the footsteps of "La Cage Aux Folles," "Billy Elliott," and "Priscilla Queen of the Desert," all foreign films turned into Broadway musicals, "Kinky Boots" the 2013 Tony Awardwinning Best Musical, brings its spirited message of "Just Be Who You Wanna Be" to the Pantages in its West Coast premiere for three weeks only through Nov. 30. Replete with splashy direction and choreography by Jerry Mitchell and a splendid cast, it's not to be missed fun for every musical theatre fan.
"Kinky Boots" took home six 2013 Tony® Awards, the most of any show in the season, including Best Musical, Best Score (Cyndi Lauper), Best Choreography (Jerry Mitchell), Best Orchestrations (Stephen Oremus) and Best Sound Design (John Shivers). The show also received the Drama League, Outer Critics Circle and Broadway.com Awards for Best Musical and the Grammy® Award for Best Musical Album, along with many other accolades. After experiencing this fabulously fun show for the first time, I now understand why "Kinky Boots" continues to play to standing-room-only crowds on Broadway nightly. The show, which has broken all box office records at the Al Hirschfeld Theatre, recouped its costs in October 2013, after just 30 weeks on Broadway.
The rousing and spirited musical tells the story of Charlie Price (Steven Booth) an everyman who has reluctantly inherited his father's shoe factory, which is on the verge of bankruptcy. Trying to live up to his father's legacy and save his family business, Charlie struggles hopelessly in both his business and personal life, at odds with his fiancée Nicola (Grace Stockdale) who he has left behind in London and his loyal factory worker Lauren (spunky Lindsay Nicole Chambers) who loves him dearly but holds back on letting him know for fear of rejection.
One night while walking his troubles away, Charlie encounters a drag queen known as Lola (the incredible Kyle Taylor Parker from the original Broadway cast), who is being bullied by some roughnecks. During the scuffle, Lola ruins the heel of her boot and Charlie tells her he can fix it. Once inside the club where Lola performs with her troupe of cross-dressing Angels (scene-stealing knockouts Darius Harper, Tommy Martinez, Nick McGough, Ricky Schroeder, Juan Torres-Falcon and Hernando Umana), Charlie encounters the very different world of drag queens and their outrageous costumes, which require the very tall boots each of the "women" wear to assist in strutting their femininity. He starts to think of a way to make the shoe factory thrive by making kinky boots for Lola and the Angels.
Lola turns out to be the one person who can help Charlie become the man he's meant to be. As they work to turn the factory around, this unlikely pair finds that they have more in common than they ever dreamed possible, and their heartfelt duet "Not My Father's Son" proves that when you change your mind about someone, you can change your whole world.
Of course when Lola shows up for work dressed as Simon, the redneck factory workers led by Don (rollicking "belly" dancer Joe Coots) refuse to accept Simon/Lola for who he is; a drag queen who happens to love women. And certainly during "What a Woman Wants" the female factory workers let their male co-workers know how much they appreciate a man who loves them just the way they are! Lovely work by Bonnie Milligan as Pat, a more well-rounded woman who knows how to flamboyantly flash her sex appeal in this number as well as the showstopping "Sex is in the Heel."
The smash hit, Tony-winning Best Musical "Kinky Boots" celebrates its Hollywood Pantages Premiere with a limited three-week engagement through Nov. 30. Tickets are now on sale to the general public online at www. HollywoodPantages.com or www. Ticketmaster.com, by phone at 800-982-2787 or at the Hollywood Pantages Box Office located at 6233 Hollywood Blvd. (Opens daily at 10 a.m.)
The performance schedule is Tuesday through Friday at 8 p.m., Saturday at 2 p.m. and 8 p.m. and Sunday at 1 p.m. and 6:30 p.m. Schedule Exceptions: Monday, Nov. 24 at 8 p.m. and Friday, Nov. 28 at 2 p.m. There are no performances on Thursday, Nov. 27 and there is no evening performance on Sunday, Nov. 30.
"Kinky Boots" is recommended for ages 10 and up. (Please note that in consideration of audiences, no one under 5 will be admitted to the theatre.)