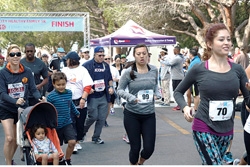 Men, women and youth will celebrate an active, healthy life at the third annual Culver City Healthy Family 5K Run/Walk at 9 a.m. Sunday, April 2, 2017 at West LA College in Culver City. The Culver City Family 5K Run/Walk plays a crucial role in our ongoing effort to strengthen community.
"We bring families together for a morning of exercise, fun and entertainment to encourage people of all ages to get moving and to adopt healthy habits that support a creative, productive, more fulfilling life," an event spokesperson said.
This year the 5K is offering discounts to teams of five runners and more. This will be a great opportunity for organizations to encourage employees to form a team and get started on a fitness program.
The event also features a Kiddie Run—once around the football field adjacent to the post-race activities—that starts around 10:15 a.m. There will be snacks and refreshments after the 5K Race and plenty of fun and educational activities for kids.
For more information about the event and to register, go to the race website RunCulverCity.com.
Proceeds will benefit youth and family programs at the Culver-Palms Family YMCA. The Y offers adults, families and children in the community, regardless of their ability to pay, access to programs and resources necessary to "grow strong and flourish."
"A big thank you goes to our generous sponsors whose support helps make our event a success: Title Sponsor Cedars-Sinai, FastSigns Culver City, Vivian Lesny, Grey Block Pizza, Pacific Alarm Systems, Westside Production Rentals, Co-opportunity Market & Deli, and Whole Foods," organizers said.