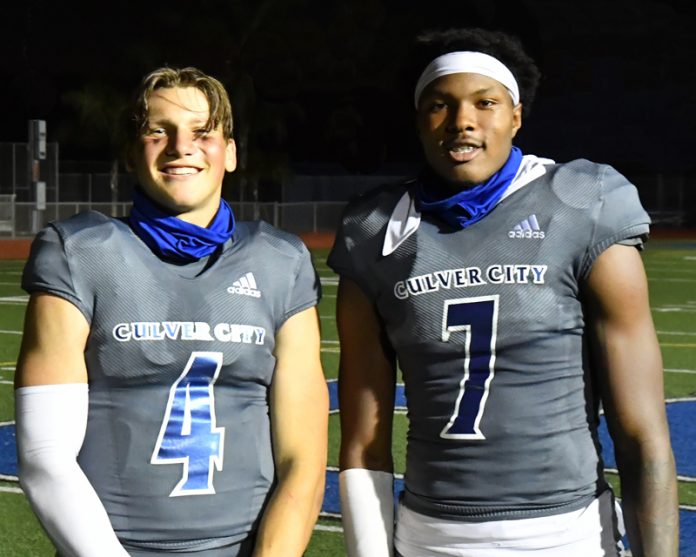 The Culver City High School varsity football team did something only one school has been able to do in the last 11 years, beat Palos Verdes in a Bay League game.
Mira Costa is the only other school to defeat the Sea Kings until the Centaurs accomplished that feat last Friday night at Culver City inside the Jerry Chabola Stadium. The final score was 42-28 in one of the most thrilling games in recent memory. 
Palos Verdes lost only two games to Mira Costa in the Bay League in the last 11 years.
The Sea Kings took control of the game in the first half but Culver City made the necessary adjustments at half time and held Palos Verdes scoreless in the second half. "Our defense pitched a shutout in the second half, and we were able to make some timely stops and force some turnovers," said Culver City head coach Jahmal Wright during a phone interview last Sunday.
The 4-0 Centaurs hoped to continue their magic Friday when they face 4-0 Apple Valley at Culver City at 7 p.m.  Once again, only family members of the players will be allowed to attend the game because of pandemic protocols. "It's going to be like a Bowl Game," said Wright.  
"They are league champions, and we are league champion. They play with a lot of pride and a lot of heart. They are going to be tough. We are expecting another hard-fought game."
The game against Palos Verdes featured two of the top teams on the Westside and it was one of the best games in Culver City football history. "It's up there near the top," said Wright, who has coached Culver City football for the past 20 years. "It was one of the top games to be a part of. It is up there in the top 10 games that I have coached."
Wright knew it was going to be a great high school football game. "I am really proud of our team and coaching staff," said Wright. "We knew that it would be battle. It was a team that we knew very well, and they knew us very well and I give Palos Verdes a lot of credit. They played their hearts out but we were able to make big plays and that was the difference in the outcome."
The offense, defense and special teams made big plays. On offense, All-State quarterback Zevi Eckhaus threw for 364 yards and four touchdowns. Receivers Emari Pait and Legend Waring were outstanding and running back Ayinde Bankole gained 133 yards on 15 carries. 
Pait caught seven passes for 198 yards and two touchdowns and Waring caught seven passes for 133 yards and two touchdowns. 
While these numbers are impressive, it was the exceptional play of the offensive line is the catalyst for the big plays on offense. 
"This year, we can pass and run the ball," said former head coach and longtime assistant Centaur coach Cornell Myles. "We have a big offensive line. This is the biggest line I have seen at Culver City going back to 1993 when I started coaching here."
Defensive players that played well against Palos Verdes were lineman Adrian Simon and Dylan Nichols, linebackers Aaron Salas, Quinten Brunson and Antonio Moten and defensive backs Prince Okorie, Myles Holloway and Pait. 
Myles, who coaches the linebackers expects the same effort against Apple Valley on Friday. "Our defense is going to ball out because they know we have an opportunity to have a perfect season. One game. That's all we have to do, win one game." 
One more game for the 15 seniors on the team. "To be quite honest with you, it kind of hurts and the reason being is you think of what we could have done had we played a full 10 game season and the playoffs instead of five games," said Eckhaus, who is the greatest quarterback in Culver City history. 
"Unfortunately, it's not really in our hands to control. For me I am just glad I can help my team win." The season was cut short because of the pandemic.
In the second half against Palos Verdes, Eckhaus rolled out to his right and found Pait in the end zone on the left side of the field for a 39 yards pass that stayed in the air forever. While the ball was in the air you could have heard a pin drop in the stadium. "It felt like the ball was in the air for a long time," said Pait. "I did not want the ball to come down to me, so I had to leap high and attack the ball." He made the catch and the Culver City side lines, and their fans broke out in pandemonium.
During the fourth quarter, Pait also intercepted two passes, one he returned down the western sidelines for 94 yard touchdown.    "He has a nose for the football, and he is a dynamite play maker," Wright said.
Pait has made spectacular plays all season. "It felt good and I feel like it was the best game I have ever played," Pait said. "It was crazy, to be able to make plays on both sides of the ball is amazing." 
Like coach Myles said, one more game. "We just want to play our brand of football against Apple Valley," said Wright. "Our brand is up tempo, fast pace, wide open and make big plays."