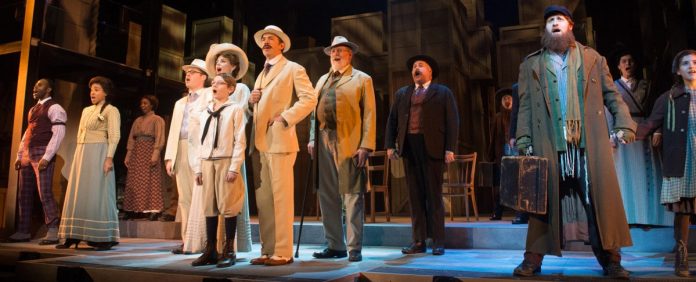 Based on the classic E. L. Doctorow novel, featuring a Tony Award-winning book by Terrence McNally and one of the most gorgeous musical theater scores by Lynn Ahrens and Stephen Flaherty using ragtime rhythms to paint a portrait of the people who built this country with the hopes for a brighter tomorrow, RAGTIME The Musical, nominated for 13 Tony Awards including Best Musical, tells the story of three families at the turn of the 20th Century in pursuit of the American dream. The wondrous production at the Pasadena Playhouse through March 9 is brilliantly directed by David Lee with musical direction by Darryl Archibald and cleverly creative choreography by Mark Esposito. In it, all three compelling storylines intertwine to form a rich tapestry of hopes and dreams, struggles and triumphs, love and heartbreak, featuring glorious harmonies from an incredibly talented cast so necessary to capture the brilliance of its magnificent score, each of whom is introduced during the show-stopping opening number "Ragtime." And by its end, all are united by their courage, compassion, and belief in the promise of a brighter future in America for their children.
The upper-class NEW ROCHELLE ensemble represents the kind of life the other two groups wish they could obtain for themselves away from the trials and tribulations of life on the streets of New York City. Shannon Warne leads this ensemble as Mother, a woman whose ideal life is turned upside down when she discovers a Negro baby abandoned in her garden. Zachary Ford portrays Father, her wealthy, globe-trotting, conservative husband who cannot fathom the change in his home life after being gone for a year. Mother's Younger Brother (Dylan Saunders) searches for a purpose in life while chasing after curvy Katherine McDonough as sexy Evelyn Nesbit, a Vaudeville star who became "the girl on the swing" after the "Trial of the Century" when her husband shot her lover. Rounding out the family is Gregory North as Grandfather who allows everything in life to frustrate him, and Luké Barbato Smith as Little Boy whose emotional outbursts foreshadow upcoming events. The difference between the generations is comically represented during "What A Game" in which Father is shocked at the behavior of new Americans in the bleachers at a baseball game while Little Boy joyously joins in with their off-color antics.
The arrival of the baby brings the HARLEM ensemble into the privileged white family's world. Led by Clifton Duncan whose stage presence and incredible voice ignites the entire production as Coalhouse Walker Jr. as he demands justice for a crime committed against him simply due to the color of his skin. His beloved Sarah (sparkling Bryce Charles) is given refuge in Mother's New Rochelle home along with her and Coalhouse's baby. Sarah's overwhelming love for both men in her life is expressed to perfection during "Your Daddy's Son." After the two lovers reunite, they celebrate their hope for a brighter future together in "Wheels of a Dream," with Coalhouse's new Model T Ford in the background. But that same car soon turns out to bring death and despair after Coalhouse set out for "Justice" when local bigots destroy it. Candace J. Washington soars as Sarah's friend during her heartbreaking rendition of the Act 1 ending "Til We Reach That Day" at Sarah's funeral, and Derick Bonner righteously portrays Booker T. Washington who desperately tries to stop the use of violence as a method to achieve justice.
The IMMIGRANT ensemble is authentically led by Marc Ginsburg who masters a proper Eastern European accent and body language as Tateh, a poor Jewish artist who comes to America to make a better life for himself. Frustrated, he soon shares the rules of "Success" with his Little Girl (Iara Nemirovsky), whom he leads around on a rope during their first train ride away from the filthy lower East Side tenements. It is during their stopover in New Rochelle that a chance meeting with Mother and Little Boy allows Tateh to see that not all people in America are against them. Another immigrant, socialist Emma Goldman, who raises her voice in support of labor unions, is portrayed to perfection by Valerie Perri, especially during "The Night That Goldman Spoke at Union Station" which ignites Younger Brother into her cause. Immigrant and master escape artist Harry Houdini, portrayed by Benjamin Schrader, entertains and literally pops up out of scenery to inspire Tateh on to a better life. When Tateh finally manages to create the beginnings of the motion picture industry and finally obtains the kind of success he always imagined for himself, Ginsburg shares his accomplishments in "Buffalo Nickel Photoplay, Inc." which attracts the attention of Mother, starting what will become their shared family life together.
As the musical's stories unfold and the ensembles intertwine, you will be blown away by the quality of all performers, fast pace of the direction, the intricate, multi-level scenic design by Tom Buderwitz which resembles a warehouse full of crates, the range of class-appropriate costumes by Kate Bergh, effective and attention-grabbing lighting design by Jared A. Sayeg, with sound and projection designs by Philip G. Allen and Hana Sooyeon Kim. Each element enhances this tragic yet ultimately uplifting American classic whose themes are unfortunately still all too familiar. Director David Lee said, "The themes of the show are more relevant than ever. Set in the first years of the 20th Century, it deals with immigration, racism, white privilege, women's' rights, workers' rights, violence in the name of justice, media's outsize influence on our democracy, inter-sectional politics and even the clash between fact and fiction in reporting our history."
Rush to get your tickets as the remaining performances featuring 21 actors and a 16-piece orchestra who plays continuously throughout the show are bound to sell out. RAGTIME runs through March 9, 2019 with performances on Tuesday-Friday evenings at 8pm, Saturday at 2pm and 8pm, Sunday at 2pm and 7pm. Dark Sunday 2/24 at 7pm. Tickets start at $25, available by phone at 626-356-7529, online at PasadenaPlayhouse.org, or in person at the Pasadena Playhouse Box Office, located at 39 South El Molino Avenue, Pasadena, CA 91101.