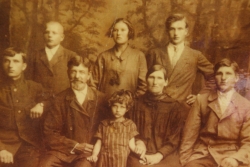 Eugenia Sakevich Dallas, has faced more in her 88 years of life than most would face in several lifetimes.
Her highly acclaimed book, "One Woman, Five Lives and Five Countries" is a compelling account of a child's dramatic journey from youth to adulthood.
It is the story of the trials and triumphs of a Ukrainian born citizen abandoned and left at the mercy of the dictatorship of Josef Stalin and Hitler ruled labor camps, set up to dehumanize and murder all who entered their gates.
Eugenia Dallas born into a loving home and tenderly cared for by her parents is the youngest of six siblings. Growing up in Kamjana Balka, a small but wholesome village north of Odessa located in South Ukraine.
Dallas lived just like any other person supported by wheat farms, careful planning and lots of hard work, while growing up happy under the watchful eyes of family.
Because of a Ukrainian tradition the village priest during that time, did not record Eugenia's birth. Forced out of their homes with no possessions, Eugenia's parents, Vasily and Nionila Sakevich, were shipped off to Siberia to work in labor camps.
Dallas was taken in by her brothers, who agreed that she was born on around 24 August 1925 or 1926. Either way, all agreed on her birthplace, Kamjana.
She never saw her parents again. As Ms. Dallas so eloquently describes in her book, her life became a blur due to constant changes in location and the trauma incurred as she witnessed through her own eyes, the genocide that took place in 1932-1933, wherein more than 10 million ( 1/3 of the Ukraine) perished.
Raped and molested as a teenager by a property owner, an Austrian Nazi camp is where Eugenia was deported and adopted by Italian prisoners of war.
It is around this time she recalls that she was be-friended by Italy's prisoners of war, and began to live quite lavishly. Upon discovering Dallas' illegal status, the government forced her to leave Italy and take up residence as a political refugee, with immigrant status in the United States.
How is it possible that a young woman, destitute, with a broken-spirit and eager to find a place to call home, travel from Austria, to Italy and to the United States?
As fate, destiny, or the good old laws of good cause, good effect would have it; a group of fashion buyers spotted Eugenia while dancing as a showgirl in New York.
Those buyers turned out to be from Neiman Marcus and Eugenia Dallas began the second part of a new life as a model.
Marriage was a sweet refuge after a lifetime of suffering or, so she thought and once again, disappointment swept over her heart, as she filed for divorce in 1961, taking her one gift of an only son, who she called, Gene Elson.
After having open-heart surgery, Los Angeles became a permanent residence for the mother and son pair, but again Eugenia's life took an unforeseen turn and she found herself faced with her only son's drug addiction.
At the same time, she finds herself back in Europe to piece her son's health back together and be wife to second husband, a World War II, Scottish soldier.
Eventually, Dallas became caretaker to her veteran husband who suffered from injuries gained in the war. One could not easily imagine the lifetime of struggle, hurt, pain suffered by a woman, a person like Eugenia Sakevich Dallas.
It reminds us of the movie "The Shaw Shank Redemption." Tim Robbins plays a man wrongly accused of murder, and is through an unusual set of circumstances, sentenced to prison.
Being a man of education, he seizes the opportunity to provide a service to the prison staff and thus begins to earn the trust of the corporate staff members there. Robbins face shows an up close screen shot, as we watch the sensation of the freedom he feels after crawling through miles of unimaginable stuff, in order to make his way outside to blue skies and that sweet smell of rain.
It took him 20 years to dig his way out of prison. Much like the Ukraine's Eugenia, he found home, first in his heart and eventually in another place. That home for Elson and Eugenia was the United States.
The life of Eugenia Sakevich Dallas might have started out in tragedy but you know what they say, the more adversity one suffers the greater the delight one feels.
Dallas presently acts as a humanitarian aid to the Ukraine and further expresses her creativity as a painter, writer and speaker Her book, "One Woman, Five Lives, Five Countries is a must read and collectable for avid readers. Email: eugeniadallas@sbcglobal.net, www.eugeniadallas.com 323-570-0055.