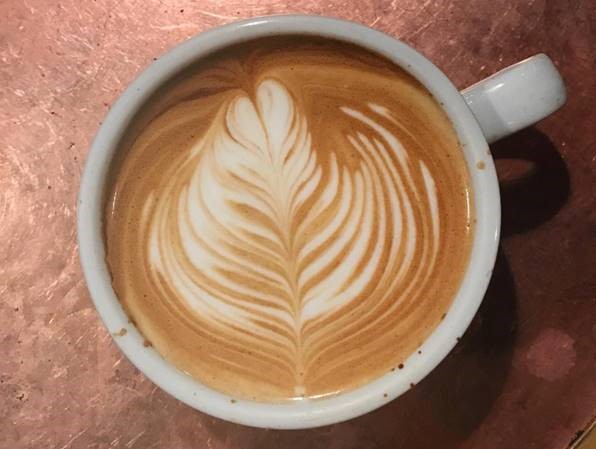 To truly take in the heart of Culver City, a visit to The Conservatory is essential. Located on Washington Boulevard, a few blocks east of Overland Avenue, the quaint coffee shop has been a fixture in Culver City for decades.
The Conservatory delivers specialty coffee blends on a regular basis to the 4.8 Zagat rated restaurant, Melisse in Santa Monica, as well as to Maple Block Meat Company and Pho Sho in Culver City. The owner, A.J. Barish also stated they are proud to supply a special coffee blend to the Culver City Fire Department.
This independent coffee shop sits just across the street from the Sony Studios lot where it would not be a stretch of the imagination to assume that screenplays and the like are undoubtedly being dreamt up or discussed over coffee.
Cappuccino's and lattes topped with rosetta art were a few of the drinks we saw being made while waiting in line. Arriving before noon allows you to taste the dark roast drip we were told.
Smooth and refreshing cold beverages such as iced coffee and tea drinks caught our attention on this hot July day. The chai tea with almond milk over ice was my choice and it tasted perfect, sweetened just right.
If the above is not enough to warrant a visit, a staff member noted that live music is performed a few times per week.
Guttiard is the cocoa of choice for the hot cocoa drinks where the freshly whipped cream is placed on top. A spice-rich Mexican hot chocolate is on the menu too. Organic coffee beans are roasted on-site, and over 50 teas from around the world are available according to the website.
If you have your child in tow, there is a treat for them as well. Babyccinos are described on the website as a "thick velvety foam in a cappuccino cup with a spoon, dash of cinnamon optional."
The knowledgeable and approachable baristas had a welcoming attitude. One of them said that the croissants and many of the pastries are delivered fresh daily from Bakers Kneaded, where, according to starchefs.com, owner, and Rising Star Award recipient, Chef Enrique was a contestant on "Top Chef: Just Desserts." The tasty looking muffins are from brought in by Susina Bakery.
The Conservatory is located at 10117 Washington Blvd., Culver City. It is open Monday to Friday, 7 a.m.-6 p.m. and Saturday from 7 a.m. – 3 p.m.