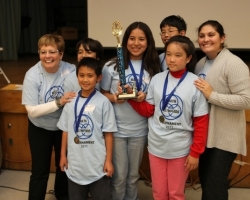 Culver City middle school students proved to be a factor at the Fourth Annual Linwood Howe Math Olympiads Tournament, where Southern California's best fourth- and fifth-grade mathletes recently faced off.
Fifth-graders Tanner Patton of Farragut Elementary School and Pavan Tauh of El Marino Language School finished the individual round of the tournament with eight of 10 word problems solved, as did Sarah Gonzalez and Anthony Pineci, both of The Mirman School for Gifted Children in Brentwood.
The first- and second-place medals were won outright by Ethan Zuo of Meadows Avenue Elementary School in Manhattan Beach and Mirman's Kevin Shao, with individual scores of 10 and nine points, respectively. But only after a second tie-breaking round did Patton emerge in third place, tying with Mirman's Pineci. Tauh took fourth place, sharing the prize with Gonzalez.
There was less drama in the team competition, in which groups of five students were given 20 minutes to solve 10 problems for three points each. Yet, in this round, the weekly team practices, coaching in critical-thinking and teamwork strategies, and two joint practices for all CCUSD competitors were clearly evident, paying substantial dividends.
The Farragut team of Patton, Abigail Kim, Ethan Small, Isabella Uchimura and Michael Wang captured the second-place team trophy, trailing Shao's first-place Mirman team in combined individual scores, but still beating them by three points in the team-score category.
The El Marino team of Tauh, Garrett Rifkin, Hayley Yamamoto, Isabel Musselman and Sterre Hesseling also displayed its strength in cooperative problem-solving, beating Zuo's third-place Meadows team in the team score, and taking the fourth-place trophy, only one point behind Meadows.
The Linwood Howe Math Olympiads Tournament is the regional, year-end competition for elementary school students in the international Mathematics Olympiads for Elementary and Middle Schoolers (MOEMS) series. The 2011 tournament drew competitors from 16 schools and eight districts in Southern California. Students from all five CCUSD elementary schools, 35 in all, qualified for the tournament.