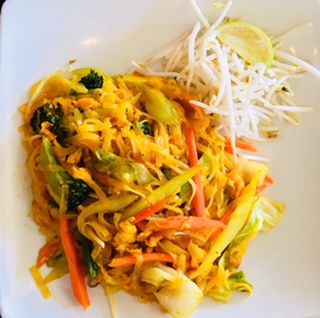 When dining in Culver City, it is refreshing to have accessible parking, a limited wait, a relaxed and friendly atmosphere, and reasonably priced food. But wait, let's not forget the main reason to dine out. Good food! This is what awaited me at Swanya Thai Cuisine.
I decided upon this local Thai restaurant to try their Pad Thai and Thai Tea with Boba and was pleasantly surprised.
With the population of Culver City at nearly 40,000 and well over 8,000 restaurants in Los Angeles from which to choose, some may say this competition is good for the consumer. Here in Culver City, new restaurants seem to be popping up constantly.  
Planning a menu, shopping for food, and preparing meals can become mundane and tiresome. There is something enjoyable about having someone else do the cooking and it is exciting to take advantage of some of the many choices of neighborhood restaurants.
From the moment I entered Swanya, friendly and attentive servers were there to take my order and they didn't hesitate to inquire about my meal.
I ordered the Pad Thai with vegetables and was not disappointed. Pad Thai is a popular noodle dish found at most Thai eateries. The rice noodle entree is pan-fried with eggs and either shrimp, chicken, or vegetables, and is bathed in a somewhat sweetly flavored sauce.
The meal arrived steaming hot with the noodles being the star of the meal, delicate, yet firm but not sticky and bathed in a mildly sweet sauce. Finely sliced crisp celery and carrots and wonderfully fresh bean sprouts gave the meal texture. Smothered in the delectable sauce, the bite-sized broccoli florets made you forget you were getting your daily serving of vegetables.
A nice touch as well were the bits of crunchy peanuts, just enough to add dimension and another layer of flavor. Adding a squeeze of lime enhanced the meal. There was plenty of the Pad Thai left over to box up and take home.
The Thai Tea with Boba was on point. I custom ordered mine with less of the sweetened milk. The Boba, which is a small black ball made from tapioca, was delightfully chewy and had me wanting more. The drink was refreshing, sweet, and absolutely perfect.
Homemade coconut ice cream and sticky rice with mango for dessert will have to wait until next time.