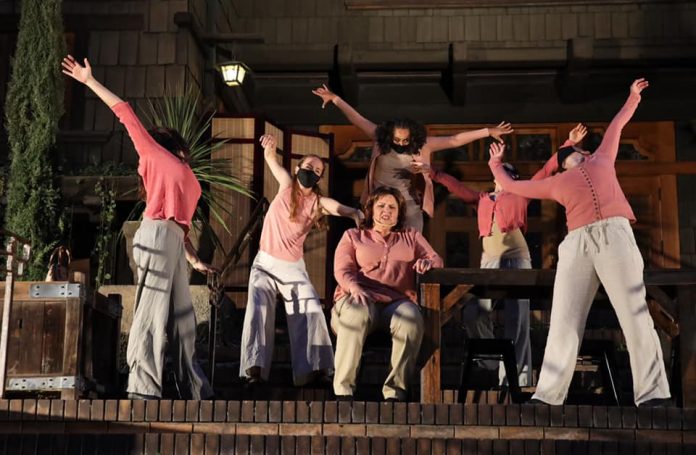 No doubt the past pandemic year should have proven to us that mental illness no longer holds the same type of stigma as it once did in American society, especially since so many are now admitting to needing help to deal with the emotional struggles faced while living in isolation. 
So that makes now the perfect time to experience the contemporary musical NEXT TO NORMAL with book and lyrics by Brian Yorkey and music by Tom Kitt, which explores how one suburban household is torn apart by mental illness, yet goes on to fight to stay together as the mother, Diana Goodman, struggles with bipolar disorder.
The play centers on a family who could be living in any town: Dad's an architect; Mom rushes to pack lunches and pour cereal; their daughter and son are bright, wise-cracking teens, making them appear to be a typical American family during the opening number "Just Another Day." 
And yet we soon find out their lives are anything but normal. With provocative lyrics and a thrilling score, this musical shows how far two parents will go to keep themselves sane and their family's world intact when their very foundation is being torn apart. 
Highlighted by star-quality performances, the cast is led by Stephanie Lesh-Farrell as the mother, who brilliantly takes us inside the ever-increasing downward spiral of Diana's mind and emotional processes. 
As her anguished and at-his-wit's-end husband Dan, Paul Siemens takes us inside the heart and soul of a man who only wants to do what is best for his family – even though he has absolutely no clue what that might be. 
Diana is especially close to her "Superboy" son Gabe (Bobby Burkish) who can do no wrong in her eyes, while Jana Souza as daughter Natalie is saddled with an overbearing need for attention coupled with teenage angst from growing up in a dysfunctional family, which leads her into a relationship with fellow troubled teen Henry (Sabin Shrestha) whose solution to everything comes from smoking pot. 
Rounding out the cast is classy Greg Safel as Diana's psychiatrists who are willing to try anything to help her overcome her demons so she can live a normal life. And of course, in Diana's troubled mind, her handsome doctor is the Rock Star who will make her life "Better Than Before" despite all the concerns voiced by the rest of her family. 
What also makes Lineage's production a standout is the Greek chorus of dancers (Brittany Daniels, Caterina Mercante, Ericalynn Priolo, Hilary Thomas, Teya Wolvington, and Meghann Zenor) who use their lithe and limber bodies to express every single joy and torment going on in Diana's mind, reflected in Yorkey and Kitt's emotionally riveting score as well as the remarkable skill of Lesh-Farrell to wear such a wide range of human emotions through every inch of her physical being, thus inspiring the dancers to even greater simpatico. 
Technical wizardry abounds throughout the production, with directors Rob Lewis and Hilary Thomas staging the action in areas in front of the Gamble House, on its long, uneven-walled patio, and most astoundingly on the multi-level steps leading to the front door where the entire cast is often seen together either in the family's home or doctor's office. 
Mood-enhancing lighting designed by M Cantu, Brian Elerding and Mo Szalla morphs as often as Diana's emotional state does, although a few times I was puzzled by actors speaking or singing in the dark. Color-coordinated, quick-change modern costumes designed by Stephanie Lesh-Farrell, Caterina Mercante and Teya Wolvington reflect the ever-changing moods being expressed by the dancers and cast.
Audience members remain in their cars parked in front of the Gamble House with sound broadcast through a specific FM radio channel. To follow COVID restrictions, cars are parked six feet apart with masks required on audience members if car windows are left open during the show or when exiting to stretch or use the "facilities" nearby. 
There are no on-site concessions, so plan ahead and bring your own as the production runs approximately two and a half hours including intermission.
'Next to Normal' is an emotional powerhouse that musically addresses such issues as grieving a loss, ethics in modern psychiatry, and suburban life by combining an intense drama with an energetic pop/rock score and Lineage's athletic choreography. 
Its brutal honesty will grab your heartstrings and never let go, just as the incredible harmonies of the cast will elevate the show beyond just its subject matter thanks to music director Alan Geier. Because of language and adult themes, mature audiences are recommended. 
I have to congratulate Lineage Performing Arts Center, who partnered with the world-famous Gamble House in Pasadena, to present this COVID-safe, outdoor, in-person, Drive-In production whose much-too-short run ended last weekend. But since it sold out in record time, my hope is that a summer extension is being planned. 
For more information, visit LineagePac.org