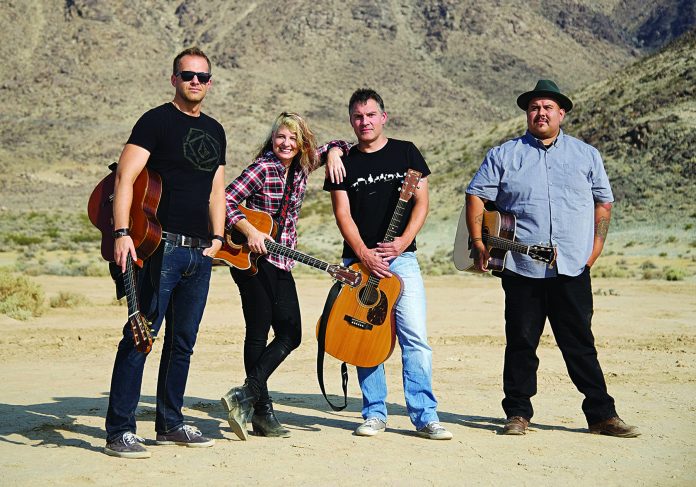 By Gary Kohatsu and Gary Mandell
Based in Los Angeles, The String Revolution is comprised of four professional guitar players who are not only stellar guitarists but also create distinctive sounds with their guitars: mimicking percussion, special effects, melodic grooves, bass lines, and more.
String Revolution performs at 8 p.m. Saturday, Sept. 14 at Boulevard Music, 4316 Sepulveda Blvd., Culver City. Tickets are $17.50. Online ticket purchasing closes at 6 p.m. the day of the show. Doors open at 7:30 p.m. Call 310-398-2583.
The band's site is http://thestringrevolution.com
THE MEMBERS:
Janet Robin — Janet is the brainchild of The String Revolution. She was named one of the "Top 10 female guitarists" by Guitar World Magazine. She has also been enjoying her career as a solo artist releasing CDs and touring internationally.
Daniel Schwarz — Said to have "amazing acoustic guitar abilities and skills on the slide guitar, dobro, and mandolin." He is an acclaimed music composer and musician who tours frequently in Europe.
Art Zavala Jr. — He brings a unique, musical guitar perspective to the project, including singing, experimental rhythms, different tunings, and original songs.
Markus Illko — His performances show his classical training as well his fluency in many other styles of music. He brings inventive fingerstyle, impeccable technique, and arrangement talent to the project.
The NEWS reached out to the group for a small chat with Janet Robin.
Janet Robin said Strings Revolution is comprised of many outstanding guitarists. Each with a fine pedigree in the development process.
"Markus IIlko is from Austria and has a masters degree in classical guitar," Robin said. "He is also a composer. Daniel Schwarz is from Switzerland and is songwriter and guitarist who has worked with many different songwriters over the years. Art Zavala Jr. is from Riverside, Calif. and is a singer-songwriter with a solo act of his own, as well as a studio producer and a recording studio of his own. And me, Janet Robin, has been playing guitar since I was 6 and my credits include touring with Lindsey Buckingham, Air Supply, Meredith Brooks, Michelle Shocked as a hired guitarist, and I was trained by the late great Randy Rhoads
"I also have my own solo act and tour nationally and internationally. We all started quite young learning our instruments and by our teenage years got more serious about it," Robin said.
Their influences are both diversified and exceptional.
"Since we come from different backgrounds, we have a lot of different influences…," Robin said. "I would say mine is more classic rock, blues, singer-songwriter- definitely bands like Led Zeppelin, Heart, players like Jimmy Page, Jimi Hendrix, but I also love the instrumental masters like Tommy Emmanuel. Markus is more classical and flamenco, Daniel is more bluegrass and singer-songwriter, and Art is more alternative and experimental. I really like that we come from different tastes in music because it creates a unique sound in our songwriting and arrangements."
Strings Revolution has a unique sound that gives them a strong and meaningful identity, Robin said.
"What sets The String Revolution apart from other guitar instrumental bands is our varied backgrounds and tastes in music," she said. "You'll hear a bluegrass song, a delicate melodious song, and an arrangement of a cover like "Billie Jean," all on one record. What ties us together is our different strengths in our guitar playing. I believe we complement each other in our arrangements to bring out what's best in the song and also what showcases our best playing abilities so we can make the song more interesting and exciting."
This local band has been a part of the Los Angeles music community for decades.
"We are based in L.A.," Robin said. "I grew up here, so I've been through the music scene since the 1980s and have seen it change a lot over the years. I can only speak for myself and I, unfortunately, don't feel a camaraderie with any one particular music scene right now… but that's okay. Things change. There are a lot of different bands out there and many different clubs to play in. I think basically, there's something for everyone here in L.A."
Strings have toured and Robin said the group has been fortunate with their selection of performance venues.
"Well for The String Revolution we've been lucky and have had a lot of cool gigs," she said. "We really enjoyed playing the Laguna Festival of the Arts two years ago. It was a beautiful big stage with an amazing sound system. Honestly, I don't think we've had a bad gig since we've been together!
In a previous interview with the NEWS, Robin said her band has two released albums.
"One we released (in 2018): "Red Drops" and our 2016 release was "Stringborn," both records were mixed and mastered by Matthew Hyde in London. "We are very lucky to work with him… he's done amazing work with Rodrigo y Gabriela, two ultra-talented guitarists that we admire a lot. (both records can be found at https://thestringrevolution.com/music
Robin said Strings is no newcomer to Boulevard Music and have a strong relationship with the store owner, Gary Mandell.
"We have played Boulevard Music. I knew of it for a while, but a few years ago I went to see Laurence Juber, an amazing solo guitarist and thought to myself, The String Revolution should play here!" Robin said. "So, we got in touch with Gary (Mandell) and luckily he was impressed enough to have us in. We have kept up the relationship and hope to return each year."
From a previous interview, Robin offered this glimpse at what audiences can expect Sunday night.
"We love recording in the studio, but we really love performing live," she said. "What you'll see is a unified group of guitarists using their instruments in unique ways with unique arrangements of mostly original material. We do have a few covers we do which are always fun to play. There's also a great love of bantering on stage and telling stories behind the songs to the audience. We love to connect with the audience and feel it's a two-way street. They are there for entertainment, and we are there to entertain…  and that's what we do- and that's what you'll see."