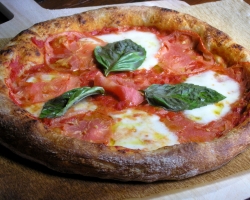 The pizza renaissance begun in California 30 years ago is alive and well, thanks in part to the culinary imaginations of chef/owners like Stella Rossa Pizza Bar's Jeff Mahin. The restaurant's simple menu offers a variety of 12-13-inch artisan-crafted pizzas showcasing seasonality and sustainability, working with locally grown ingredients from the Santa Monica Farmers Market. Mahin's resume includes internationally prestigious kitchens, including Nobu, England's The Fat Duck and Arzak in Spain.
Stella Rosa's signature pizza crust is made from four basic ingredients – locally milled flour, filtered water, sea salt and fresh yeast fermented for at least 18 hours. The pizza is cooked in a stacked oven at extremely high temperatures, creating a slightly crispy crust. The red sauce pizzas include a small dose of Spanish Calabria peppers, which provide just a touch of heat. In addition to the classic Margherita and pepperoni pizzas, the restaurant offers a homemade organic Italian sausage pizza, which when topped with a little of the Calabria pepper sauce, will put a tear in your eye. As it was the fall season, I tried the butternut squash pizza. It was very light, not as hearty as, say the Italian sausage, and once you taste it, you won't want to share it. So keep that in mind when ordering. The spinach pizza is another delightfully light dish that doesn't disappoint.
Starters include warm baked goat cheese and tomato sauce and fresh local burrata with smoked grapes. The beet carpaccio (that's right, beet) with burrata features delicately shaved slices of red and yellow beets topped with creamy burrata cheese and arugula, creating a composition of opposing flavors that blend together like the instruments of an orchestra. Stella Rossa also offers a selection of handcrafted artisan cheeses and salumis. The cured meats, by the way, are aged in a glass-enclosed case in the dining area of the restaurant, below rows of available wines, which are not merely décor.
The bar offers a selection of more than a dozen red and white wine varietals, which perfectly pair with its seasonal pizzas, as well as a variety of locally brewed draft and bottle beers. The staff is very knowledgeable about both the food and the beverages and are happy to assist.
The open kitchen and exposed brick walls convey a friendly atmosphere and the energetic music creates a barroom-type feel. For anyone wanting to simply enjoy a quiet meal, keep in mind that the tables are small and hard to come by, so be prepared to grab a bar stool as others enjoy their cocktails and strike up conversations with attractive patrons. Speaking of cocktails, the gin gin is a great drink for non-gin drinkers (the poor souls). It combines Hendrix gin with grapefruit and St. Germain. The floral and citrus notes mitigate the bite of the gin (until the next morning, anyway).
Stella Rossa is open Sunday through Thursday from 5 p.m. to midnight, and Friday and Saturday until 1 a.m. Pizzas run from roughly $13 to $16, with appetizers starting at about half that. Parking is by valet or streets and nearby lots. Reservations are limited and I recommended calling ahead for seating. Stella Rossa Pizza Bar is at 2000 Main St., Santa Monica. For reservations call (310) 396-9250 or go to stellarossapizzabar.com for more information.
Scott Bridges is a member of the Southern California Restaurant Writers (southerncaliforniarestaurantwriters.com). Email him at editor@culvercitynews.org.