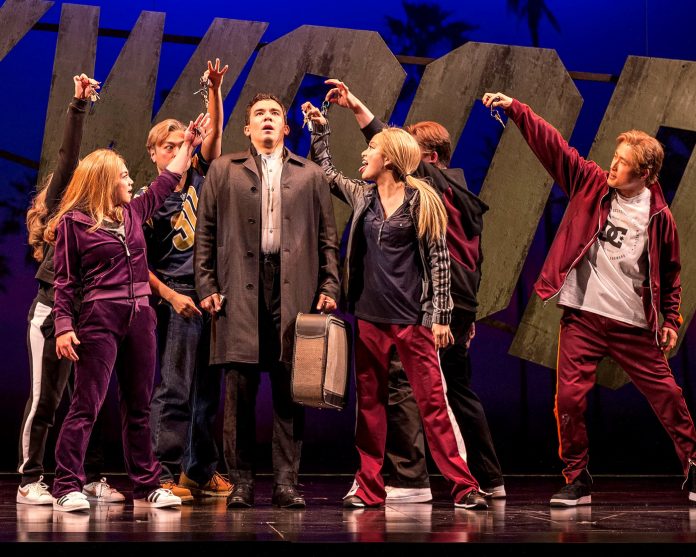 By Shari Barrett
You have probably heard or read about the World Premiere musical SOFT POWER, which opened at the Ahmanson Theatre on May 16.  But please allow me to add a few comments of my own about how this modern American musical comedy brilliantly spoofs how our country was seen by the rest of the world; China specifically, during the fiasco at the 2016 Presidential election. This contemporary comedy explodes into a musical fantasia of culture shock in the first collaboration between two of America's great theatre artists: Tony Award winners David Henry Hwang (born and raised in Los Angeles) and Jeanine Tesori, inspired by the legacy of classic American musicals such as "The King and I," as well as China's current quest for international cultural influence, also known as "Soft Power."
Soft Power rewinds our recent political history and plays it back, a century later, through the Chinese lens of a future, satirical East-meets-West adventure.
The musical centers around Chinese media executive Xue Xing (Conrad Ricamora) who, when visiting America seeking financial backing for a new television series project written by David Henry Hwang (Francis Jue), finds himself falling in love with a good-hearted U.S. leader – Hillary Clinton (Alyse Alan Louis) – as the power balance between their two countries shifts following the 2016 election. As original as it is topical, Soft Power overflows with the romance, laughter and cultural confusions of the golden age of Broadway with big production numbers, flashy stage sets, great costumes, and an enchanting ensemble of triple threat actors who know how to share not only their amazing talents but also the joy of performing in front of an appreciative live audience.
Perhaps the only drawback might be that the focus on the theme over story development has scenes jumping around through different time frames, with the big production numbers making it feel like a showcase for clever songs or heavy-handed observations on identity, both of Chinese citizens as well as American politicians.
However, there are moments which will inspire you into fits of political satire laughter, such as when the Chinese citizens celebrate their love of all things American by dancing around statues adorned with McDonald's French Fries or White House columns slide in as larger-than-life cans of Budweiser beer.  And if you think the Electoral College is difficult to understand, just wait until it is explained during one of Hwang and Tesori's songs!
The wonderfully talented cast includes, in alphabetical order, Billy Bustamante, Kara Guy, Jon Hoche, Kendyl Ito, Francis Jue, Austin Ku, Raymond J. Lee, Alyse Alan Louis, Jaygee Macapugay, Daniel May, Paul HeeSang Miller, Kristen Faith Oei, Maria-Christina Oliveras, Geena Quintos, Conrad Ricamora, Trevor Salter and Emily Stillings.
This "play with a musical" is produced by Center Theatre Group, directed by Leigh Silverman, choreographed by Sam Pinkleton, with wonderfully inventive scenic design by David Zinn, costume design by Anita Yavich, lighting design by Mark Barton, sound design by Kai Harada, and a full orchestra under the music direction by conductor David O, follows its run at the Ahmanson ending June 10 with a run at San Francisco's Curran from June 20 through July 8.
Tickets for Soft Power at the Ahmanson are available by calling 213-972-4400, online at www.CenterTheatreGroup.org or at the Center Theatre Group Box Office located at the Ahmanson Theatre. Tickets range from $30 to $130. The Ahmanson Theatre is located at The Music Center, 135 N. Grand Ave., downtown L.A.