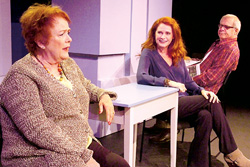 Theatre Planners presents the world premiere of WAITING FOR GRACE, an award-winning comedy by Sharon Sharth, as a guest production at the Odyssey Theatre, directed by Lee Costello. Centering on a woman who wants to have it all, a great career, marriage and children with the perfect husband, but just seems to waste her life with men who don't want what she does. And when she finally meets the right man, what if her fear of abandonment prevents her from ever accepting she has finally found the right man?
After all, Grace seems to have it all on her own. But as a successful New York actor, she's always put her career first. And now that she finally admits in her 40s she's ready for marriage and a baby, suddenly the clock is ticking at just as fast a pace as the play flies by due to the expert writing of first-time playwright Sharth (who also brilliantly portrays Grace) and inventive staging by Costello with several of the actors playing many characters in Grace's life who try to guide her on the right path to having it all.
"Waiting For Grace" features characters that many women will relate to, although some may find Sharth's views controversial as expressed by the people who advise her on how to get what she wants in life by catering to the needs of men even more than her own.
"Grace thinks she knows what her life should be, what she should want," explains Costello. "But she doesn't really know her own heart. We as women are presented with a labyrinth of emotion and expectations, sometimes making it difficult to figure out which path is the right one for us as individuals." So true!
We learn about Grace, the highly independent career woman who decides to navigate the path to marriage late in life, then goes on to question whether that is something she really wants or needs. Playwright Sharth portrays Grace, no doubt with a wink and nod of the head to her own dating experiences as she seems to fully embody all the necessary emotions, especially anger and disappointment, Grace verbalizes as each of her hopeful relationships dies on the vine when she brings up getting married and her desire to have a baby.
No doubt loosely autobiographical, the play features a character based on her real-life husband: internationally renowned entrepreneur/creative consultant/author Mark A. Bryan. No doubt, the man she finally agrees to marry, David (portrayed by handsome Todd Babcock who seems to be the ideal dream man), reflects what the author went through in trying to agree to marriage later in her own life. If you would like to ask questions, audiences are invited to join Bryan and the cast following every Thursday evening performance at the Odyssey Theatre for a complimentary glass of wine.
Four other actors portray all the other characters in Grace's life, with Jeff Lebeau a stand-out as the many "Joes" with whom Grace attempts to have a successful relationship before meeting David. Lebeau makes each one of them total separate characters thanks to quick costume changes designed by super-talented costumer Michael Mullen, with each of the men having great potential that Grace somehow manages to lose each time she suggests getting married. Mullen also has designed a beautiful dress and coat ensemble for Grace to wear as things progress with David, which allows Grace to nervously express her inner fears by wrapping her fingers around the ends of the lightweight coat's material.
Along the way, her life coach, portrayed by Pamela Dunlap, gives out advice as if she really knows how to get a man to the alter, even if her methods seem a bit off-center to my own independent sensibilities. Dunlap also portrays Grace's nagging mother to perfection. In fact, when she suggests her daughter can attract the right type of man, "if you stop wearing jeans all the time," it seemed as if my own mother was speaking to me! And when Bob Telford joins in as Grace's often silent Dad, we learn why Grace often speaks with malaprops that make the meaning of her comments even more funny.
Rounding out the cast is Lily Knight who brings her own touch of reality to the several characters she plays, especially the Nurse at the fertility clinic where Grace and David go to attempt to get pregnant. Same thing applies when she gets together with Grace as her friend Mary, who just wants the best for her friend in her dating search but really has no positive solutions for her when none of them work out. Even Mary is puzzled why Grace has to endure such misunderstandings and cruelties from men, as will you until the very end when it seems everything has finally worked out for Grace. But will it last?  See it and decide for yourself if love is just a waltz during which you just don't want to step on each other's toes.
Performances of WAITING FOR GRACE continue on Thursdays, Fridays and Saturdays at 8 p.m. and Sundays at 2 p.m., through Dec. 11. Tickets are $35. The Odyssey Theatre is located at 2055 S. Sepulveda Blvd., West Los Angeles. For reservations and information, call 323-960-7788 or go to www.plays411.com/waiting.