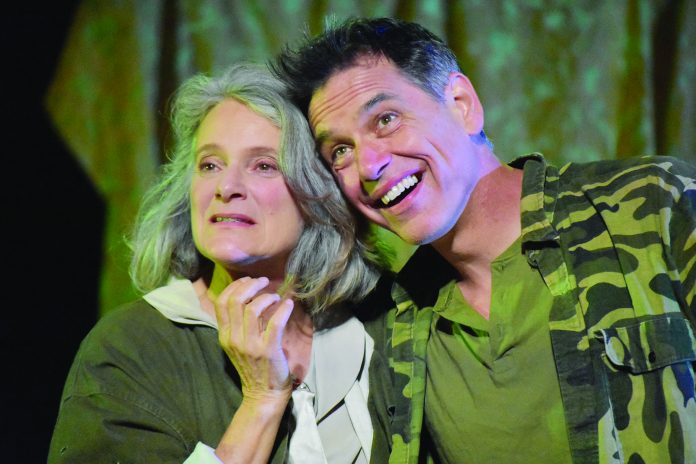 Thornton Wilder's 'Skin of Our Teeth' celebrates human indestructibility
Written in 1942, largely in response to U.S. involvement in WWII, Thornton Wilder's THE SKIN OF OUR TEETH was meant partly to assuage our fears of worldwide destruction brought on by war. Its timely message made it an immediate smash hit on Broadway, winning the 1943 Pulitzer Prize, directed by Elia Kazan and starring Fredric March, Florence Eldridge, Tallulah Bankhead, and Montgomery Clift.
Now playing in the glorious outdoor wonderland of the Will Geer Theatricum Botanicum in Topanga Canyon, the play speaks to the indestructibility of the human race by providing a satirical testimonial to the dogged determination of human beings to hang in there against all odds no matter what life throws at us. But be aware, between its nebulous chronology, simultaneous activity in multiple places, and mix of narration, dialogue, and asides, audience members may be easily baffled by the play until the final act hits the boards and its message becomes much clearer.
Beginning in the home of the seemingly average American family of Mr. and Mrs. Antrobus (Mark Lewis and Melora Marshall), their son and daughter (William Holbrook and Gabrielle Beauvais) and their sexy maid, Sabina (Willow Geer, who consistently breaks the fourth wall to register her displeasure with her role as well as the play itself), we are taken on their journey through time as they learn to navigate the Ice Age, The Great Flood, the invention of the wheel, the alphabet, the Great War, and even a beauty pageant in their home town of Atlantic City. In a nutshell, their experiences represent the range of human potential for genius, love, envy, betrayal, destruction and, most importantly, survival. As they continue to live and rebuild in the face of adversity, they are proof, as Mr. Antrobus says, that "living is a struggle." But honestly, what other choice do we have?
"This play is about us, today," notes director Ellen Geer. "The Antrobuses are refugees of the Ice Age (climate change), of Noah's Flood (record-breaking, weather-related calamities and fires), and of war (which never seems to cease). Wilder said of his play, 'It is most potent in times of crisis.' Theatricum is mounting it for the third time, so I guess we are at another time of crisis and plan to survive and land on our feet, just like the Antrobus family." At least, we certainly hope so.
As always, the acting troupe is first-rate with each character presented authentically and with the utmost sincerity and never-ending energy. Along with the leads mentioned above, "The Skin of Our Teeth" cast features Jonathan Blandino as the announcer and Earnestine Phillips as the fortune teller, with ensemble members Dylan Booth, John Brahan, Matthew Domenico, Colin Guthrie, Margaret Kelly, Edison Lobos, Shane McDermott, Matthew Pardue, Dante Ryan, Gina Shansey, Sky Wahl, Isaac Wilkins and Woan Ni Wooi. Technical credits enhance every moment of the play, including costumes designed by Holly Hawk, lighting design by Zach Moore, sound design by Grant Escandón, and fabulous Puppet Time creature creations of a dinosaur and wooly mammoth seeking shelter from the developing Ice Age in Act 1.
Unlike most theaters in the L.A. area that stage continuous runs of a single play, Theatricum uses a company of actors who perform several plays in repertory, making it possible to see all six plays in a single summer weekend. This year, "The Skin of Our Teeth" performs with Shakespeare's Twelfth Night and A Midsummer's Night Dream, Orson Welles' Moby Dick-Rehearsed, adapted from the novel by Herman Melville; and Ellen Geer's freely adapted version of Henrik Ibsen's An Enemy of the People. All five productions continue through Sept. 29, with another Pulitzer Prize winner as a sixth production, The Gin Game by D.L. Coburn, set to open on the smaller stage in the theater's intimate S. Mark Taper Pavilion on Aug. 17, starring long-time Theatricum company members and real-life husband-and-wife team Alan Blumenfeld and Katherine James in a co-production with the Sierra Madre Playhouse.
Tickets for all plays range from $10 to $42; children 4 and under are free. Will Geer's Theatricum Botanicum is located at 1419 North Topanga Canyon Blvd. in Topanga, midway between Malibu and the San Fernando Valley. For a schedule of performances and to purchase tickets, call 310-455-3723 or visit www.theatricum.com. The amphitheater is terraced into the hillside, so audience members are advised to dress casually (warmly for evenings) and bring cushions for bench seating. Patrons are welcome to arrive early and picnic before a performance.