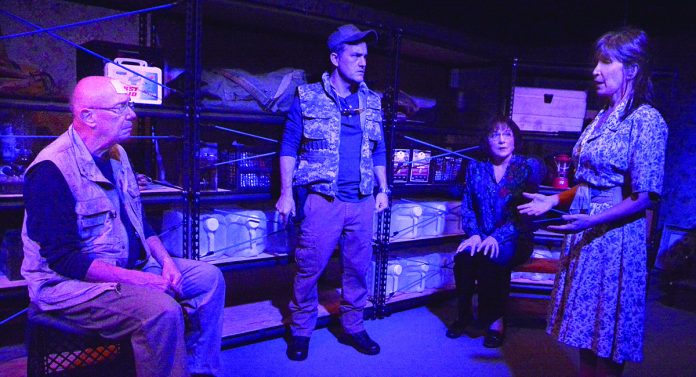 In their underground bunker, Frank and Stella make decisions affecting their future.
Actor/director Jason Alexander is probably best known for his role as George Constanza in the hit television series "Seinfeld" (1989-1998) and as Phillip Stuckey in the film "Pretty Woman" (1990). But how many realize he is also a talented magician and skilled poker player, having won many tournaments for the charity of his choice, the United Way of America?
With his focus now on directing plays and musicals, Alexander has directed the Ruskin Group Theatre's World Premiere Production of "The Joy Wheel" by Ian McRae, whose popular play "The Alamo" debuted at the Ruskin in 2017 and went on to run to sold-out houses for almost three months.
"The Joy Wheel" examines how life is changing for Frank and Stella, a long-married couple at a major turning point in their lives. We meet them on the day of Frank's retirement party when this once loving and simple couple finds themselves pulled in different directions as the winds of change blow through Joy, Illinois.
The world is not what it was, just as Joy is not what it was. Stella has recently been shaken and inspired for relationship equality by her best friend Margie, becoming a liberated, sexualized, independent woman, while Frank decides to emulate his doomsday prepper friend Stew by building an underground bunker that once was the family swimming pool. It's as if all of them are riding the Joy Wheel, hanging on to someone else so they can stay their ground.
"While 'The Joy Wheel' is fun and funny, it is also about people who find themselves losing connection and confidence in the lives they have built," says director Jason Alexander. "They desperately reach out to find something that helps them feel safe and secure. It feels like a reflection of what so many people are experiencing in these divisive, uncivil times."
His vision for this ambitious production in such a small space succeeds due to the marvelous performances of its cast, with Dann Florek (Law & Order) as Frank Conlin, Gina Hecht as Stella Conlin, Lee Garlington as Margie, and Maury Sterling stealing the show as the frighteningly crazy doomsday believer Stew.
Unfortunately, the need to transform the inside of the Conlins' home into an underground bunker, as designed by John Iacovelli, was completed by four massive bookcases loaded with survival supplies from backstage being moved in, out, and around during important soliloquies by cast members.
This disrupted the flow of the show to the point of breaking the audience's focus on the important details of the story and characters being shared, even though Edward Salas' lighting and sound design attempted to hide the commotion from the audience.
However, when you consider the world premieres presented by Ruskin Group Theatre which have gone on to fame elsewhere, including McRae's "The Alamo," Rex Pickett's "Sideways The Play," and "Paradise: A Divine Bluegrass Musical Comedy," by Cliff Wagner, Tom Sage and Bill Robertson; no doubt "The Joy Wheel" will go on to a larger theater where the scene transitions can be handled in a much more professional way and not distract from the show's continuity.
Produced by the group's Artistic Director John Ruskin and Managing Director Michael R. Myers, "The Joy Wheel" performances continue at 8 p.m. Thursdays – Saturdays, 2 p.m. on Sundays through March 31 (no performance on Thursday, March 28) at the Ruskin Group Theatre at 3000 Airport Ave, Santa Monica. Tickets are $30 – $35 and can be purchased at the box office or in advance by calling 310-397-3244 or online at www.ruskingrouptheatre.com. Free parking is available on site.