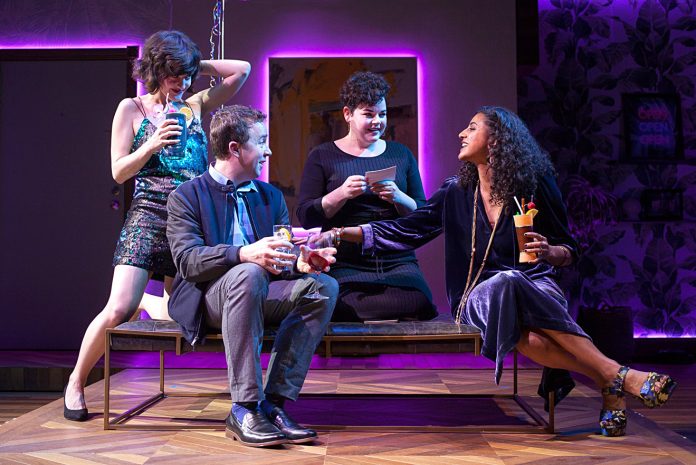 By Shari Barrett
After a successful Off-Broadway and Broadway run, Joshua Harmon, the writer of the Geffen's 2015 runaway hit "Bad Jews" (soon to be staged at the Odyssey Theatre Ensemble in West L.A.), returns to the Geffen with his affecting and hilarious play SIGNIFICANT OTHER.
The story about finding and lacking love is directed with realistic charm and bite by Stephen Brackett. With humor and humanity, Harmon offers a relatable portrait of 20-something urban life and the seemingly endless string of weddings that accompany it and leave other singles wondering if such happiness will ever come their way.
The play centers on Jordan, a single, gay, Jewish, young professional with a close group of three female friends, who slowly drift apart as each woman gets married while he searches for his own "Mr. Right."
This slice of modern singles tale revels in the paradox of feeling old when you're still young and the sometimes-crushing loneliness that comes with growing up. Jordan is enthusiastically played by Will Von Vogt in the most non-traditional Jewish portrayal ever, other than using guilt to try and get what he wants! But each successful pairing reminds us that the perfect time to find your perfect match is when you are not looking for it and just allow it to happen. Except for poor Jordan whose obsessive need for attention drives other gay men away from his life and bed.
Adding in the voice of reason along the way is Jordan's Jewish grandmother, lovingly portrayed as a sometimes-forgetful but always shoulder-to-cry-on friend by Concetta Tomei, whose brilliant sensibilities can be summed up with her insightful observation about Jordan's bitter depression at being alone: "The book of life is long and you're just in a really difficult chapter right now." Problem is, this chapter is taking forever for Jordan to finish.
And what of his three friends and their search for the perfect "soul mate?" The most outspoken is Kiki (Keilly McQuail), a quirky, self-centered diva who, after vowing to "fall in love with myself since I can treat myself better than any man ever could…" admits two months later she met the perfect man and is now planning to get married. Her incredulous friends are shocked.
Vanessa (Vella Lovell) bemoans her latest break-up with yet another married man, Zach, with whom she works. So of course, at Kiki's wedding reception, Vanessa, who describes her pink bridesmaid's dress as "walking birth control," almost immediately hooks up with Roger, a scruffy-looking artist-type. Then, wouldn't you know it, the two soon announce their engagement.
And while these two have found their happily-ever-afters, Jordan's best friend Laura, is portrayed with heart and soul by Melanie Field, who remains single and Jordan's BFF; his "go to" date for parties and his best "late-night-in-bed" chat buddy. But when she announces she's met Tony, a teacher who she thinks is the one, it throws Jordan into a deep, downward depression from which he may never recover. In fact, while all of Laura's other friends celebrate her happiness at her engagement party, Jordan strikes out at her for not including him as a bridesmaid in her wedding party. As their heated banter continues, the two come face-to-face with the green-eyed monster, leading to one of the best scenes in the play as the two argue back-and-forth about love, friendship, marriage, and who can you chat with on the phone late at night if you're no longer alone in bed?
All the other men are portrayed by two talented actors who frequently run offstage only to return in the blink of an eye, dressed differently with rather strange hairstyles to differentiate their 3 personas. Handsome John Garet Stoker portrays Will, Conrad, and Tony with his most memorable scene taking place as Jordan describes his overwhelming fascination with Will's body as he emerges from the gym's pool
But another star of the show is the amazing, movable scenic design by Sibyl Wickersheimer, colorfully lit by Eric Southern. Movable set pieces re-organize into the art gallery where Jordan works, a floor slides to reveal a pool underneath from which Will emerges, as well as outdoor settings, bars, or Jordan and his Grandmother's homes, are revealed where soul-searching discussions are held.
"Significant Other" performances take place Tuesday to Friday at  8 p.m., Saturday at 3 p.m. and 8 p.m., Sunday at 2 p.m. and 7 p.m. through May 6 at the Geffen Playhouse, 10886 Le Conte Ave., Los Angeles. Tickets currently priced at $25 to $90. Available in person at the Geffen Playhouse box office, by phone at 310.208.5454 or online at www.geffenplayhouse.org.