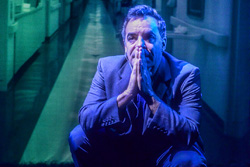 Blending cutting-edge science with masterful storytelling, Ovation, Los Angeles Drama Critics Circle and L.A. Weekly award-nominated co-writers Alex Lyras and Robert McCaskill teamed up with two-time Grammy Award-nominated composer Ken Rich, visual artist Corwin Evans and three-time Emmy Award-winning editor Peter Chakos to create a profound, humorous and highly ambitious tour of the collective unconscious in the world premiere of PLASTICITY, now onstage at the Hudson Guild Theatre on Hollywood's Theatre Row.
In it, a comatose man re-emerges into consciousness in a multilayered, multimedia presentation about the miraculous power of the brain to re-wire and heal itself.
Brain plasticity (from the Greek word "plastos" meaning molded) refers to the extraordinary ability of the brain to modify its own structure and function following changes within the body or in the external environment. Lyras and McCaskill, who directs, extensively researched the science of brain plasticity, conducting multiple interviews with doctors and scientists before committing the script to paper. "The latest neuroscience informs the show's exploration of how the brain heals itself and ultimately creates the mind," Lyras says. "David's attempts to piece together his consciousness as he emerges from the coma are represented visually, using multiple projectors to create 3D effects."
Blending cutting-edge science with masterful storytelling, PLASTICITY takes the audience deep inside the mind of David Rosely, even as he lies in a coma unable to communicate with the outside world. A hovering circle of doctors and loved ones, including David's twin brother Grant, are all played by Alex Lyras in an unusual solo performance: the actor not only creates multiple characters, but interacts with them on stage through the use of integrated projections on a screen at the back of the stage and a scrim covering the entire front of his stage performance area. Many times, Lyras actually speaks as two different characters interacting with each other through the use of realistic projections on the scrim in front of him speaking center stage.
The play also examines important end-of-life issues, as David's friends and family consider whether or not to "pull the plug" and let him slip away in peace rather than keeping him alive with breathing and feeding tubes. Without any directive in place, all decisions are left to his estranged twin brother Grant, even though his fiancée Catherine (seen only in projections speaking with Lyras as her psychotherapist) was much closer to David and wishes to keep him alive as long as possible. Their battle whether to remove the feeding tube causes their disagreement to wind up in court. And I won't reveal here who wins or what the ultimate outcome reveals, other than there is no need to be aware to be aware.
Lyras ability to keep all his character changes perfectly flowing with the spectacular multimedia effects is mind-bending. The show, divided into several parts sorted by the number of days David has been in a coma, runs approximately 90 minutes without an intermission. Set and lighting design by Matt Richter are top notch, but given the intense subject matter and visually stunning presentation, it is easy to feel overwhelmed intellectually by the presentation, especially when Lyras changes characters so frequently that it becomes difficult to keep the story elements from getting muddled. I would recommend trimming it down to a solid hour to keep the audience focused on the story rather than just the stunning visual effects.
The world premiere of PLASTICITY runs through March 13 with performances on Saturdays at 8 p.m., Sundays at 7 p.m. and Mondays at 8 p.m. with one Friday performance on March 10 at 8 p.m. Tickets to all performances are $30. The Hudson Guild Theatre is at 6539 Santa Monica Blvd., Los Angeles. Call 323-960-7787 or go to www.plasticitytheplay.com.