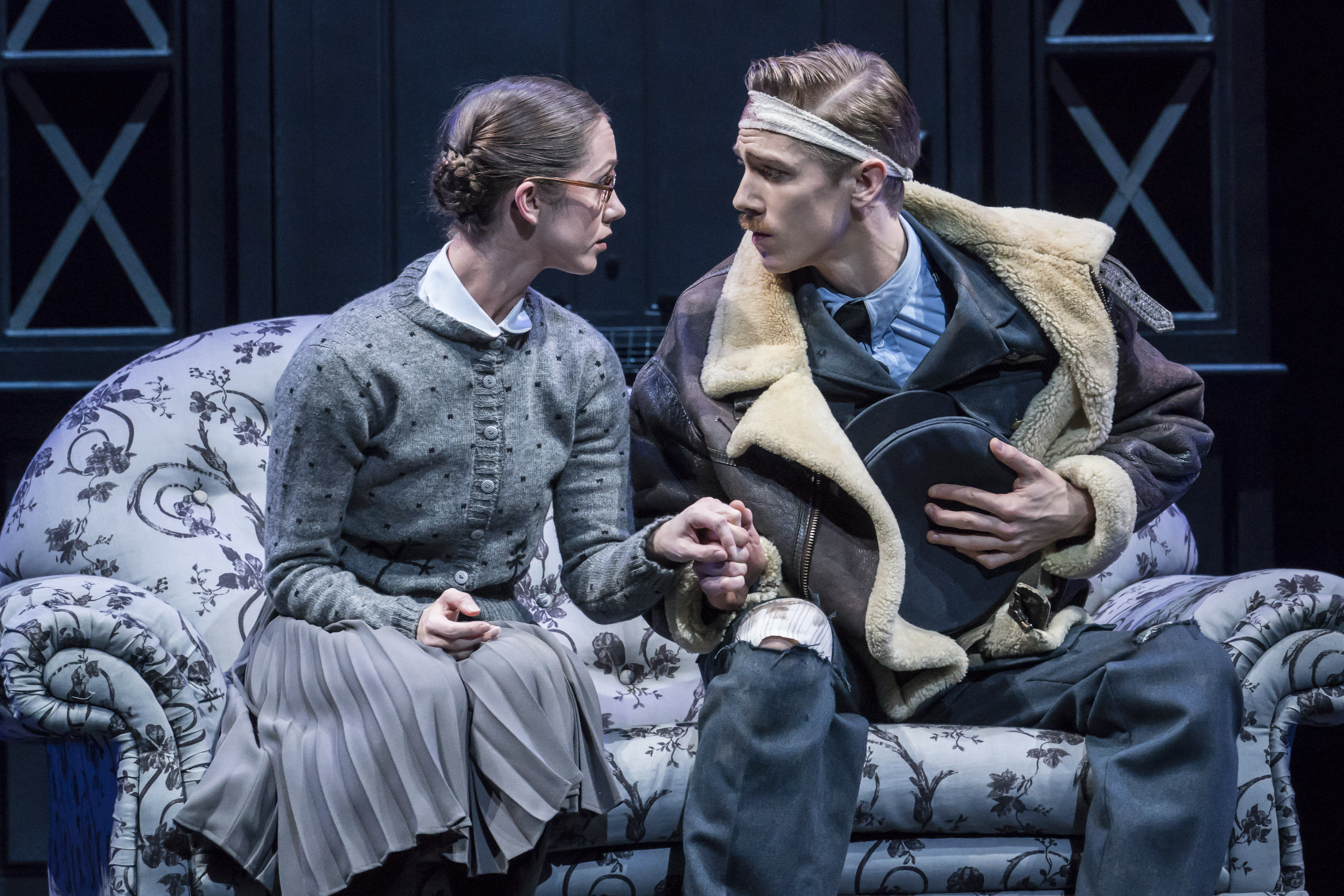 Celebrated director/choreographer Matthew Bourne had dedicated his latest outstanding production of CINDERELLA, set in London during World War II, to his "Dad, Jim Bourne (1932-2010) who was there and lived to tell the tale." His magical interpretation of the classic fairy tale has, at its heart, a true war-time romance beginning with a chance meeting between Cinderella and her dashing young RAF pilot, together just long enough to fall in love before being parted by the horrors of the Blitz, just in time for Valentine's Day celebrations.
Broken into three 40-minute acts, with Lez Brotherston's achromatic costumes and sets (which won an Olivier Award for his original designs), and lighting by Olivier Award-winning Neil Austin, CINDERELLA is performed in surround sound, designed by Paul Groothuis featuring a specially commissioned recording played by a 60-piece orchestra. Matthew Bourne's vivid storytelling has never been more heart-stopping and touching and will take the audience into the heart of Prokofiev's magnificent score, and the sights and sounds of war-torn London via historical newsreel projections designed by Duncan McLean. Performances continue through March 10, 2019, at the Ahmanson Theatre, with all characters double or triple cast. For this review, I will be mentioning the talented dancers who performed on Wednesday, February 6.
Adding in a heartwarming touch, Cinderella's father Robert (Alan Vincent) is wheelchair bound and lovingly cared for by his daughter while ignored by Sybil (Madelaine Brennan), her evil Stepmother and self-centered Stepsisters Irene (Sophia Hurdley), Vivien (Anjali Mehra) and Stepbrothers Malcolm (Jackson Fisch), Vernon (Dan Wright) and Elliott (Stephen Murray). Their total disregard for Cinderella is always apparent, especially during Act 1 when the invitations arrive for the event at Café de Paris and they all mock her as the only one in the family not receiving one. Of course, in a marvelous modern updating, her Angel arrives on a white motorcycle with Cinderella in his sidecar waving an invitation to the party which opens Act 2.
While Bourne's brilliant director and choreography, along with the entire visual presentation of CINDERELLA makes it one to not miss, I will say that the lack of color did take away some of the magic that could have been so much better on display during her one magical night spent at the Café de Paris as the Blitz rages on outside.  After all, this dreamlike sequence was created out of the bombed out location by her Angel (Liam Mower), always dressed in white against the more bland gray and black tones of the ensemble, other than during this sequence when Cinderella (Ashley Shaw), in a beautiful flowing white gown, and her handsome pilot (Andrew Monaghan) are able to forget their troubles and celebrate their mutual attraction and love as they dance the night away together until midnight when everything reverts back into disrepair.  And yes, he does recover one of her sparkling silver slippers which sends him on his quest to find her once again during Act 3.
Kudos to the entire cast and crew for their magnificent triple-threat performances and artistic dedication to bringing Matthew Bourne's thrilling and evocative love story CINDERELLA to Los Angeles through March 10, 2019. Tickets ranging from $30-$175 are available by calling (213) 972-4400, online at www.CenterTheatreGroup.org, or by visiting the Center Theatre Group Box Office located at the Ahmanson Theatre at The Music Center, 135 N. Grand Avenue in Downtown Los Angeles, 90012. No performances on Mondays, with evening and matinee, shows Tuesday-Sunday.