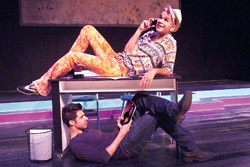 Gloria Swanson is probably best remembered for the role of Norma Desmond in the Academy Award winning "Sunset Boulevard" which has become a classic film noir. So when a third-rate director gets the rights for a re-make, every actress of a certain age is ready to jump right in and audition for the iconic lead character including a washed-up TV actress, a Blaxploitation movie bit player and a pre-op transgender woman all repped by the same third-rate agent.  In the world premiere of DRAMA QUEENS FROM HELL, Emmy Award-winning TV writer / bestselling novelist / playwright Peter Lefcourt has lovingly created a rollicking farce that skewers Hollywood, ageism, political correctness and everything else in its path.
Drama Queens is the answer for anyone seeking a laugh-out-loud, escapist night on the town, centering on three divas who will stop at nothing to get cast– absolutely nothing.
According to Lefcourt, the call for political correctness and diversity in Hollywood is loud and clear, yet ageism and sexism persist on a daily basis. "The competition among older actresses can be fierce because there are so few good parts. In this play, it's at the level of an over-the-top feeding frenzy — an affectionately comic vision of the Darwinian universe of the film business."
Terri Hanauer directs the world premiere of Drama Queens from Hell, presented by Theatre Planners as a visiting production at the Odyssey Theatre continuing through Sept. 25.  She also directed last season's hit production of Café Society written by Lefcourt.  I advise you to get your Drama Queens tickets soon for as soon as word gets out, this outrageously hysterical play with music is bound to sell out most shows! "Wild ambition – each of these characters has it to the max," laughs Hanauer. "These women give new meaning to the phrase "I'd kill for that part.'"  And what a joy it is to watch each of them maneuver their way to the forefront, even if only in their own minds.
The play is narrated by Paul Galliano as the (now dead) B-movie director Gerard Manville whose goal is to recount the director's experiences auditioning the three washed-up actresses: (Ms.) Christopher Callen as aging actress Maxine Zabar; Dee Freeman as former Blaxploitation movie star Felicia Brown; and cross-dressing wizard Richard Sabine as leading lady wanna-be Brianne McCauley – née Brian, all of whom have been sent to Manville by their bottom-feeding agent Artie Paramecium, played by Rick Podell who is often wheeled onstage sitting on a toilet while taking their calls.  The sound effects alone are enough to get the laughter ringing off the walls.
As the audition process gets going, Manville hires Andrew Diego as his bitchy. blonde-haired gay office assistant Raphael who makes answering the phone both a pain in his side as well as the highlight of his day.  Diego also plays Hildegard, the German wardrobe mistress, whose task it is to get the auditioning actresses into the right costumes to make the best impression.  I think these scenes were among the funniest in the show with Diego in drag perfectly mimicking Hildegard's attitude and conviction that only she knows best.
These six perfectly cast actors make the play a wonderama of brilliant character acting, singing with beautiful harmonies, and dancing ("In heels no less", recounts Sabine).  I was having such a good time laughing as I watched their antics, I did not want to take my eyes off them to write as many notes as I usually do about a production, which is probably the greatest compliment I can give to all involved for a job exceedingly well done.  The creative team includes set designer Pete Hickok; lighting designer Donny Jackson; sound designer Dino Herrmann; projection designer Yee Eun Nam; costume designer (and wonder woman) Mylette Nora; graphic designer Nancy Nimoy; and casting director Michael Donovan.
Drama Queens from Hell continues through Sept. 25 with performances on Fridays and Saturdays at 8 p.m., and Sundays at 2 p.m. and 7 p.m. Tickets are $25 on Fridays and Sundays and $30 on Saturdays. The Odyssey Theatre is located at 2055 S. Sepulveda Blvd., West Los Angeles. Paid parking onsite or free on surrounding neighborhood streets. For reservations and information, (323) 960-7787 or go to www.plays411.com/dramaqueens.