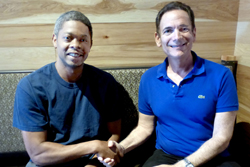 Last year I attended the World Premiere production of RECORDED IN HOLLYWOOD, a
musical featuring a rare blend of R&B, rock and relevance telling the story of trailblazing Los Angeles entrepreneur and civil rights activist, John Dolphin, who made his mark on the national music scene long before Motown existed. My eyes were opened to this little-known slice of L.A. history, and I knew the amazing production was destined for greatness and surely a Broadway run.
Written by Matt Donnelly and Jamelle Dolphin, the newly revamped production of "Recorded in Hollywood" opens Friday, July 8 at Culver City's Kirk Douglas Theatre. It now features an ensemble of 21 performers, a six-piece live band, 15 original songs by Andy Cooper, and eight covers of songs launched in the legendary Dolphin's of Hollywood record store, which opened in 1948 by John Dolphin on Central Avenue in South L.A. The production is again being directed by four-time NAACP Best Director recipient Denise Dowse who has been associated with the musical since its inception.
I wondered how the Culver City production would compare to the original, so I decided to meet with John Dolphin's grandson Jamelle Dolphin, who co-wrote the musical based on his book, and Broadway producer Lou Spisto, who has joined the production team, to ask how they met and their plans for the future.
Lou said he met Jamelle last summer via industry colleagues when the World Premiere run had just ended at the Lillian on Theatre Row in Hollywood. Sisto was impressed with the story of John Dolphin, which he felt needed to be told to a wider audience.
"It's a great love letter to R&B and early rock and is as relevant today for both good and bad reasons as it ever was then," Spisto said. "It's an incredible life story wrapped in amazing music and dance, and John Dolphin is a bigger than life character. He was a visionary and kept knocking doors down to make his mark while believing in what could be for the masses at a time when a black man could not even rent space for a record store in Hollywood.
"And he went on to make famous people more famous and unknowns known on the West Coast," Lou shared. "It's an amazing story, set in a time when the harmonious blending of races was not being accomplished anywhere else."
Jamelle remarked, "My grandfather's store, Dolphin's of Hollywood, was open 24/7 and people of all ages and races came in to listen to the music starting in 1948. Besides selling records, he operated a live radio show within the store and hired white deejay 'Huggy Boy,' who could broadcast on a white radio station to help sell records to that audience, even though the store was located in a black neighborhood.
"Huggy Boy was the first deejay to play the song "Earth Angel" by the Penguins and within weeks of its release, it shot to the top of the charts," Dolphin said. "And there was no other place you could go and meet the biggest recording artists of the day, as they would always stop in to sign autographs when promoting their latest record. Fans of the store knew if they were looking for a record that was even slightly controversial at that time, Dolphin's was the place you could get it."
I asked Jamelle if he could go back and meet his grandfather at his store during its heyday, what day would he choose?
"I would have loved to have seen Sam Cooke when he broke the record, "You Send Me," there and Huggy Boy played it over and over again. And Sam Cooke came down to the shop that day because all the kids were coming down to buy the record because they loved it. And it went to Number One. That would have been great to see the excitement in the shop that day; the first time gospel went to secular music."
Lou remarked: "His grandfather was a complex character and Jamelle wants to tell the truth about what happened to him, which makes the story all the more fascinating for those who have never heard of him. And for those who saw the musical last year, the amazing Stu James again stars as John Dolphin, for which he received rave reviews in the original production."
Jamelle added: "Stu looks like him and has the swagger my grandfather had. And he has a great voice and stage presence!"
Also featured in the cast are Eric B. Anthony (Percy Ivy), Jenna Gillespie (Ruth Dolphin), Matt Magnusson (Dick "Huggy Boy" Hugg), Wilkie Ferguson II (Jesse Belvin), Thomas Hobson (Sam Cooke), Frank Lawson (Leon Washington), plus an ensemble of 14 talented singers and dancers.
"There are now more characters who recorded their records in his store, as well as more background and texture about other characters, added novelty numbers, and all-day auditions which John used to do in the store, told with a wonderful new piece of music. And we end differently making it a little more poignant, including a rousing new number which will leave everyone uplifted," Lou promised.
I have to admit, even though I was born and raised in Los Angeles, until I saw the original production last year, I had never heard of John Dolphin nor his store. And now I only wish I had been old enough to experience the magic that took place there almost every day. Many of those moments are shared via historical photos from the Dolphin's of Hollywood store on the show's website www.RecordedInHollywood.com, where you can purchase $39 – $59 reserved seat tickets for the upcoming July 8 to Aug. 7 run.
"Recorded in Hollywood" performances take place on Thursdays at 8 p.m., Fridays at 8 p.m., Saturdays at 2 p.m. and 8 p.m, Sundays at 2 p.m. and 7 p.m. The Kirk Douglas Theatre is located at 9820 Washington Blvd., Culver City. Free covered parking available at Culver City's City Hall, across Culver Boulevard, behind the theatre with the entrance on Duquesne. Or take the Metro Expo Line and exit at Culver City, where a variety of local restaurants and watering holes can be enjoyed within walking distance before or after the show.
Catch it now before this amazing musical heads to Broadway and London to share the legendary John Dolphin's story and the fabulous music he brought into the world with your friends and family.