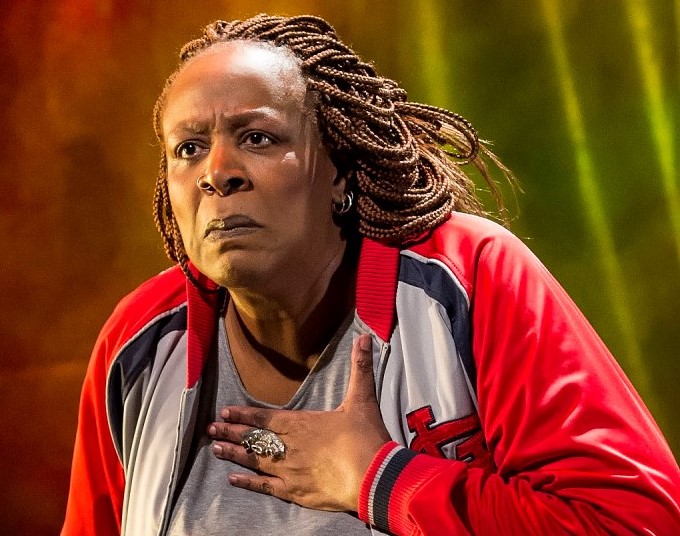 Commissioned by Repertory Theatre of St. Louis, UNTIL THE FLOOD, now onstage at the Kirk Douglas Theatre in Culver City through Feb. 23 during Black History Month, is brilliantly written and performed by Dael Orlandersmith and directed by Neel Keller.
The play explores the aftermath of the fatal shooting of Michael Brown, an unarmed, black 18-year-old, by Darren Wilson, a 28-year-old white police officer, on August 9, 2014, in Ferguson, Missouri. From her extensive interviews with residents on both sides of the river in the greater St. Louis area, Orlandersmith created composite characters that reflect a wide range of perspectives and experiences of race, giving her a base upon which to discuss the roots of unrest and the search for healing. By adding different costume pieces designed by Kaye Voyce and completely changing her overall physicality, the actress totally transforms herself in front of the audience into each person she portrays.
Orlandersmith first becomes Louisa Hemphill aged 60-70, a black former teacher, who speaks from an easy chair about race relations between communities and their police force officers, noting that racism causes self-hate, leaving young black men a legacy of not caring if they are dead or alive. And given the projected photos which enhance her story, it is easy to see why they want out, yet cannot accomplish that goal given the lack of opportunity based on race.
From there, Orlandersmith shares the perspective of a retired white policeman who admits he will always support his cop "brother" in his decision to shoot his gun as they are trained on what to do when confronted by an angry person in a threatening way. Two black students, both 17 years of age, present differing opinions of life on the streets; a quiet one who studies to get out and the other whose anger explodes with contempt of racial injustice. We also hear from Connie Han, a 35-year-old white college teacher who hangs out in a local wine bar, and Reuben Little, a black barber in Ferguson, who has heard it all from both sides.
But perhaps the most shocking character presented is Dougray Smith, a white, middle-aged electrician who boasts about how he overcame his "poor white trash" upbringing and put himself through college because he wanted more than that in life "so I lost myself reading books." As soon as you start to respect him, he switches gears to reveal his racism, which is shocking and totally unexpected thanks to Orlandersmith's brilliantly realistic portrayal. Finally, as a way of uniting both sides, the actress dons a scarf with a flying dove of peace to become Edna, a black woman in her late 50s who is now a local minister. Edna talks of how gentrification is changing neighborhoods and causing racism to rise, citing instances from her own life. "But my church welcomes all and I pray for everyone on all sides."
Orlandersmith then removes the scarf, undoes her long cornrows and speaks as herself to the audience about her own concerns for young people growing up so isolated from one another either at home or on social media, leaving us with a generation who feel they have no place in society. And we all have to do our part to raise our children to get along and respect each other. And as the candles surrounding the playing area suddenly light up as a way of remembrance and hope for equality in the future, I can only hope her heartfelt words prove as true as her heartfelt character portrayals.
UNTIL THE FLOOD performances run 70 minutes without an intermission, and continue at the Kirk Douglas Theatre, 9820 Washington Blvd., Culver City, CA 90232, through February 23 on Tuesday-Friday at 8 p.m.; Saturday at 2 and 8 p.m.; and Sunday at 1 and 6:30 p.m. Dark Mondays. Ticket run $30 – $75 available online at CenterTheatreGroup.org, by calling Audience Services at (213) 972-2772, or in person at the box office prior to each show. Free three hour covered parking at City Hall, with validation available in the Kirk Douglas Theatre lobby.