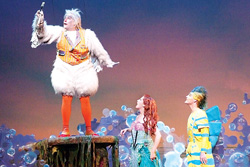 Set in East Hampton, New York, GREY GARDENS the Musical tells the story of Big Edie and Little Edie, the eccentric aunt and cousin of Jacqueline Kennedy Onassis, and their journey from glamorous aristocrats in the 1940s to notorious recluses in the 1970s, living in a crumbling house filled with memories and cats. Perhaps like me, you remember their story told in the "Grey Gardens" HBO movie starring Drew Barrymore and Jessica Lange on April 18, 2009, which fascinated me then as it did again seeing the Los Angeles premiere of the musical now at the Ahmanson through Aug. 14 which opened my eyes to the deep-seated dreams of unfilled fame that led these two formerly wealthy women into ruin.
The musical begins in 1973 as Edith Bouvier Beale (Broadway legend Betty Buckley), dressed in a bright yellow coat and hat over a turquoise housedress, sings "The Girl Who Has Everything" about her daughter "Little" Edie Beale (Rachel York, as she appears in Act II). Edith is being followed by around the set apron by a videographer and his lighting assistant, with her larger than life image resplendently featured on the scenic design by Jeff Cowie with projections by Jason H. Thompson. Director Michael Wilson shares, "Being at the Ahmanson has given us the opportunity to expand the scope of our production, incorporating new cast members and production elements (from the original 2006 Broadway Tony Award winning run). Utilizing both live-feed and pre-recorded footage, we bring the making of the Maysles' iconic documentary more into focus within the musical's story telling."
For Act I, the moveable set screens open to reveal the magnificent Beale mansion interior in 1941 on the day of Young Edie's (Sarah Hunt) engagement party to Joseph Patrick Kennedy (Josh Young), the eldest Kennedy son, a Naval officer who died in combat in 1944. Rachel York appears as Edith the mother in Act I, a self-centered woman who is practicing her singing for the party with Gould (Bryan Batt), her live-in gay friend and piano accompanist who does his best to fulfill Edith's entertainer fantasies which provide him room and board.
One of the musical highlights of Act I is when "Major" Bouvier (Simon Jones) reminds his granddaughters to "Marry Well" which is sung with Edie (Sarah Hunt), "Jackie" Bouvier (young classy brunette Katie Silverman) and Lee Bouvier (even younger and energetic Peyton Ella) along with Beale family butler Brooks (Davon Williams) through comical and perfectly enchanting military-like choreography by Hope Clarke. We soon learn that the insecure Edith is facing a divorce, something Joe knows will be unacceptable to his very Catholic parents, soon to arrive for the party.That, along with a secret from Edie's past revealed by Edith, pushes Joe to leave the party and Edie behind, making the women's duet "Two Peas in a Pod" open our eyes to Edie's belief the only person who will never abandon her is her mother Edith. Thus their life descent begins.
The production's true magic takes place in Act II, set in 1973) when Rachel York transforms into 56-year old and unfilled Young Edie living in squalor with her mother Edith (now played to perfection by Betty Buckley). The set now reflects their family mansion in total disrepair with the two women living in an upstairs bedroom, with a small hot plate on which canned soup is heated. The overwhelmed stench of over 20 litter boxes never cleaned certainly permeated the place, but thankfully only has to be imagined. Projections of cats walking around the set as the women sing about their plight will make you feel just as sorry for the cats as for the women. The Act II musical highlight is the show's star Rachel York's rendition of "The House We Live In" resplendent in its Americana glory. Thanks to the directorial wizardry of Michael Wilson, his amazingly talented cast, and Musical Director Kevin Stites' skill at transporting us into the fantastic score, theatre lovers of all ages will be dazzled by this Broadway-quality production! Tickets are available by calling 213-972-4400 or online at CenterTheatreGroup.org, or by visiting the Center Theatre Group box office at the Ahmanson Theatre. The Ahmanson Theatre is located at The Music Center, 135 N. Grand Ave. in Downtown Los Angeles.
'The Little Mermaid' at the Thousand Oaks Civic Arts Center
For the younger set and their entire family, you have one more weekend to go "Under the Sea" to enjoy Disney's THE LITTLE MERMAID musical written by Doug Wright, with music by Alan Menken, lyrics by Howard Ashman and Glenn Slater, presented by Cabrillo Music Theatre in the Kavli Theatre at the Thousand Oaks Civic Arts Plaza, Directed by Larry Raben with Musical Direction by Colin Freeman and Choreography by Heather Castillo. Disney's popular animated 1989 movie, based on the classic Hans Christian Anderson story, comes to vibrant life live onstage in which you will watch the story of discontented mermaid, Ariel, as she dreams of the world above the sea and sacrifices her beautiful, captivating voice in search of true love and a sense of belonging. Full of great music (including "Part of Your World," "Kiss The Girl," "Poor Unfortunate Souls," and new songs written for the stage), dance, comedy, and romance,
Disney's "The Little Mermaid" will take your entire family to places no musical has ever gone before! Performances continue through Sunday, July 24 on Thursday at 7:30 p.m., Fridays and Saturdays at 8 p.m., and Saturdays and Sundays at 2 p.m., with a signed performance for the deaf and hard-of-hearing on Friday, July 22 at 8 p.m. All tickets may be purchased at the Thousand Oaks Civic Arts Plaza Box Office located at 2100 Thousand Oaks Blvd. in Thousand Oaks or by phone 800-745-3000. For groups of 10 or more, call Group Sales, Cabrillo Music Theatre at 805-497-8613 x 6. Ticket prices range from $35 to $75. For ticket and theatre information, call 805-449-ARTS (2787.