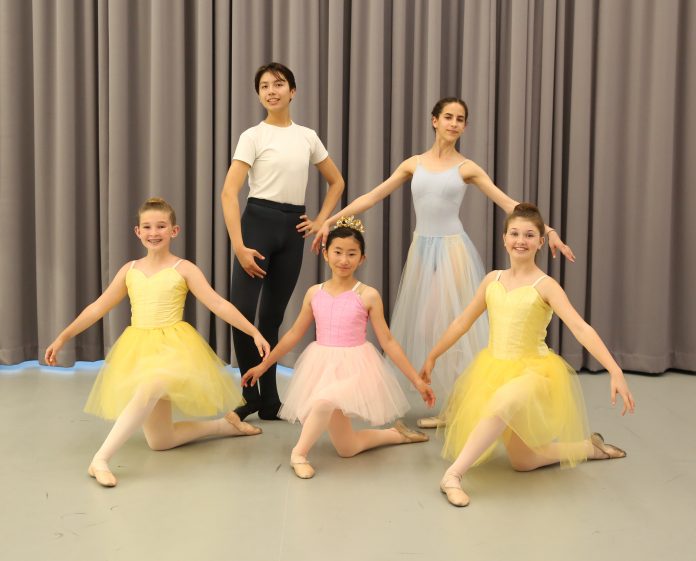 Spring might be in the air, but so are the dancers of the Westside Ballet of Santa Monica. The non-profit company comprised of Westside dancers, including six from Culver City, plans its Spring Performance on Sunday, June 9.
The group will also host its Gala the day before the Spring Performance, on June 8.
"We (will) celebrate our co-founder Yvonne Mounsey's 100th birthday and the contributions of the Sassounian Family and the Huntley Beach Hotel," said Jewels Solheim-Roe of Squires PR.
The Saturday gala features a Centennial fundraiser dinner and a classical ballet performance.
Culver City dancers to perform that weekend are Serena Klipfel, a 5th-grade student at Farragut Elementary School; Megumi Toyama, a 4th grader at El Marino; Millie Vargas, homeschooled; Marius Chiang-Popa, an 8th grader at Park Century School; Gabriella Calderon, a 5th grader at Ocean Charter; and Maya Zeevi, a 10th grader at Culver City High School.
Zeevi is the most advanced dance performer at level 6, with Chiang-Popa at level 5 and Calderon at level 4. Klipfel, Toyama, and Vargas are each at level 3-plus.
Celebrations on Sunday will include 80 dancers who will grace the stage during the two showings of the full Company Spring Performance.
"This is a remarkable display of artistry, to include Mounsey's charming ballets Dances from Faust and Ecossaises," Solheim-Roe said. "The youngest dancers then take over the stage with Caprice Walker's spectacular Young Person's Guide to the Orchestra, with spirited music by Benjamin Britten, before resident Jazz Director Michele Bachar Mendicelli offers decadence with her classic Cabaret."
Due to this special relationship, The George Balanchine Trust grants permission to Westside Ballet to perform Balanchine's ballets and also arranged for the legendary NYCB ballerina Patricia Neary to stage and coach the Westside Ballet advanced dancers in the ballet's demanding choreography.
CCHS's Zeevi will be a key performer in this year's Spring Performance.
She has performed in roles such as the Snow Queen and Dewdrop fairy in George Balanchine's Nutcracker. This spring she will be performing in the production of Serenade, widely regarded as Balanchine's masterpiece.
"It is such a moving dance," Zeevi said. "I feel like so many people can enjoy watching it, no matter what their background is in dance. Balanchine has this way of portraying a dancer's movements in the most beautiful manner. His choreography is not only amazing to watch but absolutely exhilarating to dance. I feel so happy when I'm dancing Serenade, all my worries go away the second I hear the music of the overture."
She had the opportunity to learn Serenade from Patricia Neary, one of George Balanchine's muses and prima ballerinas.
Zeevi said the opportunity to learn from Neary was unforgettable.
"She is such an amazing person. I took her every word as if holding a precious metal," Zeevi said. "(Neary) really is so precious because she learned directly from George Balanchine. The incredible stories she tells us about him never fail to amaze me. They make me so interested in wanting to find out more about her life, being as she learned from such an idol."
Maya will also be dancing Classical Symphony, an original piece by Yvonne Mounsey, the founder of Westside Ballet. Maya expresses Mounsey's ability to create such a powerful and strong piece, yet adds so many soft and warm movements simultaneously.
"I absolutely love dancing in Classical Symphony. It is one of the most challenging pieces I have ever danced in," Zeevi said. "The fast-paced movement is very hard to keep up with but seeing an audience's excitement makes it all worth it."
Another piece featured in this year's Spring Showcase is "Cabaret."
Maya noted how they get to paint their pointe shoes black for the show, truly putting the dancers into the mood of the characters.
"The black pointe shoes just make the dance all the more fun," Zeevi said. "The three dances within Cabaret have such different personalities. In the first dance, it's all about creating this curious atmosphere. The audience doesn't really know what is to come, and this dance gives them a sneak peek. The second dance is exhilarating to watch. It is so well performed by all the dancers, it really mesmerizes the audience. By the third dance, the audience gets to see the love story behind the two main characters."
Performances on June 8 and June 9 will take place at the Broad Stage at the Santa Monica College Performing Arts Center, 1310 11th S.t, Santa Monica. Sunday tickets are $35. Saturday Gala tickets are $85, $120, and $195 with dinner. Go online at www.westsideballet.com, or by phone (additional fees apply) at 800-595–4849 (4TIX).