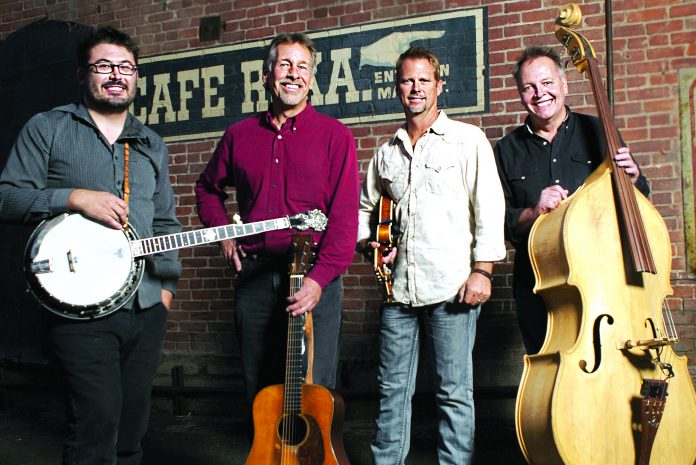 Formed in 2011, The Sonoran Dogs have exploded upon the bluegrass scene! They have performed and headlined many festivals and concert venues in the Southwestern US, touring as far as Australia, from Melbourne to Brisbane and beyond.
The "Dogs" are made up of seasoned veterans who have come together to enjoy bluegrass music and friendship, often times adding one or more "strays" on fiddle, dobro, and even accordion! You can even see them with the BIG band, which includes drums and pedal steel – quite the experience!
With every show, The Sonoran Dogs play with expertise, often
improvising and showcasing original songs, traditional and contemporary music as well as an eclectic mix of Bluegrass, Folk, Americana, Celtic, and Newgrass.
The artists are PETER McGLAUGHLIN-guitar/vocals; MARK MIRACLE -mandolin/vocals; TYLER JAMES-banjo/vocals; and  BRIAN DAVIES-upright bass/vocals.
https://www.thesonorandogs.com/
The Sonoran dogs will perform at Boulevard Music from 8 to 10 p.m. Saturday, Aug. 11 at 4316 Sepulveda Blvd., Culver City. Tickets are $17.50.
Peter McCluaghlin took time this week to talk to the Culver City News.
When did you start playing and writing music, and when did you start taking it seriously (playing live, recording, etc)?
I started playing guitar at age 8, writing songs at age 12, and performing professionally (live and studio recording) at age about 16.  As far as The Sonoran Dogs, we've been performing together since 2011.  Our very first gig was on April Fools day (4/1/11).
Who are your main influences?
Not necessarily in this order: Doc Watson, Clarence White, Flatt & Scruggs, Bill Monroe, The Stanley Brothers, the Carter Family, Townes Van Zandt, Laurie Lewis, Guy Clark, John Prine, Gram Parsons, James Taylor, the Beatles, my dad Bill McLaughlin (guitarist & singer/songwriter)
Describe your own style…
Original Americana, folk, and bluegrass with a southwestern flair
Where are you based? What do you think of the local scene? 
Two of the Sonoran Dogs, Tyler James (banjo) and Mark Miracle (mandolin) live north of Phoenix; The other two, Brian Davies (bass) and myself live just north of Tucson.  The local scene is excellent in Tucson as far as musicians, venues, fan support. Phoenix is a little more spread out over greater distances, and it's harder to find the core of the music scene, although there are some great venues there that we get to play occasionally, such as the Musical Instrument Museum, Janey's, Handlebar-J saloon, and the Tempe Arts Festival.
Best gig to date? 
Many great festivals and concerts over the years, so it's hard to say– perhaps playing on the Grand Ole Opry in Nashville (and getting to meet some heroes backstage)
And worst?
The worst was probably was a gig at a cult compound out in the Arizona desert.  The "family" opened up for us with some unique chanting and a 45-minute version of "She'll be Coming around the Mountain", with some verses not suitable for public consumption.  Then the fearless leader decided he couldn't pay the contracted price.  Happily never played there again.
 Do you have any albums/singles available?
Yes, The Sonoran Dogs have two full-lengthCD's available.  The first entitled simply "The Sonoran Dogs", and the newer one from late last year is called "Navajo Rug".  We also have many separate solo and other band projects from over the years.
Have you played Boulevard Music before? How did that connection happen? How did it go?
Yes, "The Sonoran Dogs" have played there at least once before several years ago.  Prior to that, many years ago I played at Boulevard Music with Laurie Lewis & Tom Rozum, and with Perfect Strangers, including Jody Stecher, Bob Black and Chris Brashear.  All shows were fun and well received.
What can we expect from your upcoming performance?
An entertaining show featuring originals, Americana and bluegrass songs (both vocals and instrumentals)
What do you have planned going forward, after this show, for 2018?
The following weekend (August 18) we'll be performing at the Bowers Mansion Bluegrass Festival near Carson City, Nevada, with other festivals and concerts through the fall.  In November and December, we'll be on tour in New Zealand and Australia.