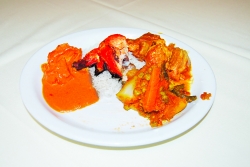 The real joy of an Indian all-you-can-eat buffet restaurant isn't the opportunity to stuff your stomach with food until you can barely lift your own water glass (although, truth be told, that's pretty great). Rather, it's a great way to sample a whole bunch of different dishes that you might not order under different circumstances.
If you pace yourself, and just take a little bit of each item (no matter how good it looks), then you can pretty much work your way through a large percentage of your average Indian menu.
Most buffet restaurants are a little hit-and-miss, and Shalimar is no different although there are far more hits than misses. The Indian music playing over the speakers creates the perfect atmosphere from the get-go, and the dining area is immaculate. The staff is welcoming, so first impressions are great.
A glance at the buffet stands is reassuring, too. The food looks fresh, like it hasn't been standing there for hours. To be fair, the lunch buffet begins at 11 a.m. and we arrived just before noon, so the food hadn't had chance to sit too long, but still, it looked great.
There's a sort of salad and fruit section at the start, and a dessert section at the end, and we ignored both. Indian food is wonderful and it comes in many varieties, but the salads and puddings just take up space that might be needed for other things. Priorities, people!
As for the more traditional Indian appetizers, Shalamar has an excellent onion pakora that is crispy and not-too-dry, and blessed with that glorious grilled onion taste, blended with spices. The samosa is good too, if a little heavy on the potato. But again, it's not dry. We recommend a blob of the Raita, the yogurt and cucumber dip, for both. It lightens the appetizers beautifully.
The fish pakora is similarly seasoned, and is light and flakey. And the chili chicken is tender with a slight bite. But again, beware: you only need one piece of each, or you might not have room for the main courses.
If there's one complaint about the meat dishes, it's that they're all chicken (or at least, they were when we visited). Still, they're delicious.
The chicken tikka masala is creamy and tomato-y and pairs perfectly with the fluffy basmati rice. The chicken curry is even better – moist dark meat marinated and flavored to perfection, and with the slightest bite.
The sauce-less tandoori chicken is again juicy and flavorful, and sits nicely with the mixed veg for some variety. That latter dish seems to be mostly potato, carrot and green beans in a curry sauce, though it's far more interesting than that makes it sound.
Elsewhere, some of the other dishes are less impressive.
The saag, a spinach dish which is usually a fave for this writer, is bitter and we ended up leaving it on the plate (which is unfortunate – the staff wisely have "Do not waste food" signs up). The aloo matar (potatoes and peas in a tomato sauce) tastes a little like baby food. But the daal, the lentil dish, is hearty and delicious.
Overall, there's plenty to enjoy at the Shalamar buffet, and at $9.99 it's a real bargain.