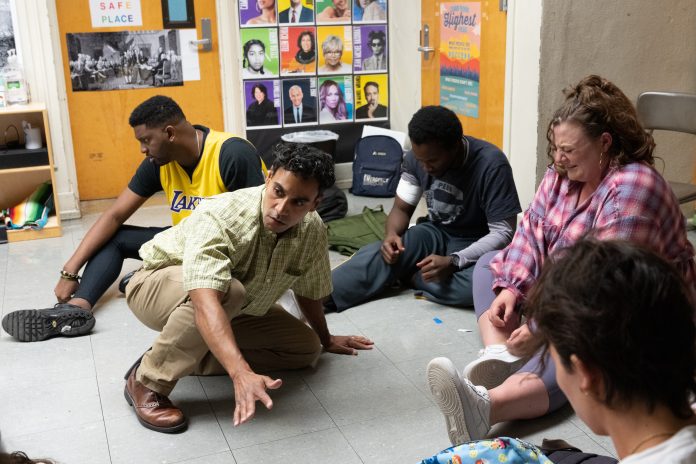 Gun violence stats in 2022 include 767 children and teens killed from guns with 269 mass shootings so far this year. Certainly, we have all heard news reports of the senseless acts of gun violence in schools taking the lives of so many innocent children, with the United States having more mass shootings each year than any other country in the world. But have you ever imagined what it would be like to be one of those students, or perhaps a teacher, caught in a classroom with no real way to defend yourself other than stacking desks and chairs against a locked door when the sound of gunshots happens in the hallway on the other side?
Hero Theatre is a social justice, community-based company that uses art to model and bring about social and environmental justice. They invite audiences to envision and experience America as they do while always ensuring that equity, diversity, and inclusion remain at the forefront. Their world premiere of RISE: An Immersive Exploration of Gun Violence in Schools, devised and directed by Jack McCarthy, invites audience members to become part of a school lockdown, taking place within a real classroom at Micheltorena Street Elementary in Silverlake. This fictional account, inspired by actual events, explores themes related to gun violence in schools; not only the actual lockdown event but the repercussions afterwards, giving us a candid look at what youth in America face today.
Walking down the hallway to reach the classroom took me back to my own days as a classroom teacher, working with students grades 7-12. The nine students in RISE are all high schoolers, some basketball stars, the student body president, a cheerleader, and others who just struggle to make friends and have a social life outside of their cell phones. The immersive show allows audience members to walk among the students and read their journals to learn more about them before the first gunshots are heard. And that is when their true natures come into focus, with the tough guys needing just as much reassurance as the others that their group cowering in a corner will ultimately be safe.
At the center of the experience is substitute teacher Mr. Sanchez, portrayed by Ephraim Lopez as a self-assured leader in the classroom whose nerves only surface as he sweats his way through trying to keep the students calm. Situations arise requiring his split-second decision-making skills. And with the students fearful for their lives, looking to Sanchez to lead them through and out of danger, Lopez does a realistic and finely-tuned job sharing all the sides of this hair-raising experience, especially for his first day teaching. His as well as all the student performances are equally as honest as they are gut-wrenching.
RISE: An Immersive Exploration of Gun Violence in Schools is presented by HERO Ignite, a new division of HERO Theatre that serves as an incubator for new works inspired by stories of young people in American today. And this one hit all the right marks! Produced by Elisa Bocanegra, Producing Artistic Director, Ashley Busenlener and Gabe Figueroa, performances take place Sept. 3-18 on Saturdays at 12 noon and 2:30 p.m., Sundays at 2:30 p.m. at Micheltorena Street Elementary, 1511 Micheltorena St., Los Angeles 90026. Tickets are $35, available by calling (323) 206-6415 or at www.herotheatre.org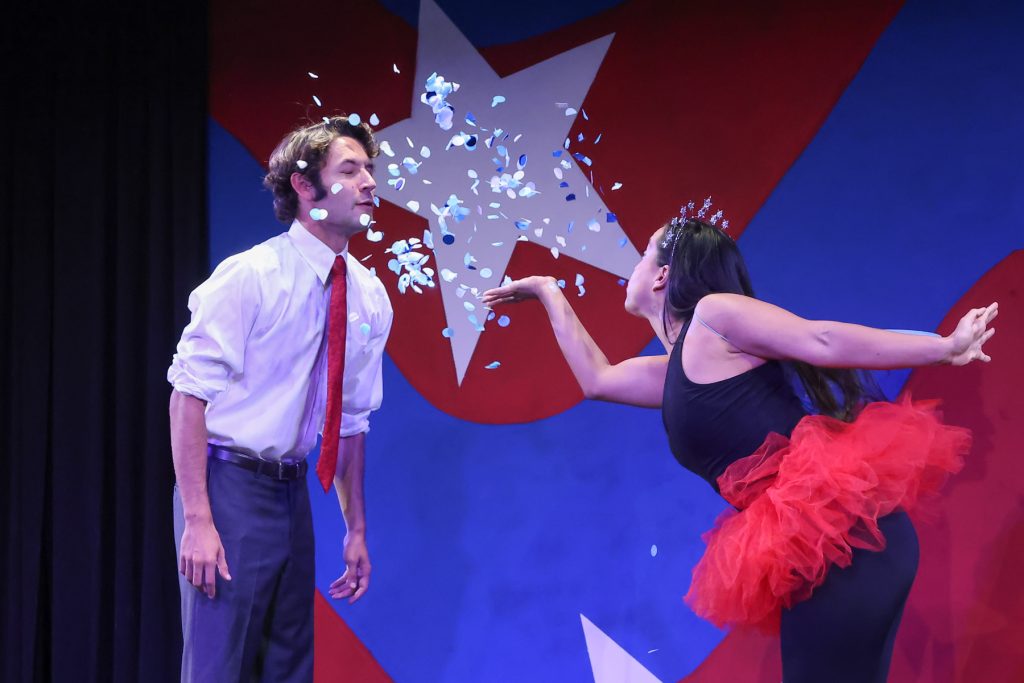 And after all that intensity, it was time for some off-the-wall political comedy when the Capitol Comedy troupe stopped off in Los Angeles to preview their all-new review with songs, TWO CHEERS FOR DEMOCRACY. Filled with comedy sketches, song parodies, mock commercials and fake news updates from across the political spectrum, Capitol Comedy serves up a humor-filled plate of hard truths, sparing no one from left, right or center. It's all done in the spirit of fun with parodies of familiar tunes as well as some original music, accompanied by music director/pianist Brenda Varda.
Washington-based writer-director-producer Nicholas Zill assembled this troupe of exceptionally gifted sketch performers, singers and impressionists to fill a political comedy vacuum created by the retirement of the group Capitol Steps. Director Caitlin Hart is blessed with an energetic cast of 10, with five performing all the characters in each performance by always moving, changing costumes and personas at the drop of a hat. The troupe visiting Los Angeles on August 28 included Shefali Deshpande, Travis Jo Dixon, Cristina Florez, Bella Gil, Trevor Keyfauver, Adam LaSalle, Alivia Long, Julia Mack, Aaron Matijasic, and Sarah Oliver.
Be prepared to laugh at their antics on topics including voting regulations, how to fool the public to get elected; the Supreme Court overturning Roe vs. Wade; the purging of books from public schools; the effects of the COVID-19 epidemic on parents, teachers, and schools; the promotion of "protest tourism"; and even the ever-expanding list of groups and topics about which one may not joke, including Vladimir Putin singing "If You're Good to Putin, Putin Good to You" to a well-known song from the musical "Chicago." Ending the 90-minute show with musical reminders "Meet Me at the Midterms" and "When Those Souls go to the Polls" will hopefully encourage everyone to remember to vote this November.
Capitol Comedy's 2022-2023 TWO CHEERS FOR DEMOCRACY national tour includes bookings in California, Alabama, Washington State, Oregon, Colorado, New Jersey, Pennsylvania, New Hampshire, Maryland, and Washington, D.C. Visit www.cityinaswamp.com/capitol-comedy for more information on the troupe and its upcoming show dates.