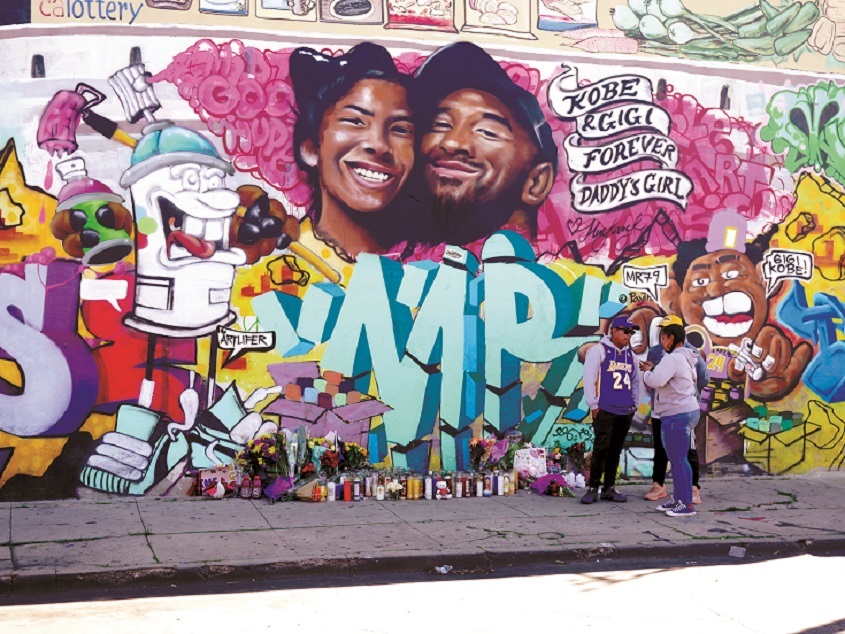 It still doesn't feel real. Sure, death happens all of the time, and the death of one celebrity isn't the end of the world.
But this is Kobe Bryant we are talking about. A man who seemingly wouldn't be stopped by anything. A man whose drive to be the best was beyond textbook; it was otherworldly. A man who worked so hard, you thought he could overcome any trial or tribulation through the power of hard work.
Yet here I am, reflecting on a man who surpassed so much, who showed us the peak of what humanity could achieve in its best, and now, its worst light.
The Jan. 26 helicopter crash that took the lives of the 41-year old Bryant, his 13-year old daughter Gianna, and seven other innocent lives has shown the world just how fleeting and precious life is. Talk to just about anyone about Kobe's death, and eventually, you'll hear something along the lines of "never in a million years did I expect to lose Kobe."
It is that essence that made him so easy to look up to. His 'Mamba Mentality" has inspired millions upon millions to work fervently and relentlessly, and live life with a focused purpose, just as Kobe did.
Of course, there is no one hurting like L.A. Kobe was born and raised in Philadelphia, but he grew up within the confines of Staples Center. Multiple generations of fans were electrified by his alpha-style of play, his no excuses attitude, and the ability to make shots most people wouldn't even be able to hit the rim on.
He went through struggles, disagreements, and the like, just as everyone does as they grow. He had publicized feuds with teammates. He demanded a trade in 2007 following two years with a lackluster supporting cast. He suffered a devastating Achilles injury which greatly hastened the twilight of his career.
Through all of those bumps in the road, Bryant had a loyal following behind him; a group of Laker fans that have embraced Kobe as the pinnacle of Laker's excellence, and Bryant reciprocated that love for their Lakers.
But then there are people like me, those who did not grow up as Kobe and Laker fans. Kids who grew up watching their friends shout 'Kobe" as they shoot a paper towel into a trash can.
Actually, in my particular case, I am one of the biggest Kobe critics that I know. Whether it was the way he treated his teammates, the amount he would take ill-desired shots, or how much he beat my teams and my friends loved him for it despite those things, he could always seem to get under my skin.
Yet as I grew older and Kobe's career faded away, so too did those feelings of animosity driven by competition.
Sure, there were plenty of things about him that I didn't like and wasn't ready to let go, but I was ready to really step back and appreciate all that he brought to basketball.
It helped that he did just about everything right after basketball too. The rough exterior he portrayed to the media carved by Kobe's win-or-die mindset had softened after his retirement from the NBA. He had become more amicable, more friendly, more joking, more likable.
And then there was his work as a father. Kobe has his well-publicized off the court troubles during his career, but his time as a parent was anything but that. He got his attention when he wanted it, but he didn't have to command it anymore. He found a new place he wanted attention focused: his daughters.
He loved his four daughters with all his heart, and he showed it. It seemed crazy 10 years ago when you would be hardpressed to see Kobe without a basketball in arms reach that he would stop wanting to come to Laker games.
It was a change, but a welcome one. Even when he did come to games, much of his attention was focused on teaching his daughters, helping them improve themselves.
One of the most impactful of the many clips that have made the rounds on social media since the accident has been one where Kobe is teaching Gianna while they watch a game from the bench. The light in their eyes, the passion coming from Kobe as he talked and the eagerness from Gianna as she listened was a bright spot in the world, and one that is no longer with us.
Gianna had plenty to live for too. She hadn't been in the public eye too long, but we knew she was a blooming basketball star who wanted to carry on Kobe's legacy, starting with a stint at the almighty University of Connecticut.
Now, she and Kobe leave behind a grieving widow and mother, and three young girls who have lost their father and sister. There is no silver lining here, this is simply a monumental tragedy.
So here we are, wondering when normal will ever come back, and what normal will be. It's almost surreal to be entering into an L.A. without Kobe Bryant.
But we'll work through it. We will work as hard as we can because that is what Kobe would have wanted.
In memory of:
Kobe 'Bean' Bryant
Gianna 'Gigi' Maria-Onore Bryant
John Altobelli
Keri Altobelli
Alyssa Altobelli
Sarah Chester
Payton Chester
Christina Mauser
Ara Zobayan