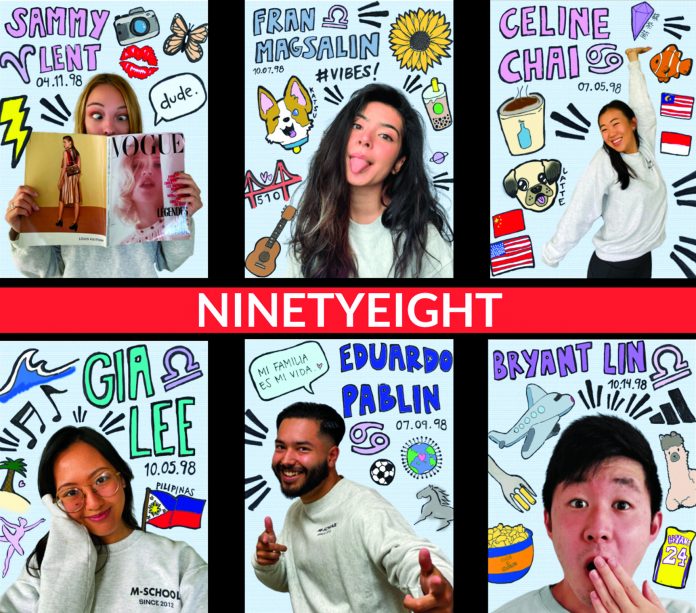 The COVID-19 pandemic has been a period of stagnation and survival for many, but six recent graduates have been able to turn it into something more. 
Those graduates — Eduardo Pablin, Sammy Lent, Fran Magsalin, Celine Chai, Gia Lee, and Bryant Lin — all came from the same M-School marketing program at Loyola Marymount University, but COVID-19 but some bumps in their otherwise clear and smooth career paths.
"We all had jobs lined up and an idea of what we wanted to do, but then the pandemic hit, and all of our offers were pulled," Pablin recalled.
While the group was scrambling to figure out an alternative, they received two things: encouragement and an idea.
"About two or three weeks before we graduated, one of our professors sent us an email and said, 'hey, check this group out,'" Pablin said. The email contained information about some recent graduates who had banded together to start an ad agency, and he implored the group to consider going down a similar path.
"He said, 'you guys are more than capable of doing this, and you guys should consider whether or not you want to do this,'"
 It was Pablin who was the first who showed interest, and the same professor — Andrew Rohm — followed up with an important piece of information that would kick start the groups' ambitions: a connection.
"Our adjunct professor, Eric Johnson — who is president and CEO of advertising agency Ignited — offered to provide mentorship and guidance if you are really serious about getting this started." On top of his agency, Johnson owns a variety of other businesses, and NinetyEight took advantage of this connection.
"I just felt confident, man, so I said, 'let's set up a meeting with our professors and let's talk this through.' I asked if they had any advice and how I can move forward, and that's pretty much the start."
"One of the advantages was the relationship with Eric Johnson. Asking him for mentorship and guidance was key in establishing ourselves as a legitimate business. We actually collaborated together for our first pitch,"
While the deal didn't go through, the experience of working with Johnson was invaluable. It gave the team both the tools and the belief to be able to found an ad agency.
"That first pitch allowed us to get an idea of 'this is how you run an agency.' This is what pitching or getting a creative brief looks like, this is what the creative process looks like, this is what creating a campaign looks like, and this is what the execution of the pitch looks like," Pablin told the News. 
"So, once we got that nailed down, we can legitimately do this. It's time to figure out how we can make it an official business."
By mid-June, NinetyEight was officially an LLC and ready to do business. They used social media platforms to spread their message for a short time, but quickly found a break.
When July came around, they were given an opportunity to host a 'Gen Z Webinar' held by LMU.
"The College of Business knew that we were a M-School alumni group who decided to create their own jobs and pretty much start an advertising agency," Pablin explained. "They thought this would be something that would appeal to a lot of people in the LMU community."
The school was hosting a series, and asked NinetyEight to do a webinar on a topic they chose. The choice was easy.
"Well, we are the Gen Z advertising agency," Pablin remarked. 
"So, we were going to talk about how to market to Gen Z's." 
Gen Z, or Generation Z, is defined by the Pew Research Center as those born after 1996. This youthful perspective is a part of what makes NinetyEight so unique. All of the members of the agency were born in 1998.
From that webinar, NinetyEight began to receive the leads that they were looking for, but of course, there was a catch.
NinetyEight doesn't just take any deal put in front of them. Different pitches are vetted to be sure they feel genuine and like something the members of the agency believe in.
"We definitely do assess whether or not that company is the right fit for us," Pablin began. "First and foremost, we analyze how the client is going to do with us in terms of our personal relationship, and then we look at what their message is. Is it an authentic voice, or are they just trying to generate money?"
"For Gen Z's, it is very important for our personal values to align with that of the brand's, and that is something that we certainly take into account and make very clear during our pitches."
"We try to be a business that is for good, and create value within our community. I think that is something that is very important for our identity, and translates in everything that we do."
So, what exactly does NinetyEight do as an advertising agency?
"We do content creation, we do brand management, we do market research, social media management, and we are well versed in digital marketing," Pablin breaks down. "A lot of our clients will come to us and say 'hey, we are trying to be more active on digital media, how can we go about doing this?'"
"What we start with is asking what the purpose of going to social media is. Do you want to create awareness around your brand, do you want to reach your target consumer, what is your objective?"
Once that is lined up, NinetyEight can provide different recommendations and provide services based on those recommendations.
"Something that distinguishes us from a lot of our competitors is that we are able to take an idea from a brand perspective and also execute it."
As COVID passes and opportunities continue to amass, NinetyEight will grow. But it will be genuine, and it will be on their own terms.
"If you want to authentically reach Gen Z's or your target audience in a way that truly taps into their personal values, then we are the agency for you."