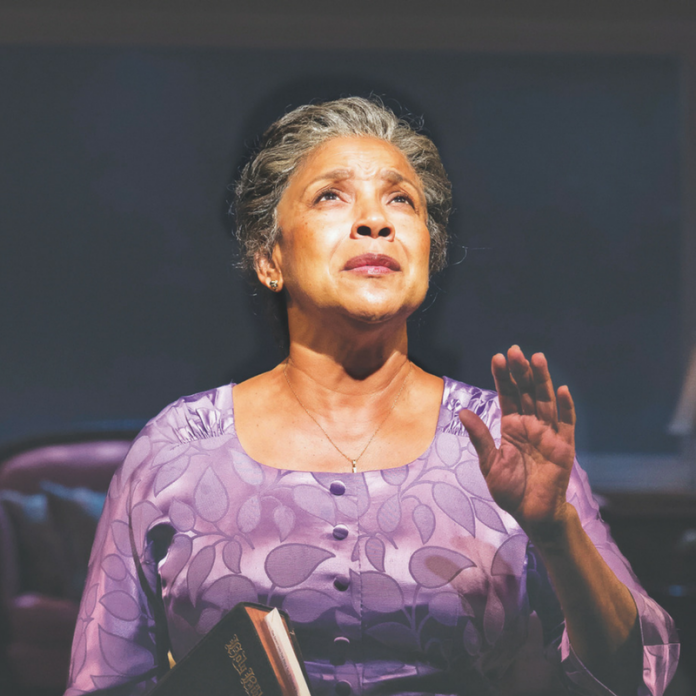 Academy Award winner and playwright Tarell Alvin McCraney's HEAD OF PASSES continues through Oct. 22 at the Mark Taper Forum and is brilliantly directed by Tina Landau.
The poetic and powerful new play, which is part of Center Theatre Group's 50th anniversary season at the Taper, tells the tale of family and friends gathering to celebrate the matriarch's birthday under the leaky roof of her home at the mouth of the Mississippi River.
The cast includes, in alphabetical order, Alana Arenas, Francois Battiste, Kyle Beltran, J. Bernard Calloway, James Carpenter, John Earl Jelks, Phylicia Rashad and Jacqueline Williams. And while each of these talented actors is a wonder in their roles, it is Phylicia Rashad who commands the stage throughout the show, with her solo monologue as the matriarch Sheilah during the last half hour so awe-inspiring and powerful that it will stick in my mind for a long time.
The play begins as we meet the family members as they gather and set up for what turns out to be an unwanted birthday party as Sheilah has more important and pressing news to share. During the entire production, thanks to the ever-changing and falling apart scenic design by G. W. Mercier, lighting design by Jeff Croiter, and sound design by Bob Milburn and Michael Bodeen, the unrelenting rains are only the first of many challenges in this contemporary parable inspired by the Book of Job, in which unexpected events turn the reunion into the ultimate test of faith and love.
As her world seems to collapse around her, Sheilah must fight to survive the rising flood of life's greatest challenges in this poetic and piercing new play, which culminates with more unexpected tragedy than any mother should have to face in her lifetime, thanks to her sons Aubrey (Francois Battiste) and Spencer (J. Bernard Calloway) who want her to sell the house, and most of all, her drug-addicted, pregnant step-daughter Cookie (Alana Arenas) who seems to show up just to take advantage of Sheilah's good-hearted belief that a tiger can change its stripes and walk away from stealing money to support her never-ending habit.
Rashad, altering her appearance, thanks to costume designer Toni-Leslie James and wig and hair design by Robert-Charles Vallance, transforming herself into a hunched-over, very believable much-older woman. But it is during her final scene as she stands in the middle of Mercier's amazing, falling-apart set as the water surrounds her and the raging storm takes its toll on her aging home that will leave you unable to take your eyes or attention from her, given the brilliance of Rashad's tour-de-force performance as Sheilah, , as she rallies against God and the elements with harrowingly Lear-like rage as she stands on an island of what was once her floor.  Even with all her other amazing work, this one is certainly the role of a lifetime for Rashad and one you must not miss.
The production runs two hours with one intermission, during which major changes are made to the set under the supervision of production stage manager David S. Franklin and his team.  I encourage you to stay and watch the magic happen.  Be advised the production includes the use of strobe lights and is rrecommended for ages 13+ for adult themes and conversations alluding to child abuse and domestic violence.  Children 6 and under who may cry or fidget are never admitted.
'Head of Passes' tickets run from $25 to $95 with performances daily except Mondays at 8 p.m., Sundays at 6:30 p.m.  Matinees take place on Saturdays at 2:30 p.m. and Sundays at 1 p.m.  Tickets are available by calling 213-628-2772, online at CenterTheatreGroup.org, and at the Center Theatre Box Office next to the Ahmanson Theatre at the Music Center.