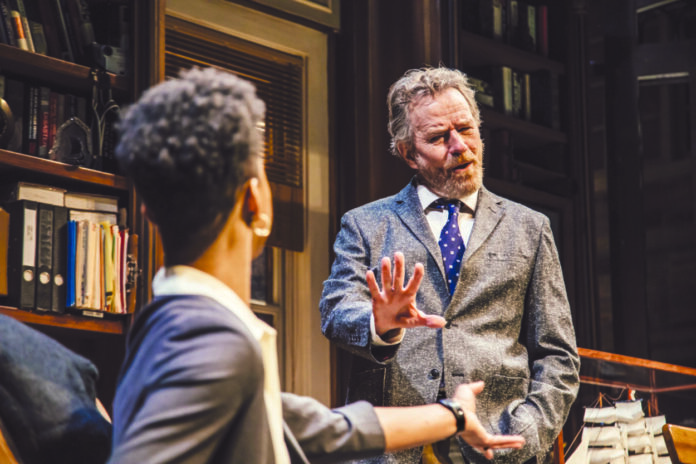 Incredible scenic design by Rachel Myers and brilliant acting by a supremely talented cast highlight the West Coast premiere of 'Power of Sail', written by Paul Grellong, directed by Weyni Mengesha, and presented by Daryl Roth and the Geffen Playhouse through March 20. The cast includes Hugo Armstrong as Frank Sullivan, Amy Brenneman as Amy Katz, Bryan Cranston as Charles Nichols, Donna Simone Johnson as Quinn Harris, Tedra Millan as Maggie Rosen, Seth Numrich as Lucas Poole, and Brandon Scott as Baxter Forrest.
In brief, 'Power of Sail' centers on distinguished Harvard professor Charles Nichols (Emmy & Tony Award winner Bryan Cranston whose emotion-filled character acting is a highlight of the play) who finds himself in hot water after inviting an incendiary white nationalist to speak at his annual symposium. His colleagues are concerned, his students are in revolt, but Charles is undeterred in his plot to expose and academically thrash his invited guest. But what is really motivating Charles to invite such an almost universally despised person to speak on campus?  And which of the people around him can Charles really trust?  Ultimately, Paul Grellong's play examines the insidiousness of hate disguised as free speech and who ultimately pays the price – and at what cost.
But while others rave about the play, I am on the fence as the story line was very difficult to follow as it jumped back and forth in time, revealing character details at the end which could have been very beneficial to know earlier in order to comprehend what was really going on between the characters. Then again, knowing that information would have changed the startling ending and unravelling of the tale.
I can tell you Bryan Cranston completely engulfs himself into the character of Charles Nichols, so much so that you will feel pulled into the conflicts going on within his soul. Blessed with facial expressions that communicate his emotional state from moment to moment, Cranston's presence alone is worth the price of admission! This is also true for all of the actors, but I want to offer special praise to Donna Simone Johnson whose powerful scene as FBI Agent Quinn Harris, tasked with interviewing Charles after an incident involving the death of a student, brought the house to silent attention as her game of cat and mouse revealed the rat hiding in plain sight. The intensity of her gaze and forceful presence could bring out the beast in any man.
A bit more about the astounding scenic design by Rachel Myers, centered on a revolving stage platform which allows for many different scenes to be played as each turn reveals something new to see, be it Charles' office, a train station, the front door of a friend's house, or the local bar where loose lips sink ships. Highlighted by lighting designed by Lap Chi Chu, scenes appear and disappear in the blink of an eye through Myers' transparent panels. It was so exciting watching the set turn, wondering where it would stop and what we would be seeing next!
As for the title, 'Power of Sail', it's really more about the power of sale and how the desire for fame and fortune can cause bad decisions to be made for personal financial gain. And given the current state of growing white supremacy infiltrating our society, this is definitely a perfect play to be presented now.
'Power of Sail' continues through Sunday, March 20 at 8:00 p.m. Tuesday–Friday, Saturdays at 3:00 and 8:00 p.m., and Sundays at 2:00 and 7:00 p.m.in the Gil Cates Theater at Geffen Playhouse, 10886 Le Conte Avenue, Los Angeles, CA 90024. Tickets are priced at $30.00 – $129.00, available by phone at 310.208.2028 or online at www.geffenplayhouse.org. Rush tickets for each day's performance are made available to the general public two hours before showtime at the box office, priced $35.00 General/$15.00 Student. Runtime is 1 hour and 45 minutes, no intermission.
Please note this production contains adult subject matter and profanity and is not recommended to those under the age of 14, and children under 6 years of age will not be admitted. Proof of vaccination and photo ID required for admittance, and masks are required while indoors.