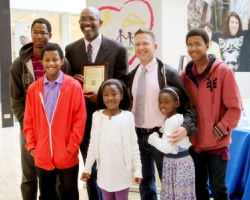 The National Heart Gallery Exhibit, aimed at helping foster children find permanent, loving homes celebrates the 10th anniversary of the Heart Gallery project with a traveling exhibit that has made it's way to the Westside Pavilion in Los Angeles.
The exhibit is comprised of poignant photographs of older children who are waiting for adoption. The beauty of these portraits not only touches the eyes, but the heart as well.
Twelve years ago, Michael Troynel and Jason Cook adopted their first child, Shakir, now a handsome teenager.
"Ever since I was a child I knew I wanted to adopt," says Troynel. "I wondered when I was going to start the process. When I met my partner, Jay, I was ready to complete the picture. Fortunately Jay felt the same way."
The Cook-Troynel family has grown since that day and now includes Rashad, Brandon, Paris and Sydney.
"We were unaware of Heart Gallery when we first started to adopt," explains Cook. "Having Heart Gallery now makes it possible for us to be more aware of the children who are in need of a forever family."
In 2001, Diane Granito, the founder of The Heart Gallery, was working as a foster and adoptive parent recruiter for the New Mexico Children, Youth & Families Department.
"At that time, social services agencies had to use whatever images of the children they could get, and most were as inspiring as a driver's license photo," Granito says. "That's how The Heart Gallery, as I dubbed it, was born. More than 1,200 people attended the first opening, Randy Travis serenaded the crowd, and connections were made that night leading to the adoption of six Heart Gallery children. We all knew we were on to something special, though what was to come has exceeded our wildest dreams."
According to the Family Equality Council, "About 408,000 children live in foster care in the United States. Many of these children are considered hard to place because they are older, in sibling groups that want to be adopted together, or have special needs."
"I come from a large family," says Cook. "There were always a lot of people around. The household was always active and full of life. That is something that I wanted to continue."
Many of these children "age out" of foster care without ever finding a permanent home. They never get to experience the warmth of a family, being tucked in at night or even a trip to the zoo.
"When you're hoping for something like that for a long time and it doesn't happen, your heart gets a little more broken each time," says Granito.
Thanks to the hard work of hundreds of volunteers and the generosity of many people, the Heart Gallery has grown immensely and that has resulted in 5,000 children around the country finding adoptive families.
Indeed a picture is worth a thousand words. These photographs show more than a just a face. They tell the childhood story of wishes, dreams, hopes, and sometimes sadness. These images speak to your heart saying, "Yes, I am special and I deserve a family that will show me what it means to be loved."
The Heart Gallery Exhibit will be on display at Westside Pavilion March 14 – April 15, 2012. For more information visit their website www.NationalHeartGalleryExhibit.org