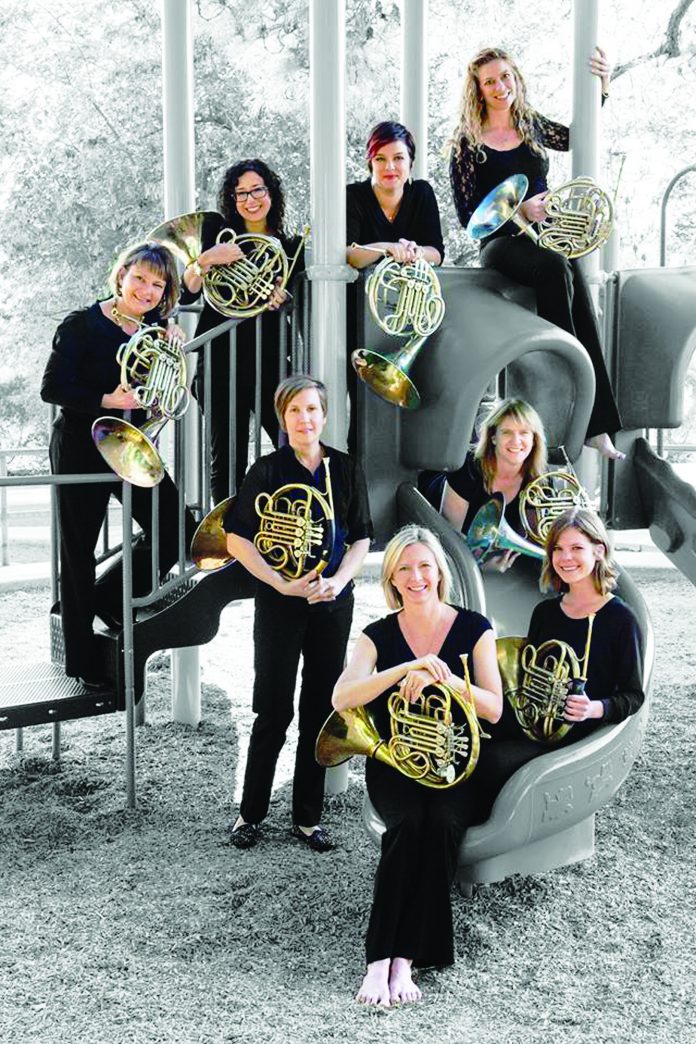 How best can one describe an ensemble of professional musicians who specialize in the horn? And to add a breath of fresh sound, this talented group of horn musicians is comprised solely of females.
Grace Lutheran Church introduces "Playdate" today, Thursday, Oct. 10 for the MidDay At Grace Concert series. From noon to approximately 12:50, this group of fine musicians will entertain guests with "a real smorgasbord – from Brahms to movie soundtracks to 1980s synth-pop."
"Emily (Pesavento) will be one of six French Horn players (in performance)," said Mary Lou Basaraba, music director at Grace Church. "All local pros playing for the major orchestras and teaching at regional colleges and universities."
The concert is free and there is a suggested donation of $10, with 100 percent of donations benefitting a charity of the artists' choosing. "Playdate will perform for "Hearts of Music," a non-profit established in collaboration with 'Trombone Christmas' to assist musicians with emergency medical needs.
"Many musicians, although working, do not have or qualify for medical insurance," Basaraba said. "And, as we all know, illness and accidents don't check for medical coverage before striking. The family of a Playdate member was recently a Hearts of Music funds recipient after their 10-year-old son was diagnosed with osteosarcoma (bone cancer)."
Those unable to attend can still support Grace Church, Playdate and Hearts of Music via a PayPal donation at www.heartsofmusic.com or with a check mailed to Hearts of Music Fund, 2751 Westshire Dr., Hollywood, CA 90068.
TODAY'S CONCERT
Pesavento is no stranger to Culver City. She performed as a horn soloist (alongside soprano Tara Alexander) at the inaugural MidDay At Grace Concert in December 2018. She said that Playdate was formed in 2015, to bring attention and opportunities to gifted women horn players.
"Google image search 'L.A. Horn Club 1953' and you'll see a great historic shot of the top 25 horn players that performed on all the great film scores of that time and the '60, the '70s, etc.," Pesavento said. "You'll also notice that… they are all men. As women have come to play a greater role in the 'Hollywood Horn Sound,' as well as the horn sections of major orchestras, theaters, and productions of Southern California and beyond, Playdate was formed as a celebration of this deep pool of female talent."
The Playdate musicians are members of the Los Angeles Philharmonic, Los Angeles Chamber Orchestra, Long Beach and Santa Barbara Symphonies. They are regular performers with Los Angeles Opera, Pacific, and San Diego Symphonies, and they play Broadway shows in L.A.'s major theaters, including the Pantages, the Ahmanson, and the Orange County Performing Arts Center in Costa Mesa.
Pesavento acknowledges that the MidDay At Grace Concerts is a unique and special offering. Not easy to put together.
"There are usually two challenges in building a quality, established concert series," she said. "The first is having a team of people passionate and tireless enough to handle the behind-the-scenes logistics month after month, and Grace Church is incredibly fortunate to have that in Mary Lou Basaraba, Marina Tidwell and Grace Elliott (who this summer moved to Vancouver)."
The second challenge in a concert series is just as daunting, if not more so.
"Being able to lure high-quality musicians away from competing for work and their family and lives, at the ticket prices the audience is willing to pay (in this case 'free')," Pesavento explained. "So, even in making preparations for that very first show, I was thinking about how it could attract a group like Playdate. We are all professional musicians and fill our days and evenings with rehearsals, performances, sessions, teaching, plus practice and preparation at home. We 'love' what we do, but it is not a hobby and you'll rarely find us playing 'just for fun.'"
To lure professional musicians every month at no pay, Pesavento suggested that invited artists be allowed to select a charitable cause as a beneficiary of donations.
"Without major funding, how could MidDays At Grace convince professional musicians to give up five to six hours of our day to drive to Culver City, rehearse and perform? And how does the audience show their appreciation in a tangible way?
A performance to raise charity funds was the answer.
"Well, everyone has a cause that they are passionate about, and a wonderful, unique thing about MidDays At Grace is that it allows the performer(s) to designate a charity to raise money for," Pesavento said.
This will be the first time MidDays At Grace will implement a minimum suggested donation of $10 per attendee, said Basaraba. "And we are hopeful that this still-affordable change will make a difference and show the performers that they are appreciated."