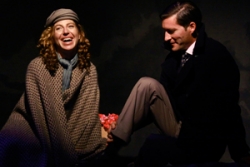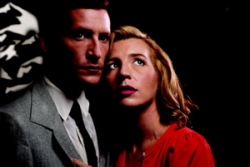 Jaglom's World Premiere play "Train to Zakopane, A True Story of Love and Hate" is a compelling love story based on a tale shared by his father. It explores the human condition in its darkest and most exquisite moments, laying bare how compassion and intolerance can, even in the most unusual of circumstances, be one and the same. Written by Jaglom and directed by Gary Imhoff, produced by Alexandra Guarnieri, "Train to Zakopane, A True Story of Love and Hate" continues its run through March 29, at the Edgemar Center for the Arts, 2437 Main Street in Santa Monica.
Henry Jaglom followed his father around with a tape recorder for more than 30 years. Sharing many stories about his very privileged childhood and youth in the last decades of Czarist Russia, his subsequent experiences during the Bolshevik Revolution when he was imprisoned as a "capitalist," to his escape to Poland after World War I and his later business activities in Central Europe between the wars before escaping to London with his family.
The play centers on a successful, young, elegant and wealthy Russian businessman, Semyon Sapir (Mike Falkow) who meets a captivating young nurse in the Polish army, Katia Wampusyk (Tanna Frederick) on a train trip to Warsaw. He is then faced with a life-changing dilemma when he discovers that the nurse he is drawn to – and who is enchanted by him – is fiercely anti-Semitic. Will he reveal to her he is Jewish or decide to go toward revenge?
Frederick is a shining star, first introducing us to Katia as a very reserved needlepoint-wielding nurse travelling back to base in the company of Father Alexandrov (Stephen Howard), a Polish priest, and Mme. Nadia Selmeczy (Cathy Arden), an enigmatic fading stage star. With the train overcrowded and an empty seat available in their private cabin, the good priest invites Sapir (representing Jaglom's father) inside to enjoy the ride. Sparks fly between Frederick and Falkow from the moment their eyes meet.
It becomes very apparent that anti-Semitism was rampant in Poland in the 1920's, and that many Jews felt the need to hide their identity to stay safe as well as successful. Certainly Semyon does not set out to hide the fact that he is Jewish, but then he has been invited into a nice private train cabin where Jews are not allowed. Why should he reveal himself? And when Katia makes one of her most blatant anti- Semitic comments, Semyon puts a plan into action to revenge a long ago wrong done to his family.
But fate steps in and while on the train ride, Katia and Semyon fall deeply in love with each other. When he invites her to exit the train when they stop at the ski resort Zakopané at 5 a.m., even though at first she is very hesitant, Katia agrees following their first kiss. It's a heartwarming love story based on revenge that goes terribly as well as beautifully astray thanks to the brilliant characterizations by Frederick and Falkow throughout the production. It is easy to see how these two could fall so deeply in love in just 72 hours – and how quickly they could walk away from it all when hate gets in the way.
Kudos go to director Gary Imhoff for again bringing a Jaglom play into amazing reality thanks to his brilliant cast, which also includes Jeff Elam and Kelly DeSarla as two very interesting people interacting with Frederick and Falkow at the ski resort. Costume designer Shayna Frederick pays tribute to the time period throughout with gorgeous, vintage beaded dresses for the three women and well-cut, double-breasted suits for Falkow.
But the real star is the incredibly versatile set designed by Chris Stone. Act I takes place on the train with three separate set pieces from the private cabin to the dining car or the outside deck where Katia and Semyon share their first kiss. All that was missing was the cool breeze blowing through their hair. The audience is asked to please exit the theater for intermission due to the set needing to be changed. I stayed to watch from a safe distance as the train was taken apart piece by piece so that Act II could take place in the ski resort at Zakopané. This was also a multi-location set, requiring many set changes by the very choreographed stage crew. Time period appropriate music accompanied each of the set changes, though many seemed a bit too long – but then again, it also allowed for costume changes backstage.
Show times are Thursdays to Saturdays at 7:30 p.m. Sundays at 5 p.m. Reservations required at www.edgemarcenter.org or by calling (310) 399-3666. Running time 2-and a-half hours.