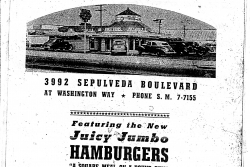 This is the 10th anniversary of our " George Barris Crusin' Back to the 50's Car Show." When the discussions began to host a car show, the natural location was Culver City's Downtown, which was re-emerging as a destination through the efforts of redevelopment.
The Exchange Club worked with the Downtown Business Association in an effort to attain city permission and support.
My favorite story about the car show started with a plethora of frantic emails and phone calls. They were a plea for a picture of Piccadilly's. Most would ask why or the even more basic question, what was Piccadilly's?
The back-story on this one began with the noted George Barris. When the famous car designer was approached to lend his name to this car show, his interest peaked because of his memories of "Piccadilly's in Culver City where drag racing began."
Piccadilly's  Drive-In Restaurant was located at 3992 Sepulveda Blvd., below Venice Boulevard, near Piggot Dr. on the east side of the street.
Many locals searched in vain for an image of the distinctive drive-in to use in creating t-shirts for this event.
At that time, much of the Historical Society collection was in storage, so I turned to "Cuz" Fred Machado who is known as the Machado historian and for his  "car enthusiast genes!"
Tales will be told. When I asked  "Cuz" Fred Machado about Piccadilly's, his immediate response was "Piccadilly's made great burgers!"
The guys used to gather there, eat and enjoy seeing all the "hot rods." To enrich my cultural education, he clarified "hot rods" were built by people with imagination from ground up or they could be restored old cars, but were not the "muscle cars" which I learned were like Dodge Dart, or Plymouth production cars.
Sprint cars—that raced on oval tracks, also spent time at Piccadilly's, and some racecars arrived on trailers. The "square meal on a round bun" was very popular.
Fred was sure he had recently seen an image of Piccadilly's, and within an hour of hanging up the phone, he had called back and was on my doorstep with a copy of Piccadilly's Menu.
Fred explained that his brother, Tom, who lives a ways from Culver City found a menu some time back so he made a copy of the front to use as stationery for a note to Fred. So, in this age of technology, we scanned the image and emailed it off to the car folks. Needless to say, their designer used it for the tee shirts!
The annual car show brings many folks back to Culver City to enjoy a day of classic cars on display, an opportunity to talk to fellow enthusiasts, with people time centered around lunch in our restaurant-rich downtown. That's after breakfast at Fire Service Day, and before the Tribute to the Stars fundraiser for our schools
Photo Caption: The menu cover of Piccadilly's, where local car enthusiasts enjoyed their hamburgers, before heading down to Culver Boulevard, which they blocked off to drag race!  Piccadilly's also acknowledged there were  "Two Good Places to Eat, Here and Home!" A 16" X 20" framed photo is on display at the Culver City Historical Society Archives.