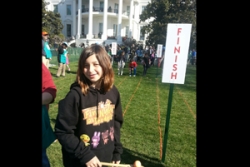 My mom's friend Michelle Mayans has been to the White House a few times before with her company "KSM KidScoop Media" with other "Scoopers" (Kid Reporters like me), but when Michelle got an email from the White House inviting her to the 137th Annual Easter Egg Roll with two other people, she wanted to know if we would come. My mom agreed to take me to Washington D.C. to cover the event.
We arrived Sunday, the day before so we could settle and unpack for the next day. The beds at the Hilton Hotel were extremely comfy but the service was pretty expensive. It was understandable because it was a very fancy hotel with fancy people.
On the first night as we were heading to dinner with Michelle, we ran into Top Chef Masters winner Chris Cosentino, who was also in town for the historic White House event. We asked him which restaurant to go to for dinner and he recommended a place where we had amazing pizza. He was right!
We took a cab to the White House where it was very organized as we stood in line, which was fairly boring. We had entertainment in the line with girls singing and dancing, but I would've been embarrassed if I had danced. Once we got in, we headed straight to the Egg Roll activity because we knew that there would be a long line if we had waited until later.
While we were waiting, the First Families dogs came out, Bo and Sunny, both of which were very cute. When it was my turn to roll the egg, I was handed a big wooden spoon that I used to nudge the Easter egg along the path. I got 1stplace in my line, but it was harder than it looked!
The whole event was on the South Lawn of the White House, below the Oval Office, and it was full of many activities. We made many noisemakers made out of popsicle sticks, planted seeds and discovered new stuff about science, places, animals and much more. They had bats and we saw the Apiary (the Bee house).
There was a basketball and tennis court at the White House where people would go play. The President even played basketball while we were there. When President Obama first came out, he was on the balcony with the First Lady. The President said his daughters, Sasha and Malia, weren't there because they had school (it was Monday after all). He gave a welcome speech after the National Anthem was sung by The ID4GIRLS (they were phenomenal and I loved their voices).
This year is the 5th anniversary of First Lady Michelle Obama's "Let's Move!" campaign so a group of girls called "Fifth Harmony" sang the "Happy Birthday" song. Their voice was amazing too.  In honor of the fifth year, Michelle Obama said "this year's Egg Roll theme is "#GimmeFive," challenging Americans across the country to #GimmeFive things they are doing to eat better, be more active, and lead a healthier life."
The last part of the event was the All Star Dancers from the show "So you Think you Can Dance," whom danced with Michelle Obama. She was as good as the professionals. The First Lady and the dancers taught the crowd some cool moves and then created a flash mob with everyone, making everything together. The dancer Twitch told me later, "It was an unbelievable experience dancing with the First Lady."
As we left the event, they handed out the traditional painted wooden souvenir eggs and packets of seeds to grow your own bee friendly garden at home. It was very fun at the White House Easter Egg Roll and an experience I will never ever forget. All kids should be Scoopers.
More information about KSM available at: www.kidscoopmedia.org.