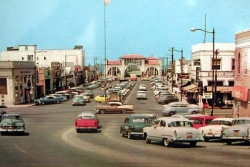 I'll admit, with age I find myself more and more fondly drifting back to days gone by. I believe it's a natural progression that all generations experience at some level. I'm not one of those who believe that everything was better back in the day. However, I would argue that many things were far superior. No, there's not a stern lecture to follow, just a short, painless stroll down memory lane.
My neighbor, who moved in next door in 1971, died at the age of 91 last Sunday. He was a true friend, and he also happened to be a Pearl Harbor survivor. His passing triggered an all too familiar response inside me. Lately I've been recalling events from my past, especially those experiences with other good friends who have also passed away. Unfortunately that list keeps getting longer. One of the many difficult aspects of aging is the inevitable frequency of friends passing away. One of my fondest memories involved playing street football in front of my house back in the early 60s. Regrettably, a sizeable group of what we dubbed the Hill Lane Gang has passed since those glory days. However, in my mind's eye I can picture each of them as if it were yesterday.
Growing up on Hill Lane, the king of the street was touch football. Street football is to regular football what miniature golf is to real golf. With parked cars,  (we had no sidewalks until the late '60s), street signs, oil slicks, traffic and disapproving neighbors, the game took on a whole new dimension. In prep for our nightly game, we often directed one of our dads, returning home from work, exactly where to park his car. If a savvy player succeeded in getting two cars to park with only a few feet separating them, it provided a perfect "ally" to make a cut and catch a pass between the two parked vehicles. Of course, if a bad pass smacked a car and was detected by the owner, we would have to move our game up the street a few houses. Also, moving cars, or the threat of one, presented an ideal opportunity for a long touchdown pass. "Danny, look out, car coming." As Danny turned to see the nonexistent, approaching vehicle, I'd break into the clear for an uncontested TD toss. However, there were the occasional "bad-bounce" broken windows. Usually after damage to a car or house, the gang was forced to lay low for a week or two, moving our game to the local school grounds at the end of the block. At least there, when you broke a window, everyone could scatter, avoiding the responsibility of chipping in for a new pane of glass. I recollect that our most destructive summer recorded four broken windows (none at my house), a cracked headlight on Ricky's parents' 1959 VW Bus, and Puddles (a neighbor's homely, wimpy poodle) ending up with a splint on his right hind leg (that one's on me!). During one unfortunate street baseball game, one of my foul balls struck the mangy mutt as he viciously yipped at us from his front yard. A few disgruntled neighbors made the rounds to our houses that evening resulting in a street baseball ban, forcing us to play all future games at Washington School.
Another "coming-of-age" memory reminds me of Steve Kaiser, a good friend taken away much too early. On a bright sunny and smoggy day in the summer of '65, a much-anticipated event occurred on Hill Lane. The first HLG member, Steve Kaiser, got his driver's license. It was Christmas, New Year's Eve, the Fourth of July and Halloween all rolled up into a rectangular piece of paper with Steve's picture on it. We could barely contain our enthusiasm the glorious day Kaiser informed us he'd be getting the use of his parents' '56 Chevy that evening for two hours. Much like the allied generals planning the Normandy Invasion, we secretly gathered in Danny's garage to carefully map out the itinerary for our first parentless "Chick Cruise" (we created a nickname for everything) through Redondo, Hermosa and Manhattan beaches. We knew the route well. Crunching the numbers, we calculated the loop would cover 10 miles. Our master plan: Take 190th Street to Hermosa Avenue, turn right, then slowly cruise through Hermosa and Manhattan, turning around at Rosecrans and doubling back. On the return leg we'd cruise the Fox Redondo movie theater, the Redondo Pier and the Esplanade, turning around in the parking circle at Torrance Beach. Our best guess being one complete lap would take 40 minutes, allowing for three fun-filled, rowdy cruises before "pumpkin time." We were ecstatic!
Returning from our inaugural safari 15 minutes late, Steve's menacing step-father was waiting in the driveway, arms folded displaying his creepy familiar pose. The terrified cruisers scattered quickly to their houses while Steve, head slumped, followed his stern executioner inside. We had learned some valuable lessons on our initial beach cruise through the heart of the South Bay. First, we weren't as prepared as previously believed. Most of the cute chicks we encountered laughed at us as we hung out the windows, attempting to express "coolness" with our lame remarks and goofy smiles. Much like the proverbial fish-out-of-water, we were woefully unprepared for our mission–impressing chicks strutting Hermosa Avenue in their skimpy bikinis. My personal revelation (one I did not share with my buddies) became obvious early into our jaunt — I needed cooler clothes!
Ah, the good old days! I miss you buddies!