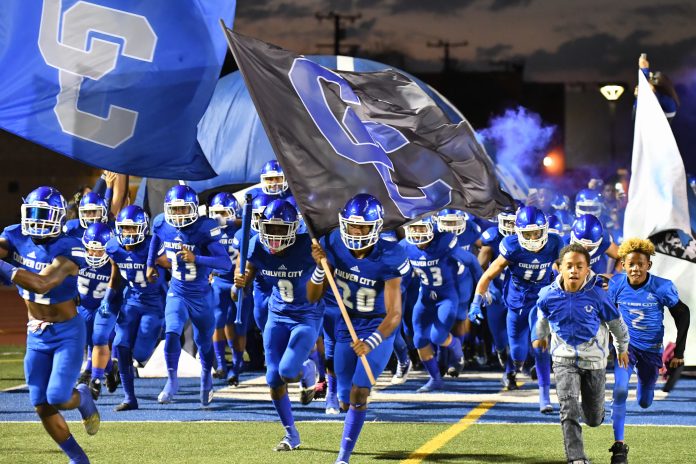 Scoring over 50 points in five straight games and being 5-0 is great. Being ranked No. 2 in CIF Division 5 is fantastic. But being a one-dimensional team will eventually catch up to you. That's why Culver City's head coach Jahmal Wright is making an effort to put the ball in the hands of their running backs more.
They already have one of the best quarterbacks in the state in Zevi Eckhaus, and now they are looking to become a complete package on offense by getting their running game moving in the right direction.
The plan started last week in their 60-14 win over Dorsey, and they hope to continue to run the ball more against Santa Monica Friday night at Santa Monica College at 7 p.m. When you have a great quarterback, six outstanding receivers, and a very good offensive line, the temptation is strong to keep the ball in the air, but exceptional teams can beat you in different ways.
"Our running backs ran well and we made a concerted effort to run the ball," said Wright last Friday after their win at Dorsey. "We have to keep that going. We have to find a way to be balanced. That's our goal. If we can get teams to respect the run it will open up our passing game even more."
The Centaurs have the ingredients to get the job done. They have the quarterback, the offensive line and the running backs. They have two really good running backs in the powerful Ayinde Bankole and the speedy Mekhi Evans-Bey, and both backs were outstanding against Dorsey.
"Everything was good tonight," said Bankole after the Dorsey game. "We executed all of our plays and we came out here and got the job done. We play hard no matter what team we are playing. We are a good team, but we are going to keep getting better. We just play our game and get the job done."
The backbone of a great offense is the offensive line. Everything starts up front and Culver City has the players.  "The offensive line is doing a great job," said Wright. "Most of them are playing offense and defense. They bring their hard hat to work every day. They are really selfless and I am really proud of them."
One of the leaders on the offensive line is Blake Kneebone. The 6'4", 250-pound senior still had a lot of energy after playing on the offensive and defensive line against Dorsey. "It was a hard-fought game, but we were more athletic. We had to come out strong.  Our running backs are doing a really good job this year. Tonight, they got some good reads on me when I was blocking for them. I am really proud of Ayinde and Mekhi.
Kneebone is a three-year varsity player who started playing football in his freshman year, and he is ready for the next step: college. "This is my senior year, and I want to live it up the best way I can and show the colleges that I can really play. I am hoping to attend one of the Claremont Colleges and major in physics."
Kneebone also has a lot of admiration for the Centaur coaches. "I love these coaches. It's the best environment. We are like family and the coaches treat us really well.  The offensive coach, Leo Zambrano has been with me since my freshman year and he works with us on our technique and a lot of other things."
Another lineman who has a bright future is freshman Mason Merriwether. The 6'3", 290-pound player is a starter in his first year of high school football. "We really worked hard last summer and in practice and it really pays off during the games. Coach Leo showed me the ropes and he showed me how to play high school football."
Coach Wright is looking forward to their first league game against Santa Monica on Friday. "We have to keep punching the clock and keep sharpening our tools. We are an explosive offensive team and we know that, but we have to keep executing and keep getting stronger. We have to open up and send a message to the rest of the league that we are here to play."