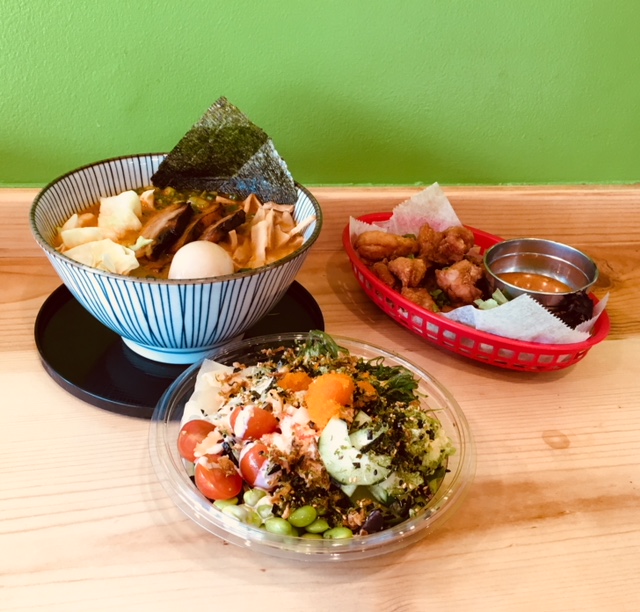 You could easily drive right past Nishi Poke & Ramen Bar on Overland and Braddock if not paying close attention. A petite-sized eatery which sits where Tubbs Chili once stood, this Japanese spot has "build your own bowl" style food and has been here for less than two months.
The bright décor and freezer full of colorful macaroon ice cream sandwiches proved inviting. A glance at the menu was enough to inspire us to indulge and was interesting, yet intimidating at the same time.
True to its name, bar stools and long wooden tables take up much of the space where satisfied-looking customers gobbled down their meal. The website boasts of food made from scratch and broth left to simmer for 24 hours. This location is the second of two, apparently due to the popularity of Nishi Poke & Ramen Bistro, just a few miles away.
Not being familiar with a poke bowl, we were anxious to find out what this food trend, which has more than 1.2 million hashtags on Instagram, was all about.
According to Hawai'i Magazine, poke is commonly found in Hawaii and is "usually raw fish seasoned with shoyu and sesame oil." The manager of Nishi describes their poke as a combination of Japanese, Hawaiian and California-style poke.
We went all out and settled on the Spicy Miso Ramen, the regular Poke Bowl and the Chicken Kaarage for good measure.
Approaching the counter, a multitude of fresh-looking ingredients awaited. Chunks of avocados, cucumber slices, crabmeat, and seaweed salad were just a few of the choices available to make the experience unique. This Subway restaurant-style method allows you to select as many items as you desire, and all are included in the cost of your poke bowl.
We entrusted the contents of our Poke Bowl to the enthusiastic server as to what she thought would be best and were happy we did. The bowl had everything from butterflied shrimp, edamame, a fresh spring salad mix, and masago, which are the eggs of the capelin fish.
Our expectations were exceeded by the Spicy Miso Ramen. Everything from the large attractive ceramic bowl, to the decorative placement of the seaweed, was quite a sight. Generous slices of pork, bamboo shoots, and spinach made this 'not your ordinary ramen.' An obviously well-marinated boiled egg was added to the ramen for an additional $1.50.
The golden coating of the chicken was crispy. The bite-sized cuts of meat were juicy and tender, and the portion was just right. Spicy mayo dip was a perfect balance of both mildly spicy and sweet and paired well with the chicken.
Sampling the fresh fare of Nishi Poke & Ramen Bar was certainly a worthwhile experience.
Nishi Poke & Ramen Bar is at 4263 Overland Ave., Culver City. Call 310-837-5001 or email at nishipokramen.com. Hours are 11:30 a.m. to 9 p.m. Monday to Saturday; closed on Sunday. Menu prices range from $11 to $30. Take out or dine in, catering available, casual attire, free Wi-Fi, street parking, takes credit cards, no alcohol, and no reservations.