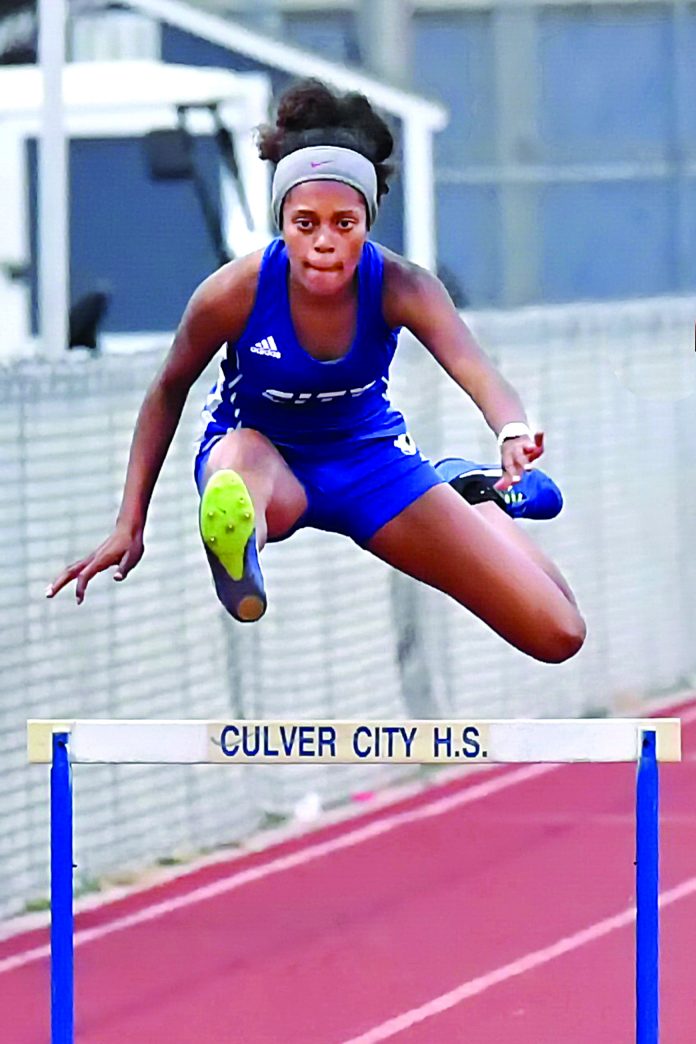 By Steve Finley
Sometimes in sports, you can lose a game, match, set or race and still be victorious. That's what happened to Culver City freshman Ayahna Bahati last Saturday at the CIF Southern Section Track and Field Finals at El Camino College. Although she placed seventh out of nine girls in the Division 2 100-meter hurdles, that's a rare accomplishment for a freshman.
Competing against some of the fastest hurdlers in the nation Bahati stayed competitive until the last few hurdles. "I think it was a great experience," said Bahati last Sunday. "I did not think I was going to make it all the way to the CIF finals, but I am very happy I accomplish that. I was a little nervous because some of the girls were bigger and faster."
Bahati's time of 15.95 was not her fastest time of the year. "I felt like I could have run faster, but I am happy I made it that far." She has three more years to get faster and with the help of her coaches and parents look for her to be one of the top hurlers in the state in the next few years.
"Regardless of what happens, I am going to stay calm and humble," said Bahati, when asked about how she is going to handle early success.  "My parents and coaches we help me stay focused."
She started running track four years ago with one of the top youth track clubs in Los Angeles called the L.A. Jets.  Bahati fell in love with track after trying many different activities that included basketball, volleyball, golf, ballet, hip hop dance and she even played the bass guitar.
In all sports coaching is a big part of an athlete's success and Culver City's coaching staff is outstanding. All the assistants and the two head coaches, Jahmal Wright and Rayfield M. Beaton are committed to the success of the program. "My coaches are dedicated to the sport and dedicated to the athletes but sometimes coach Beaton can be strict but his strictness has paid off."
The boys' 4×400 relay team placed third in Division 2 with a time of 3:20.16. The runners were Dexter Holier, Dominick Tatum, Tyler Luckett and Richard Reliford. The girls 4×400 team placed eighth with a time of 4:06.0 in Division 2 with a team of Kayla Barnes, Ari Belcher, Emily Sugiyama and Alero Solaris and the girls 4×100 relay placed eighth with a team of Belcher, Bahati, Solaris and Kayla Barnes.
The Culver City softball team won their first-round game against Palos Verdes 7-0 last week and they played their second-round game against Linfield Christian last Tuesday.  If they win that game their next game will be Thursday (today) against the winner of the St. Joseph and Santa Paula game. Call the school to find out the time and location of the game. The boys' baseball team season ended with a 9-2 loss to Palos Verdes last week.