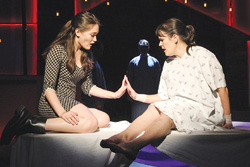 Mental illness no longer holds the same type of stigma as it once did in American society with so many now admitting to receiving help to deal with the emotional struggles of modern life. NEXT TO NORMAL with book and lyrics by Brian Yorkey and music by Tom Kitt, explores how one suburban household is torn apart by mental illness yet goes on to fight to stay together as the mother, Diana Goodman, struggles with bipolar disorder and the effect that her illness has on her family. This contemporary musical is an emotional powerhouse that won three 2009 Tony Awards, and the 2010 Pulitzer Prize and addresses such issues as grieving a loss, ethics in modern psychiatry, and the day-to-day reality of suburban life. With provocative lyrics and a thrilling score, this musical shows how far two parents will go to keep themselves sane and their family's world intact.
As directed by Thomas James O'Leary featuring a live five-piece band conducted by music director Taylor Stephenson at the Pico Playhouse, the production plays more like a modern operetta as there is little dialogue with most of the action described via the story-forwarding song lyrics. With star-quality performances by all in the six-person cast, including Isa Briones daughter (Natalie), Michelle Lane (mother Diana), Harrison Meloney (son Gabe), Randal Miles (Drs. Madden/Dr. Fine), Blaine Miller (husband Henry), and Nick Sarando (Natalie's boyfriend Dan), this guest production is not to be missed for its insight into a modern family struggling to come to terms with their falling apart lives. Its brutal honesty will grab your heartstrings and never let go, just as the incredible harmonies of the cast will elevate the show beyond just its subject matter.
Michelle Lane's portrayal of Diana was performed with such authenticity, you will surely be drawn into her descent into and out of madness throughout the production. Her every gesture and movement exemplifies the horrors going on within her mind, causing her to constantly interact with her son Gabe (Harrison Meloney) for advice. As staged by director O'Leary, it is difficult to talk Gabe without giving away a major plot point which I won't do. I will just tell you Gabriel is the best possible son and the joy of his mother's life. However, Meloney does lend an air of menace to the story, hovering over his mother at times when his presence seems to make no sense, or as he swings from a light pole above the set without being seen by anyone. His nuanced performance will keep you guessing as to what is really going on between him and his family – until later in the play when the truth is revealed.
Along the way we witness daughter Natalie, a high school student, fall apart and eventually raid her mother's many pills to escape the confusion of her reality, expertly portrayed by Isa Briones. Nick Sarando as her pot smoking boyfriend Dan, begs Natalie to straighten up and attend a school dance with him. When the two of them finally work things out, the hope for the future they bring to the show is palpable. Blaine Miller certainly he has no concept of what his wife Diana is talking about most of the time and just lets her be who she is, even though that may not be the best way to deal with her illness. As her descent progresses, Dan convinces Diana to undergo frightening electric shock therapy.
Diana's two therapists are played by handsome Randal Miles, and his portrayal is often at the expense of the medical profession in general as he seems to care about her treatment more than caring about how it affects her personally. At one point we see one of the good doctors through Diana's eyes, allowing Miles to bounce between being a dedicated therapist and a red hot rock star which adds a bit of much-needed humor to so serious a scene.
As presented in such an intimate theater with a live band who wonderfully rocked the score, the imaginative scenic design by Jeff Cason and lighting design by Matt Richter, Adam Earle, and Andrew Schmedake, create a multi-level, ever color-changing look into the many conflicts being presented, keeping the action moving quickly between scenes with the actors changing set pieces which hide into areas of the multi-level set. Amazing quick costuming piece changes designed by Vicki Conrad enhance every mood of the characters. I would recommend this show for ages 12 and above due to subject matter, an encourage families with teems to attend together and talk about the subject matter honestly afterwards.
"Next to Normal" continues at the Pico Playhouse, 10508 W. Pico Blvd., Los Angeles, through Sept. 25 on Fridays and Saturdays at 8 p.m, Saturdays and Sundays at 2 p.m. Tickets are $32 – 36.99 and may be ordered online at http://n2nmusicalla.brownpapertickets.com . More information at www.n2nmusicalla.com or 310-204-4440.