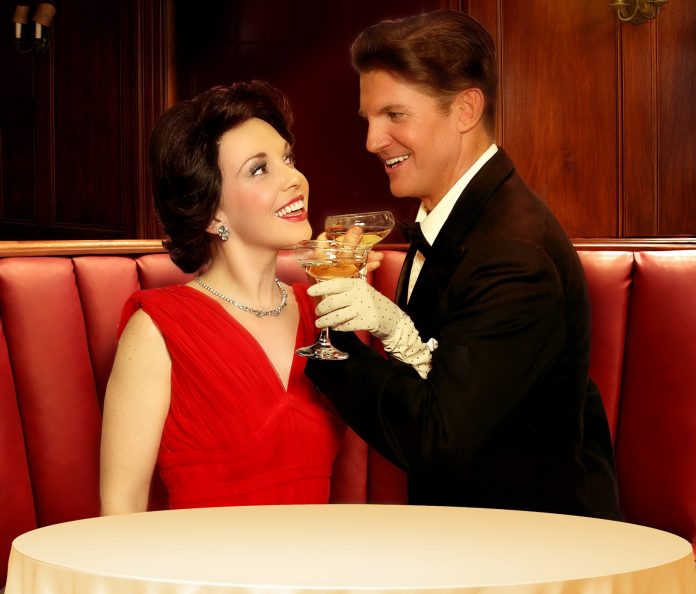 The marriage of Nancy and Ron Reagan continues to be written about, talked about, analyzed and scrutinized. To some, Ron's unyielding devotion to his wife is to be admired and Nancy's fierce protection of her husband is applauded. To others, their relationship seemed odd, old-fashioned and even corny. Either way, it cannot be denied that few, if any, marriages had more of an impact on the 20th century. But have you ever wondered how the two met and why their immediate attraction to each other led to such an admirable union that worked so well for the two of them? You can find out IN A BOOTH AT CHASEN'S, a new musical written by Sam Bennett, with music by Al Kasha and Phil Swann, running through Nov. 25 at the El Portal Theatre in North Hollywood. The show is directed by Kay Cole.
Perhaps one of the most famous moments featured in the musical occurred on Nov. 15, 1949, when a nervous 29-year-old starlet named Nancy Davis went to a dinner at Chasen's with movie star Ronald Reagan, then the president of the Screen Actors Guild. At the time, she had never been married and was totally devoted to her acting career, while Reagan was still nursing a broken heart from his divorce from Jane Wyman and not looking for another major involvement. And I assure you, even if you were not a fan of the political couple they became, you will be enchanted by the talents of Kelley Dorney and Brent Schindele as they share the real-life romance of Nancy and Ron Reagan from the moment they take the stage and beautifully share their background stories in song with the opening number "Chasen's at Eight" as they let us know their expectations for the evening.
But once the date and their easy banter get going, they cannot deny there is a mutual attraction and much to their surprise, the two hit it off. The musical goes on to share moments during their courtship, including four weeks later during a picnic at Reagan's 8-acre ranch in Chatsworth during which Nancy helps Ron paint the fences and starts to get to know his children. She even loves his dumb jokes. While enjoying this time away from the Hollywood media, the not-yet exclusive couple sings about the universal nature of all successful relationships in "Kite and a String" which offers great advice on allowing one person to soar in flights of fancy while the other anchors them to the ground and reason. I adored the lyrics and chuckled as if my own long-term relationship was being described, as well as what became the basis for their marriage.
Over the next two years, the couple confides in one another, turn up the heat, bicker and rage against the gossipy tabloid press in the comical and "oh-so-current" song against gossip columnists in "What a Way to Make a Living." During the number, Dorney and Schindele had the audience in stitches of laughter, knowing it is even truer today in the world of celebrity gossip. Perhaps my favorite number taking place outside of Chasen's during the holidays with Ron in a tux and Nancy decked out to the nines in Reagan Red (his favorite color on the brunette) by costumer Kate Berghin as Dorsey commands the stage as she belts out "Red" about how powerful his love and the color makes her feel. The drama continues with Nancy playing hard to get until February 6, 1952, when, while celebrating his birthday "In a Booth At Chasen's," Schindele musically shares the moment Ron realizes "She Makes Me Right" and finally proposes, ending with much applause as the deal is sealed with a kiss.
While we never see the talented seven-piece orchestra, led by musical director Jonathan Tessero, their presence is certainly felt during the many song stylings, while director Kay Cole keeps the simple choreography entertainingly appropriate for each tempo. The moveable scenic design by Andy Walmsley, enhanced with Daniel Brodie's projection design reflecting great memories of Los Angeles and the streets of Hollywood during each scene's timeframe, will keep your attention while the two stagehands, dressed as Chasen's waiters, move set pieces during the rather long scene and costume changes.
The legendary dining and gathering place of the movie industry's mightiest stars at the corner of Beverly Blvd. and Doheny Drive in Beverly Hills shuttered in 1995, and is now a Bristol Farms market. Chasen's auctioned its restaurant equipment and nearly 60 years of memorabilia in October 1999, with everything quickly grabbed up by those wishing to own a part of Hollywood history. So be sure to notice the authentic Chasen's booth sitting in the theater's reception area, on loan from its buyers during that auction, with a menu from 1953 placed on the booth's table listing its popular, hearty offerings which changed nightly. Not on it is the restaurant's always available chili, which was favored by President John F. Kennedy and Elizabeth Taylor, who had it frozen and flown to Rome during the filming of "Cleopatra."  Even I remember how good it was!
 "In a Booth, At Chasen's" runs through Nov. 25 on the Debbie Reynolds Mainstage at the El Portal Theatre, located at 5269 Lankershim Blvd. in North Hollywood. Tickets are $29-$65 and available by phone at 818-508-4200 or at www.InABoothAtChasens.com.