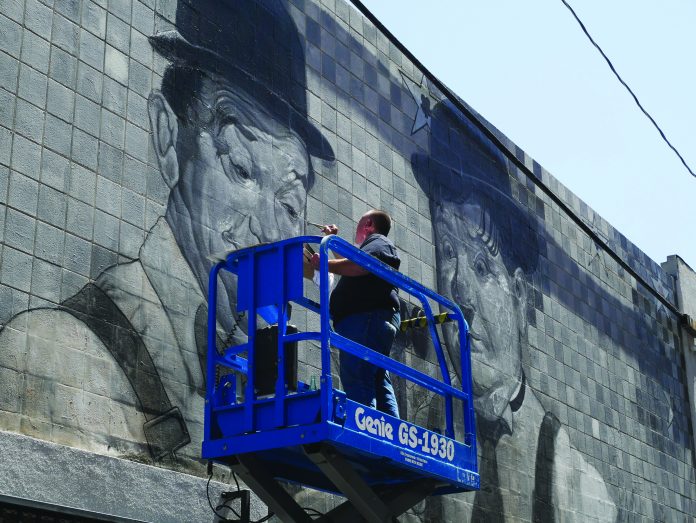 Pieces were heavily damaged by time, outside influence
By Christian May-Suzuki
It's noon on a warm, clear day in Downtown Culver City, and Francois Bardol is on a scissor lift 15 feet in the air in an alleyway directly adjacent to a parking lot. This may seem odd at first, but then you see the massive 21-by-47-foot mural covering the wall of the building across from the lot that he is diligently working on.
You can see the fade of the old paint and the name of the longtime mural artist cut off by a door that wasn't there when Bardol first painted the mural in 1996, but the charm of the original mural still shines through. While inspired by a photograph, the design for the mural was drawn free hand, and the contours are Bardol's impression, making this mural unique.
You can also see the streaks of white paint that was mistakenly applied on the mural that almost left it ruined beyond repair. Fortunately, Bardol meticulously sealed the mural, preventing the white paint from bonding with the mural and allowing Bardol to clean it with soap, water, and a little bit of elbow grease.
The mural itself is entitled "Laurel and Hardy", and as the name suggests, it depicts the comedy duo comprised of Englishman Stan Laurel and American Oliver Hardy. The two established themselves among the greatest slapstick comedy act during the Golden Age of Hollywood and filmed many of their early works just blocks away from what was once Hal Roach Studios.
"I really like this mural because Laurel and Hardy made episodes of their films on Main Street, and painting it made me see and understand Culver City in a different manner," Bardol explained.
Culver City's Main Street was a hallmark in early Laurel and Hardy films and was often used for the duo's car scenes. Bardol remembers those scenes fondly.
"As I was growing up, I watched many Laurel and Hardy movies," Bardol recalled. "Bringing the past back to life is always a special moment for me. It makes the viewer feel the past while in the present. It is a bit like being in two places at once."
The mural was originally commissioned by Rob Barber and Jack Barton, who were once the owners of Stellar Hardware. They wanted an image on their building to tie back into their business that would bring some life back to Culver City history, according to Bardol.
"People absolutely go crazy when they see it," Barber told LA Times when the mural was first finished in 1996. "We wanted something nonpolitical. We thought everyone loves Laurel and Hardy. And what a perfect choice it was."
This is not the only mural that Bardol has in Culver City, and isn't even the only one that he recently renovated. The "Lucy and Desi" mural on Irving St. outside of what is currently Baco Shop was remarkably salvaged by Bardol after an improper oil was used to varnish the piece.
Because the oil that was used stays moister and gummier than the oil that Bardol used to complete the piece, large cracks formed in the piece that needed significant work to be repaired. Despite being just a 10-by-12-foot oil painting, it required several months of time, similar to the amount of time Bardol believes it will take to finish repairing "Laurel and Hardy"
Bardol's sense and his ability to save these murals were only acquired through many years of experience. He was born in Algeria while it was still a French Colony, but his family had to leave during the revolutions in the '60s after being there for 120 years.
His parents relocated to France and his grandparents to Spain, so he grew up between the two countries, was exposed to a wide variety of cultures, and now speaks several languages as a result.
He studied advanced drafting and Photography for two years and worked in Photography for two years before coming to the United States, where he started to train in Airbrush, rendering, and finally oil painting. He has been painting for 36 years and making glass mosaics for 18.
But it was his training in billboard painting that Bardol believes helped him find his love for large scale works like murals. Finally, and arguably most importantly, Bardol holds history in high regard and says he finds deep inspiration in people and the past.
"When I painted the first incarnation of the Laurel and Hardy, people came up to me and told me with emotion, that they used to work with Stan Laurel and Oliver Hardy," Bardol remembered. "They and others came by and showed me a Culver City I did not know as of yet, like for example, the location of the set for the Yellow Brick Road. That is the stuff dreams are made of."
Bardol also specializes in mosaic arts and has translations of Gandhi, Dolores Huerta into freestyle Byzantine mosaic. He has 3 sons, and one of them has helped him on projects throughout the years. His most recent new installment in Culver City is a mural for the Culver City High School Theater department last year.