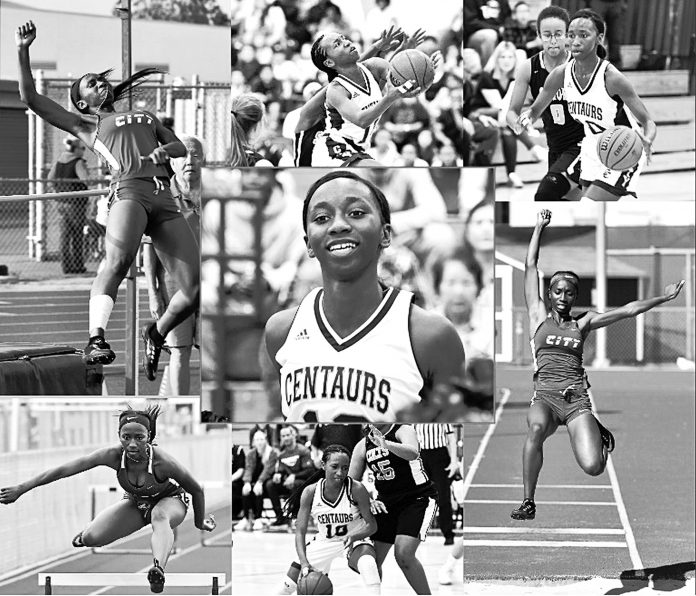 By Steve Finley
Angel Morris, Culver City high school's graduating senior was named Athlete of the Year for the 2017-18 school year by the Culver City News sports staff. Morris played two sports for four years and when was graduated recently she went into the history books as one of the best female athletes to ever put on a Centaur uniform.
On the track, she was good enough to compete in six or seven events but she had to narrow her choices down to the 100 and 300-meter hurdles, long jump and high jump and when the coaches needed her she also ran legs on both the 4×100 and the 4×400 relays.
On the basketball court, she played varsity forward on teams that won several league championships and advanced to the state tournaments. "Angel brought a sense of togetherness to the team, which was huge," said girls' head basketball coach Julian Anderson. "Angel was the glue that kept our teams together during her three years on the varsity. "
Anderson continued to say," She was the player that would always  bring everyone together when the coaches were not around and she got better and better during her three years on the varsity team."
On the track, she was simply magnificent. "When I first saw her I did not know she could do all of those events," said girls head coach Rayfield M. Beaton. "When she first came to Culver City she was a tennis and basketball player.
" I could see that she was athletic so I introduced her to track. I started working with her on the hurdles, then the high jump and then she learned how to long jump. Now she leaves Culver City as a four-time Ocean league champion. She was very easy to work with."
The boys head track coach and football coach, Jahmal Wright is sad to see her go. "She will be missed," said Wright. "When I first saw Angel four years ago I could see that she was blessed with outstanding athletic ability. She was tall with long legs and she had a competitive spirit.  She does not like to lose. She is so special."
Morris, who will attend Tuskegee University in the fall is ready for the next big step or jump in her life.  "I wanted to leave some type of legacy at Culver City," said Morris, who talks as fast as she runs. "I just wanted to be able to say I did something special at Culver City.
"When I first came to Culver City I realized this is a great school and it had everything I need to be a good student-athlete," said Morris.  "The school offers all of these opportunities and I am thankful I was able to take advantage of everything the school had to offer. I love Culver City. That's my school forever."