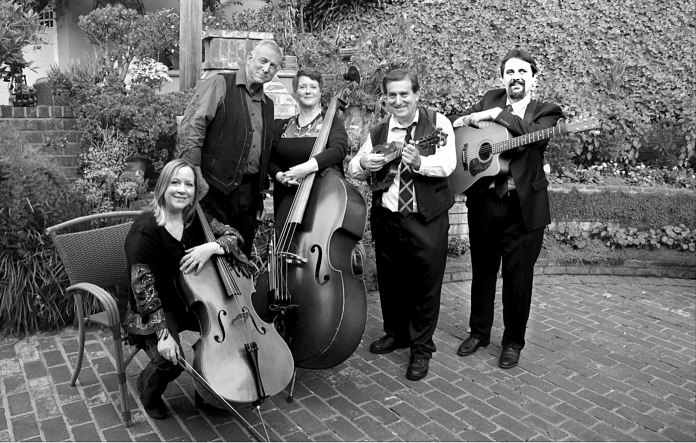 By Gary Mandell and Gary Kohatsu
THE MISKEY MOUNTAIN BOYS are a one-of-a-kind act that combines heartwarming comedy with virtuosic musicianship to create an unforgettable evening for their guests.  Featuring their signature sound, Classgrazz, they blend elements of jazz and classical with traditional Bluegrass by incorporating such innovative elements as bluegrass cello, duo-style mandolin pieces, high energy slap-bass, blazing fiddle trios, stellar flatpicking and soaring vocals. Add in the joy and camaraderie of these longtime friends, and you have an energetic evening of fun and music you won't soon forget.
Featuring the world class musicianship of JOHN MARSHALL, EVAN MARSHALL, DEBORAH KOLLGAARD, ALEX FINAZZO and, MICHELLE LYNSKEY, they've appeared in such venues as the HOLLYWOOD BOWL, DISNEYLAND, various POPS SYMPHONY ORCHESTRAS, and have been featured performers in radio, television and film, including THE OSCARS, THE EMMYS, A PRAIRIE HOME COMPANION, and a plethora of live events and soundtracks.
The Miskey Mountain Boys will be perform at Boulevard Music from 8 to 10 p.m. Saturday, Aug. 4 at 4316 Sepulveda Blvd., Culver City. Tickets are $17.50.
1) When did you start playing and writing music, and when did you start taking it seriously (playing live, recording, etc)?
All of us knew from a young age that our passion for music would be a lifelong pursuit.  We have studied classically, attending college for performance degrees.  That foundation is what allows us to create such complex arrangements, blending many forms of music together to create our signature sound, "Classgrazz".
This band is truly comprised of world class, virtuosic artists.  An example of our credits include performances at: the Hollywood Bowl, Pasadena Pops Orchestra, Pacific Symphony, The Oscars, The Emmys Governor's Ball, Garison Kellior's "Prairie Home Companion" and the Ring of Fire Broadway Show, as well as a plethora of film & television scores.  Our years of working at that level of professionalism is what enables us to have so much fun while we perform!  We connect as equals, and friends.  And the possibilities are endless!
2) Who are your main influences?
Bach, Beethoven, Rossini, Flat & Scruggs, Bill Monroe, Stephane Grapelli, Django Reinhardt, George Gershiwin, Junior Crehan and Hee Haw.  Yes, really.  Hee Haw.  Especially Hee Haw's one and only, brilliant and wonderful gone-way-too-soon fiddlin' Buckeroo, Don Rich.
3) Describe your own style…
We take tunes from many genres of music, and "Miskey-fy" them.  For example, we blend the George Gershwin's classic opening and closing themes from Rhapsody in Blue, with a classic Bluegrass tune called Old Joe Clark, and call is Rhapsody in Bluegrass.  You might not thing they work together, but they do!  We call our signature sound Classgrazz, which is a combination of classical, bluegrass and jazz, with a bit of the Irish thrown in to boot.  The way we see it, they're all sides of the same music.  Classical music has long been stylized instrumentations of folk tunes.  Bluegrass, Irish and Jazz all have common threads that have been passed down along the generations.  We love bringing these many musical styles together in one show.   It certainly makes the evening interesting, as you never know what's next!
4) Where are you based? What do you think of the local scene?
We're based in the Los Angeles area.  Surprisingly, more people really like Bluegrass than I would have thought.  Maybe
5) Best gig to date? And worst?
Truly, there has been no "worst" gig.  Everything is very spontaneous and enjoyable.  Our friendship and camaraderie is heartwarming and fulfilling.  Even though we're all from different walks of life, different backgrounds and different areas of the country, we're family.  Our rehearsals are filled with laughter, friendship and music, which directly translates into our show.  What you see is who we are.  Our guests frequently comment on how they feel as if they've been invited to spend an evening on the "porch" with us, as a part of the The Miskey Mountain Boys family.  We just love hearing that, because we feel exactly the same way!
However, if I had to pick one of my favorite gigs, it would be when we were featured at the Ace Hotel for the Inner-City Arts Foundation's 25th Annual Imagine Awards.  We were brought in to help raise money by doing the Orange Blossom Special.  We'd only play faster the more people would pledge.  The board were hoping we could bring in about $10K for our 5 minute performance.  Well, our energy must have really been infectious that night, because we helped raise over $100K!  We were just delighted to know we helped the foundation raise that much money for the kids in the Inner-City Arts program!  But to top it all off, one young man come up to me after the show and hugged me.  He thanked us for our music, and said because of us, he felt he could do anything he put his mind to.  He too, was a musician, and our performance inspired him to continue following his passion in music.  That's the greatest gift anyone could give us…  to know we've inspired someone, and truly made a difference.
6) Do you have any albums / singles available?
We do indeed.  Our first CD is entitled MISKEY BEFORE BREAKFAST, and is available on iTunes & CD Baby.  We're currently planning our 2nd CD, and will hopefully be recording that later this year.
7) Have you played Boulevard Music before? How did that connection happen? How did it go?
Our mandolinist, Evan Marshall, is one of the premiere mandolinists in the world.  He has performed nationally and internationally and had performed at Boulevard Music several times.  The Miskey Mountain Boys played there a couple of years ago, and we loved it.  The audience was welcoming and engaged, and we're delighted to be making a return performance!
8) What can we expect from your upcoming performance?
Amazing music, incredible solos, outstanding humor, all accompanied with laughter & friendship.  It's really a night like no other.  We're delighted that our guests feel so much a part of our show, that they feel invited to be on our "porch" and made a part of the Miskey Mountain Boys family for the evening.  Also, our arrangements are so complex, that our guests can discover something new about our music each and every time they hear us.
9) What do you have planned going forward, after this show, for 2018?
We have another concert for the Living Tradition Series on September 15th in Anaheim.  We'll also be playing the Coffee Gallery again (dates TBD) and will have a special cd fundraiser in the fall.  That will be a lot of fun!  It will be at a private residence in La Canada, and everyone who attends will get a signed copy of the new cd when it's released.  It really WILL be spending an evening with the Miskey Mountain Boys on the back porch!  Stay tuned to our website for more details!
I truly hope people can make it out for the concert at Boulevard