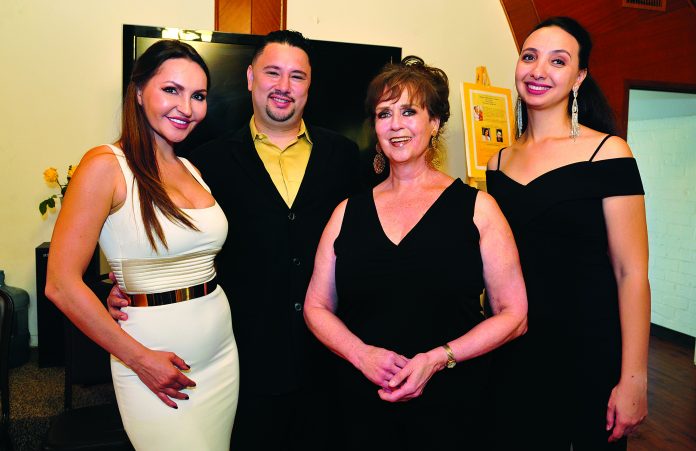 By Olivia Gay
Season one of the MidDay at Grace Concert series ended strongly, with powerful performances by Siuzanna Iglidan, gifted mezzo-soprano and bandurist, and fellow musicians, Soprano Julia Lima and Tenor Gustavo Hernandez Garcia, in mid-June at the Culver City church.
Mary Lou Basaraba, director of Music Ministries at Grace Church and organizer of the concerts, said she was delighted with the first venture into midday, lunch-hour music.
"I am absolutely thrilled with the lineup of artists, the actual performances and, the response from the community," Basaraba said.  "To date, we have hosted 22 amazing performers, 700 attendees and raised over $3,000 for various charities at these concerts."
While the line-up for next season's performances is still being finalized, it "will include some of the artists featured this season," Basaraba said. "Everyone was so well received by our enthusiastic audience, I know they will enjoy return appearances by their favorite performers!"
The lunchtime concerts, which are free and open to the public, consist of a variety of musical performances from talented musicians and vocalists from around the world. The performances take place on the second Thursday of every month and donations are collected and sent to a charity of the performer's choice. The concerts will resume in September and continue to June 2020.
Daniel Rodriguez, an operatic tenor known as "The Singing Policeman," will make his Grace Church debut on Sept. 12. He is a former officer for the New York Police Department who, in his department, was the designated National Anthem singer. After the 9-11 attacks, Rodriguez gained fame for singing  "God Bless America," at memorial events and television programs.
On Oct. 10, Basaraba said that she extended an invitation to Clyde Mitchell, orchestral conductor and Music Director of the Lionsgate Sinfonia in Vancouver, "to present a lecture format about orchestral music."
The local Kaleidoscope Chamber Orchestra is set to perform in November and in December,
Basaraba plans to put together a Holiday Voices Program.
For the final concert of this season, Iglidan, Lima, and Hernandez Garcia performed various compositions created by Ukrainian and Russian composers, such as "Gandzia" a Ukrainian folk song,  "Antonida's Romance" by Mikhail Glinka, and "None but the lonely heart" by Peter Tchaikovsky. Iglidan also performed her own compositions "Merry Go Round" and "Waltz Inspiration" on the piano.
"I was impressed to see so many people," Iglidan said. "The crowd was very appreciative, it was easy to perform."
More than $500 was raised for "Global Musical Bridges," an organization founded by Iglidan. The charity is  "dedicated to creating musical opportunities for professional and amateur musicians of all ages, as well as for benefactors, music teachers, and music students of diverse backgrounds through the sponsorship of global festivals, competitions, concerts, and fundraising events," according to  https://www.globalmusicalbridges.com/about .
Olga Gorbunkova, a Los Angeles resident who learned about the concert on Facebook, said that the experience was "amazing." Irna Guy, a first-time attendee, expressed that while she has trouble hearing people speak, listening to the music "speaks to you".
Speaking to listeners through music inspires Iglidan.
"When you see that you have communication with the audience, this is the best," said Iglidan.