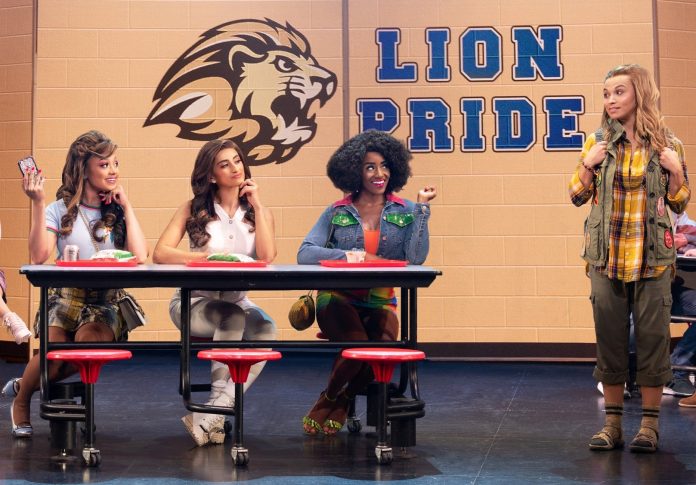 The producers of MEAN GIRLS, the record-breaking new musical comedy produced by Lorne Michaels, Stuart Thompson, Sonia Friedman, and Paramount Pictures based on the hit film, have brought the First National Tour to the Hollywood Pantages Theatre through January 29. Featuring a book by nine-time Emmy Award winner Tina Fey, based on her screenplay for the film, music by three-time Emmy Award winner Jeff Richmond, and lyrics by two-time Tony Award nominee Nell Benjamin, the production is spectacularly directed and choreographed by Tony Award winner Casey Nicholaw.
The story centers around Cady Heron who grew up on an African savanna with nothing to prepare her for the wild and vicious ways of her strange new home in suburban Illinois. How will this naïve newbie rise to the top of the popularity pecking order at North Shore high school? By taking on The Plastics, a trio of lionized frenemies led by the charming but ruthless Regina George. But when Cady devises a plan to end Regina's reign, she learns the hard way that you can't cross a Queen Bee without getting stung, and true friends are worth more than any popularity contest.
MEAN GIRLS is a cautionary tale of friendship and betrayal, presented as an exceptionally fun, start-to-finish big ensemble number musical, highlighted by the incredible scenic and video design by Scott Pask and Finn Ross & Adam Young that will astound you as it morphs from scene to scene before your eyes. The musical's timely message about staying true to yourself and not changing to please others is always an important one to remember.
The tour's multicultural cast features English Bernhardt as Cady Heron, Nadina Hassan as Regina George, Jasmine Rogers as Gretchen, Morgan Ashley Bryant as Karen, Adante Carter as Regina's boyfriend/star athlete Aaron who Cady plans to steal from her, and Lindsay Heather Pearce as Janis and Eric Huffman as Damian who prove to be Cady's real friends. The energetic ensemble of more than 20 talented triple-threat performers under the musical direction of Chris Kong are all colorfully coordinated by costume designer Gregg Barnes.
Tickets are available at www.BroadwayInHollywood.com and www.Ticketmaster.com, by phone at (800) 982-2787 or in person at The Hollywood Pantages Theatre Box Office, 6233 Hollywood Blvd., Los Angeles 90028. The tour will also play at Segerstrom Center for the Arts, 600 Town Center Dr., Costa Mesa 92626, from March 7-19, 2023, with tickets available at www.SCFTA.org or by phone 714-556-2787. Masks are highly recommended but not required.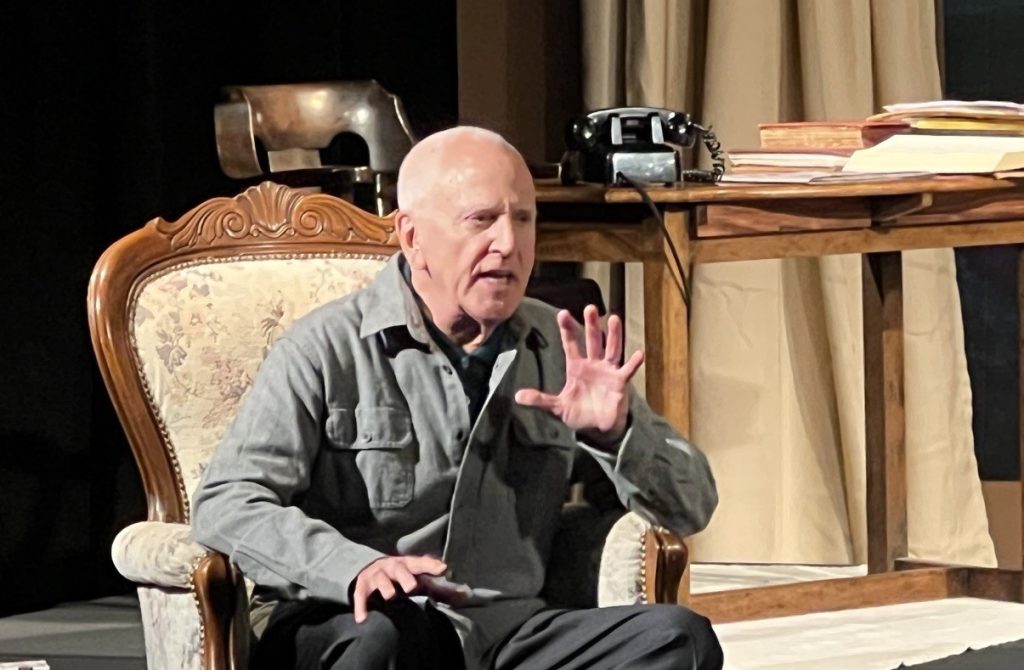 The world premiere of Richard Hellesen's EISENHOWER: This Piece of Ground stars Tony-Award winning John Rubinstein in an amazing tour-de-force performance as America's last great hero, our 34th President Dwight D. Eisenhower, from his plain beginnings in middle America to his triumphs at home and overseas, as well as his regrets and heartbreaking losses. Set in 1962 and performed as a response to a scathing assessment of his presidency by writers ranking him 22nd out of 35, the play follows along as Esienhower dictates why he was a great President, if a reluctant one, a war hero and philosopher, whose leadership through World War II, rebuilding Europe and waging history's longest peace, deserved a better ranking. And as of 2022, Eisenhower now ranks as our 5th greatest President.
Although I was just a child during his term from 1953-1961 and have very few clear memories of him, I do remember the terror of the Cold War during those years, including the drop drills during elementary school which I knew would make little impact on saving my life if an atomic bomb dropped anywhere in Los Angeles. Hellesen's play thoroughly impressed me with the amount of historical facts presented in a way that made it not only informative but entertaining, thanks to the extraordinarily talented John Rubinstein who completely embodied the historic icon's exact style of speech and physicality every moment from start to finish.
Presented by Theatre West and the New Los Angeles Repertory Company, EISENHOWER: This Piece of Ground is produced and directed by New LA Reps Peter Ellenstein, and offers unique insights on the troubles facing America, not only then but also in the world today. Performances continue at The Hudson Main Stage Theatre, 6539 Santa Monica Blvd. in Los Angeles 90038, on Friday & Saturday 8 p.m. & Sunday 3 p.m. through Jan. 22. Masks are highly recommended but not required. Tickets $35, or $30 for Seniors/Students/Military available at the door or online at www.onstage411.com/newsite/show/play_info.asp?show_id=6292&skin_show_id=32.6292 
And for music lovers, the LA PHIL welcomes the New Year with the return of conductor Michael Tilson Thomas for two weekends. I had the pleasure of attending an afternoon of captivating French music, including Debussy's sensuously enchanting Prélude à l'après-midi d'un faune, and Fantaisie for Piano and Orchestra featuring Jean-Yves Thibaudet's nimble fingers flying across the piano keys. Messiaen's sometimes lively, sometimes dreamy Trois Petites Liturgies featured hints of birdsong, with Thibaudet on piano, Cynthia Millar on the theremin-like ondes martenot, and the treble voices of the Los Angeles Master Chorale. The full Chorale was later featured in the rousing, Latin-flavored Chöros No. 10 written in 1926 by Brazilian composer Heitor Villa-Lobos.
For the remainder of January, audiences are invited to Drinks in the Garden at 7 p.m. prior to all Friday night 8 p.m. shows, and to Saturday night pre-show talks at 7 p.m. which guide audience members through the evening's music beginning at 8pm. Upcoming weekend concerts include Michael Tilson Thomas,an award-winning Mahler interpreter, conductingMahler 9 which offers a journey through hope and despair in the composer's epic symphonic farewell, on Friday, Jan. 13 at 8 p.m., Saturday, Jan.14 at 8 p.m., and Sunday, Jan. 15 at 2 p.m. Masks are highly recommended but not required. For tickets and more information about the entire upcoming season, visit www.laphil.com