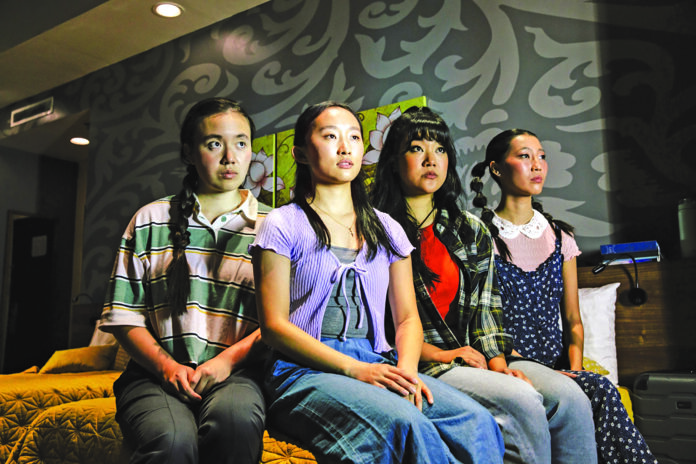 MAN OF GOD had its world premiere in January 2019 as an East West Players production at the David Henry Hwang Theatre at the Union Center of the Arts in Los Angeles. Originally scheduled for The Geffen Playhouse 2019/2020 season, but cancelled just prior to opening night in March 2020 due to the COVID-19 global pandemic, and after another Covid-related short delay last month, the play has finally opened at the Geffen in Westwood. Written by Anna Ouyang Moench and directed by Maggie Burrows, it features Shirley Chen as Samantha, Emma Galbraith as Jen, Erin Rae Li as Mimi, Albert Park as Pastor and Ji-young Yoo as Kyung-Hwa.
The play takes place during a mission trip to Bangkok when the four members of a Korean Christian girls' youth group from Los Angeles discover that their revered pastor has hidden a camera in their hotel bathroom, positioned in a way which leaves no doubt as to why it is there. Their communal rage and disillusionment fuel increasingly violent revenge fantasies amidst the no-holds-barred neon bubblegum sex-tourism mecca in which they find themselves. But each girl initially reacts in different ways to their upsetting discovery, offering us a look inside their personal life as well as their desire for retribution against the invasion of their most intimate privacy.
This modern feminist thriller written and directed by women, takes us from the moment when the girls realize the male gaze has been watching them all along and follows their path in deciding what they can really do about it. All four actors accomplish this task so realistically, it was easy to forget they were not really offering us a look into their own personal lives. Shirley Chen's Samantha is the most naïve of the group and feels personally wounded that Pastor would do this to her. Her anger explodes into a ninja warrior fantasy complete with a sword fight with Pastor, choreographed by Thomas Isao Morinaka across the hotel room beds. And when she awakes, Samantha vows "I'm going to kill him!"
Ji-young Yoo's soft-spoken, Instagram-savvy, bulimia-stricken Kyung-Hwa thinks everyone needs to have lower expectations for men, given how she was abused and raped by trusted members of her own family when she was a child. "Boys will be boys," she explains, reminding the others that none of them was physically hurt from this spying incident, so there is "no problem." After all, "lust overwhelms men and they can't help themselves," spoken like so many victims of abuse who forgive their attackers.
Emma Galbraith's Jen is worried about how this might affect her college applications, especially if the hidden camera released footage directly onto the internet. As the most educated and logical of the group, her Mafia-centered fantasy morphs a corner of the hotel room into a table at an Italian Restaurant, no doubt inspired by "The Godfather," with Pastor emerging from their closet dressed to kill, bathed in red light thanks to Lighting Designer Lap Chi Chu. But is it Jen who pulls the trigger, then wakes to declare, "Let's kill him – with poison!"
And Erin Rae Li's Mimi, who has been the most sexually active of the four, allows her emotions and explosive swearing to cloud her reasoning, causing her to be out for blood, as usual. Offering her personal bottle of Xanax as a way to poison Pastor at dinner, because "as women we cannot allow this kind of treatment," the girls crush the pills and put them into a bottle of orange juice, hoping to get Pastor to drink it. This prop plays an important part at the end of the play, one I won't reveal in this review!
Albert Park as Pastor is given the chance to play the girls' victim repeatedly, from brandishing a sword to being a bloody victim of medical revenge in the same bathroom where he had hidden the camera, to the loving leader who hugs each girl a bit "too much" and "too hard" at every chance he gets. When Pastor finally appears as himself at the end of the play to whisk the girls back to LAX a few days early, the intense scene's action speeds up, leaving the audience wondering if any will speak up and accuse him of what he admits was a "mistake," just as he grabs the camera from the nightstand. And what will happen if they do? And if they don't, does that mean they just accept being a doormat to men for their entire lives? Can you guess which one of them finally does speak up and what happens when she does?
MAN OF GOD performances run 90 minutes without an intermission in the intimate Audrey Skirball Kenis Theater at Geffen Playhouse, 10886 Le Conte Avenue, Los Angeles, CA 90024, through Sunday, June 19 (check for extension) on Tuesday-Friday 8pm, Saturday 3pm and 8pm, Sunday 2pm and 7pm. Dark Monday. Tickets are priced at $30 – $129, available by phone at 310.208.2028 or online at www.geffenplayhouse.org Rush tickets for each day's performance are made available to the general public two hours before showtime at the box office. $35 General/$15 Student.
Please note this production contains adult language, adult themes, depicted violence, loud music, the smoking of an electronic herbal cigarette, and strobe lighting effects. Not recommended to those under the age of 14. Children under 6 years of age will not be admitted. Patrons must present proof of vaccination, photo ID and wear a mask covering mouth and nose at all time while indoors. Post-show talkbacks will not be held for this production.