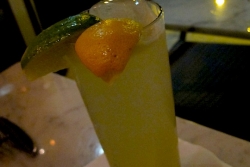 Everybody has heard it… the restaurant business is one of the toughest businesses to become successful in. There are too many aspects to focus on and there are too many things to fail at.
For instance, let's take into account a new Culver City restaurant. Headed by a celebrated chef with several culinary achievements and a loving wife with the exact same passion for the culinary world, Muddy Leek sounds like a success story waiting to happen (maybe not the name, but the idea).
Not so fast. The duo, Whitney Flood and Julie Retzlaff, are also in charge of Bon Melange, a successful catering & events company specializing in local and organic dishes.
The background, the passion, the knowledge, the already successful catering business… why why why does this not translate. I'll tell you why. Because the restaurant business is a whole different animal.
I had the chance to attend dinner at the spot the other night, its third day of operation, and let's just say, there are plenty of kinks to workout.
I had been to the location once before, actually for a pop-up by Dan Moody when the restaurant went by the name of Batch (before Batch, it was Sublime Food Lounge). Not the greatest track record of successful restaurants, which may hint at an uphill battle for any new business taking over that location, but if you do things right, the people will come.
The Atmosphere – It's hard to put a finger on what was lacking because that's just it, there was no atmosphere.
There's a somewhat modern style to the restaurant, actually passed down from previous operators that doesn't mesh at all with the food or the environment.
They push an organic farm-fresh to table menu that doesn't parallel to a contemporary feel.
The tables are close to each other but far enough to have a private conversation. A bar stretches along one side of the restaurant and glass windows from floor to ceiling on the other.
It seems as if the details that went into starting the couple's successful catering business were left by the wayside when Muddy Leek came into play.
The Service – The wait staff was genuinely nice but lacked experience—that's all.
The Drinks – One of the only highlights of the night. John Coltharp, formerly of Seven Grand and The Parish, has a nice selection of cocktails crafted with local ingredients available, as well as a couple of house sodas.
The beer selection is minimal but there are some gems on it. A very nice wine list also compliments the food menu. Overall, I'd say the drinks are on point.
The Food – This is probably the aspect that I was most taken back by because things just really didn't add up here.
With all the other distractions that go along with opening a new restaurant, you would think that flavor and execution of the dishes would at least stand out. Once again, everything lacked something.
We started with the market winter greens salad and the chicken fried bacon… neither worked for us. Our entrée consisted of the grass fed flat iron steak with grilled celeriac, spinach ravioli, and a lemon caper brown butter sauce.
We also added a side of roasted Brussels sprouts. All in all, it was a disappointment, and an expensive one at that.
I truly hope Chef Whitney Flood and Julie Retzlaff turn things around at the restaurant. There's too much passion from them not to succeed.
I feel they have every tool necessary to run a great restaurant, but it's finding their identity and executing the details that will ultimately make or break 'em.
If I've tickled your mind in any way, please do go and try out the restaurant. After all, it is a local business that supports several other local businesses—that in itself is a win win.