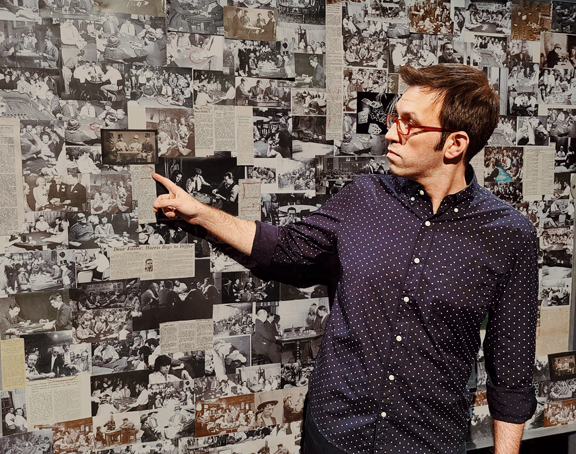 Helder Guimarães is a Portuguese-born performer, magician and creator of theatrical and immersive magic experiences, best known for his unique approach to sleight-of-hand magic, storytelling and performance. 
After seeing him perform his incredible interactive illusions during his two previous productions "Invisible Tango" and "The Present" I knew I had to be in the at-home audience for his latest mind-bending experience 'The Future' which has already been extended through March 14, 2021 due to ticket demand. 
Once again, Helder beguiles audiences with his unique brand of jaw-dropping illusions that often unfold in the palm of your hand in the comfort of your own home. 
Helder's story takes audience members on a personal journey including stops at a high-stakes poker game and a pub in the south of France, as he explores the seedy underbelly of the gambling world. And with a magician, perspective is everything. 
In this production, he takes interactive at-home illusions into the realm of unbelievability since participants decide by voting in chat as to which version of events they prefer to see. 
Thus, each live performance will be unique, so you never know what intriguing mystery or long-kept secret may be revealed along the way as he walks from location to location. Kudos to director Frank Marshall for keeping the action flowing seamlessly from scene to scene.
How does it work?  After you order your tickets, a box will be shipped to you in advance of your show. 
While it is fine to open the shipping box, participants are asked to not open the mystery capsule inside until Helder gives permission during the performance, all of which takes place live on the Zoom video conferencing platform with an audience capacity of 50 participants. 
Audiences can 'check-in' to their show up to 30 minutes ahead of curtain with no late seating permitted.
Lucky audience members will be asked to interact with Helder during the live performance. Therefore, internet access is required and be prepared to share your video/audio at all times. 
And if you react the way I did, be prepared to catch yourself staring at the screen with your jaw dropped open many times, totally overcome by the masterful illusions presented by Helder in 'The Future.'  
Performances continue through March 14, 2021 and run 80 minutes with no intermission. Tickets are $95 per household, available at https://www.geffenplayhouse.org/shows/the-future/. 
For more information, call 310-208-2028 or go to www.geffenplayhouse.org where you'll find a complete list of streaming performances, podcasts, and music playlists all under The Geffen's Stayhouse banner.
Given the unique nature and logistics of this production, tickets must be purchased seven days in advance of any given performance date. Recommended for audiences 12 years and older. Adult supervision required for participation.